Antonia Wright Net Worth
Published On: 20 Jun, 2016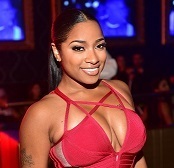 You have probably heard the name of Antonia Wright. Many of you remember her as the television personality or the ex-wife of Lil Wayne. But only a few know her as an independent woman. Antonia, who is also known as Toya Carter, is also an author and the businesswoman. She is the owner of the boutique, named G.A.R.B. As she has been engaging herself in different fields, she has made the fortune of $4 million dollars. And, with that much net worth, she has been raising her daughter, Reginae Carter.
Though she is at the age of 32, she has the adult daughter who will be 18 from November 29. Born on 26th October 1983 in New Orleans, Antonia, and Lil Wayne is the childhood friends. Their friendship turned to a bond and that bond gave birth to a beautiful baby girl. Antonia became pregnant when she was only 14 years old. Lil Wayne pursued his rap career to support his family. After getting popularity, they got married in 2004. But their marriage did not last long because of their distant relationship. They finally got a divorce in 2006. As it was for their betterment, they agreed to the divorce and remained friends. They are jointly raising their daughter.
After the divorce with Lil Wayne, Antonia got involved in the television shows. At first, she starred on the program called "Tiny and Toya" which was the reality show. After her divorce, she has an affair with James Hardy for one year. By the way, he is the same James Hardy you might be thinking about, (An American Football Player). Though their relationship ended in 2009, she started dating with rapper cum record label executive, Mickey Wright. Her boyfriend-turned-husband Mickey and Antonia got married in 2011 where she had invited lots of her friends including the popular rappers. But her relationship with Mickey also did not last long. Antonia recently said that she is no longer with her husband and they got separated in 2015.
After two rapper husbands, Antonia decided not to date with another rapper. Though her love life has not been fruitful as her career, we can hope that she will find the best man for her someday.
Let's talk about her writing career now. She has authored the book called "Priceless Inspiration". From this book, she has got a whole lot of positive responses from her fans. As you know that she owns the boutique as well, if you are interested, you can visit her official site, toyawrighthair.com. There, you can find different hair collection as well as various fashion clothing.
People are attracted towards her because of her attractive body as well. She looks hot and seductive in her black dress. You can find her hot pictures in Tabloids. And, don't forget to follow her on Twitter and Instagram.
---