Demi Burnett Wiki, Engaged, Parents, Net Worth
Updated On: 14 Nov, 2019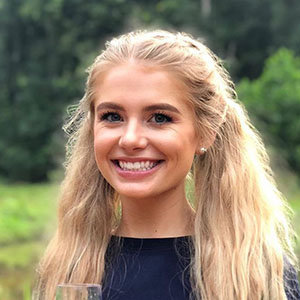 Demi Burnett, who is professionally an American model, interior designer, rose to the stardom as a contestant on the 23rd season of The Bachelor. The Texas native is now looking to make her mark on the sixth season of the Bachelor in Paradise.
Demi life is unlike that of an average person. If you're keen to find out more about her, then, by all means, keep on reading!
Openly Lesbian Demi's Girlfriend
The six-season of Bachelors in Paradise has been something heartwarming as well as surprising to audiences as Demi announced to the world that she has been dating a woman as revealed in the first episode of the show Bachelors in Paradise. On 22 July 2019, Demi even disclosed her sexuality via Twitter, saying that she is a queer queen.
Read More: Zack Bia Wiki, Age, Parents, Job, Net Worth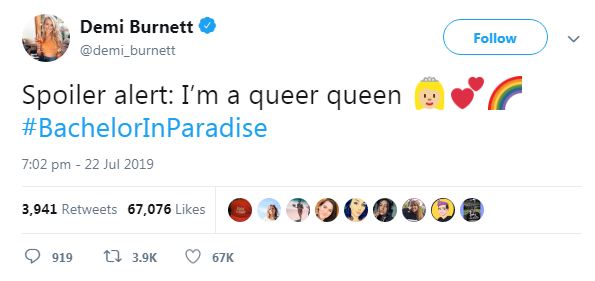 Demi Burnett openly announced her sexuality via twitter. (Photo: Twitter)
In the matter of her interest in the same gender, Demi spoke;
"It's not something that I need to label, so I feel like I don't have to proclaim that I am gay, I am straight, I am bisexual, I am this. I just like who I like. It doesn't matter who or what you are, it's the person.'
In the show, she revealed that back home, she had been dating a woman, her now-estranged girlfriend, Kristian Haggerty since February 2019. She even gave up Derek Perth for Kristian and revealed that her heart had always been with her lesbian partner Kristian. The news came as a shock to many because Demi had ever been known to have a fascination for men. To take things further, Demi got engaged to Kristian on the show.
Engaged to Girlfriend
The lovely pair of Demi and Kristian have taken their relationship to a new level. They got engaged during the finale of season 6 of Bachelor in Paradise. The episode aired 10 September 2019. Demi got down her one knee to ask the big question, and Kristain responded with a big YES!.
Demi proposed with a Neil Lane ring but Kristian was not comfortable with only her getting the ring so, she proposed back to Demi and gave her a ring.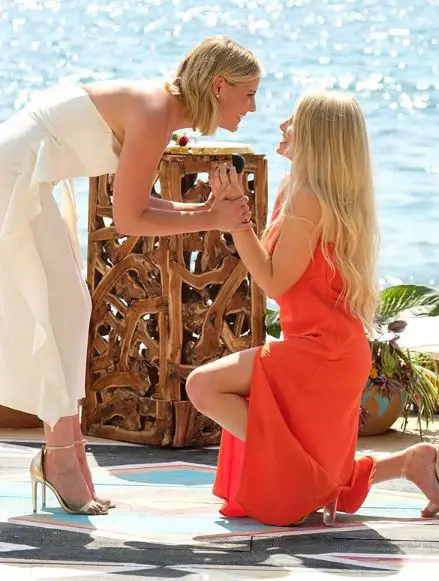 Demi proposing Kristain in September 2019 (Photo: Instagram)
Interesting: Scott Steiner Bio, Now, Net Worth, Wife, Family
Despite it turning out to be a romantic getaway for the pair, Demi has also been accused of pre-planning Kristian's arrival in the show from Bip alum tanner Tolbert and several viewers. Demi responded at those rumors by tweeting back it was 100% original and upfront the entire time
Moreover, Demi was also worried that Kristain might be interested in other people in the show. She even accused her of being flirty with her friends but, Kristain later assured her that she wasn't intentionally flirting with anyone.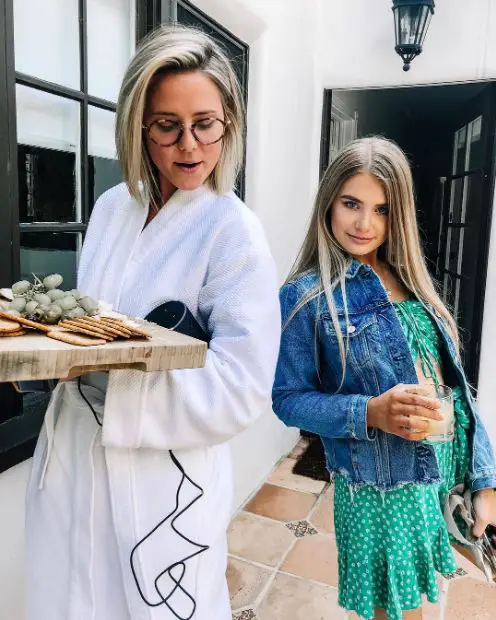 Demi and her fiance Kristian. (Photo: cheatsheet.com)
As of now, Kristian Haggerty is Demi's fiancée. However, the pair are taking their time to get married soon.
Before her time on The Bachelors in Paradise, Demi was a part of the 23rd season of The Bachelors. There, she looked to win the heart of Colton Underwood. But to her dismay, Colton did not share the same feelings for her as she did for him, and she was eliminated from the show.
Broke Off the Engagement?
There had been rumors floating about the speculation regarding the couple's relationship just after a few months of engagement. Demi had stopped making posts about her Kristain Haggerty since 19 September 2019. Speaking denying the rumor about their split Demi had stated earlier in October 2019 that both of them were in New York, the pair were spending a lot of time together. They wanted to keep the relationship low-key, not broadcasting every detail to the public.
Speaking with the US Weekly, Demi told;
"She's in Florida, I'm in New York, but we do spend time together. Just because we don't broadcast it doesn't mean that we're not together."
Demi and Kristain had not moved in together even after the engagement. Demi explained that the pair wanted to have their own space so they could form an excellent and steady relationship without rushing things. The lovebirds were taking things slow with no signs of wedding bells jingling soon.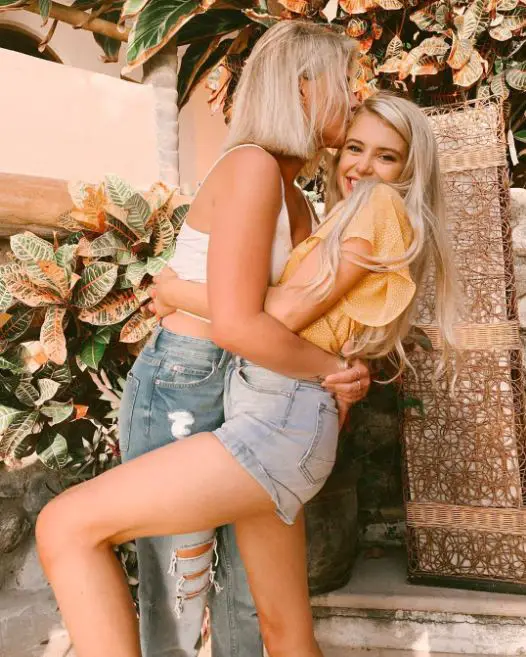 Demi and her ex-fiance Kristain Haggerty in September 2019. (Source: Instagram)
However, Bachelor Paradise's fans were heartbroken after the pair decided to head separate ways on October 31. The ex-couple announced the news regarding their split to the public via Instagram. As confirmed, they had decided what was best for them. Demi's friend Hannah Brown, who is competing at the Dancing With The Stars said she is so proud of Demi for being honest and making the right choices. The pair have parted their ways with a heavy heart full of love and best wishes for each other.
Rumor With Nick Viall
Following Demi's recent break up with her fiancé, Kristain Haggerty, Demi's close friendship with the early contestant of The Bachelor and The Bachelorette, Nick Viall has stirred some spices in the industry.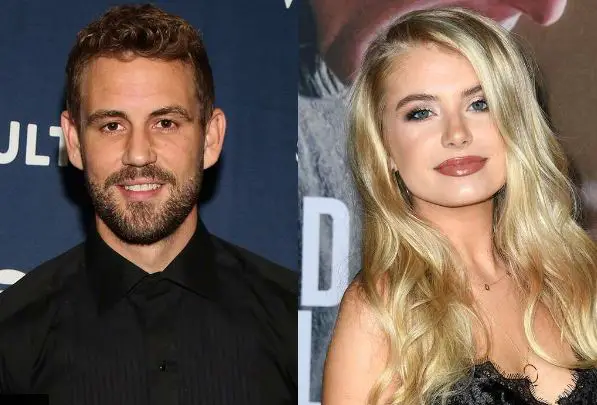 Demi Burnett and her rumored boyfriend Nick Viall. (Photo: eonline.com)
The duo has been hanging a bit too much and sharing affection. In one of Nick's interviews in recent November 2019, he openly claimed that he and Demi has a more than a friends type relationship and also the duo has been to each other places.
However, he also made it clear that he and The Bachelor in Paraside's star are not dating and are strictly platonic.
While finally, her rumor with Nick was getting cooler, on the other side her fans started demanding her to date Derek Perth. Derek had commented on Demi's Instagram photo, she posted on 11 November 2019 and while it might just be a comment to the duo, their fans are not letting it go that easy. Their fans had admitted their budding connection in the most recent season of Bachelor in Paradise but for their fans, it is also important to know that Derek still has an interest in Tayshia Adams, with whom he shared moments for short period in Bachelor in Paradise.
Job & Net Worth
Demi Burnett, as per her bio, is a model and an interior designer. Although no official pictures of her job as an interior designer have ever surfaced, her bio says she is one. Apart from that, she is mostly known for being the cast for the 23rd season of The Bachelors. As of 2019, she is casting on the sixth season of The Bachelors in Paradise.
Other than that, Demi's work on television is not much. So when it comes to her net worth, she might not have numbers in the high range. But she could have a sum that satisfies her needs. Possibly in the range of thousands.
Wiki & Bio
Demi Burnett was born in 1995 in Dallas, Texas. She celebrates her birthday on the 21st of February every year. When it comes to her parents, she has spoken a few details regarding her mother, Tina, on The Bachelors. Demi revealed that her mother was serving time in prison for a bank fraud but was later released during her time on the show.
It is unclear as to how tall Demi's height is, but she seems to stand at an average height. She holds American nationality and is of white ethnicity.
---