Garrett Yrigoyen Wiki, Age, Wedding, Wife, Job, Net Worth
Updated On: 22 Aug, 2018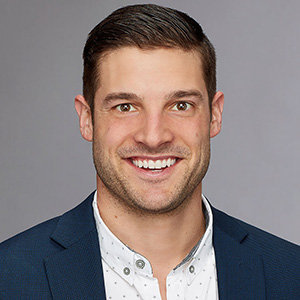 While on the American reality show The Bachelorette during Season 14, Becca Kufrin had a troubled relationship with her then-fiancé Arie Luyendyk Jr. Nevertheless, she healed her broken-heart and officially engaged with the winner of The Bachelorette, Garrett Yrigoyen.
Garrett who has a history of troubled marriage in the past is the medical sales representative in Reno, Nevada. He is also an avid baseball player and has and played at the Wisconsin Woodchucks during the summer league.
Ex-Wife Look-Alike Fiancée; Apologies From Instagram Controversy
The 29-year-old Bachelorette alum is engaged to the American publicist Rebecca Kufrin, also known as Becca. He purposed 28-year-old Becca on 6 August 2018 in the Bahamas and is ready to walk down an aisle for the second time.
The winner of The Bachelorette said that he loves Becca so much that he does not want her not to be part of his life. His fiancée added that although she was initially afraid that Garrett was once married, the American publicist finds him as one of the people with whom she felt 100 percent as herself.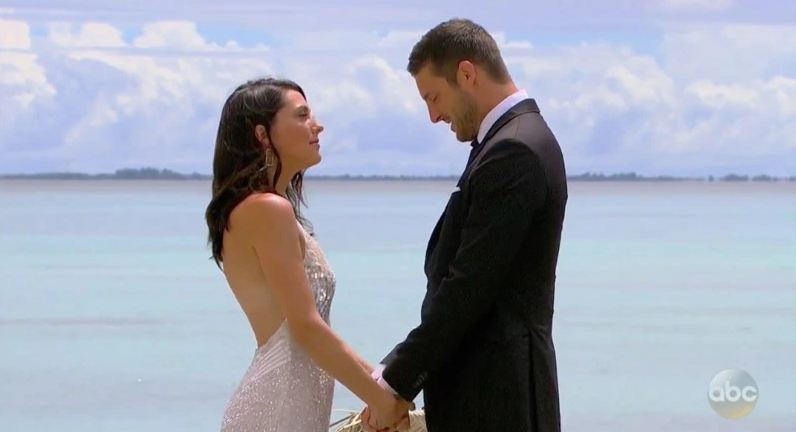 Garrett Yrigoyen engaged American publicist, Becca Kufrin on 6 August 2018 (Photo Courtesy: ABC)
Before his engagement with Becca, he had a brief two-month marriage to Kayla Cunningham in 2015. The ex-couple had their wedding in Newcastle, California in a beautiful Newcastle Wedding Gardens.
Jensen Films, Sacramento, California also filmed their wedding courtesy where Garrett exchanged vows with his ex-wife, Kayla. While his wedded union became a topic during season 14 of The Bachelorette, many also noticed Becca and his ex-wife Kayla were like identical twins.
See Also: Dean Unglert Wiki: Age, Birthday, Dad, Family, Girlfriend, Dating, Job, Net Worth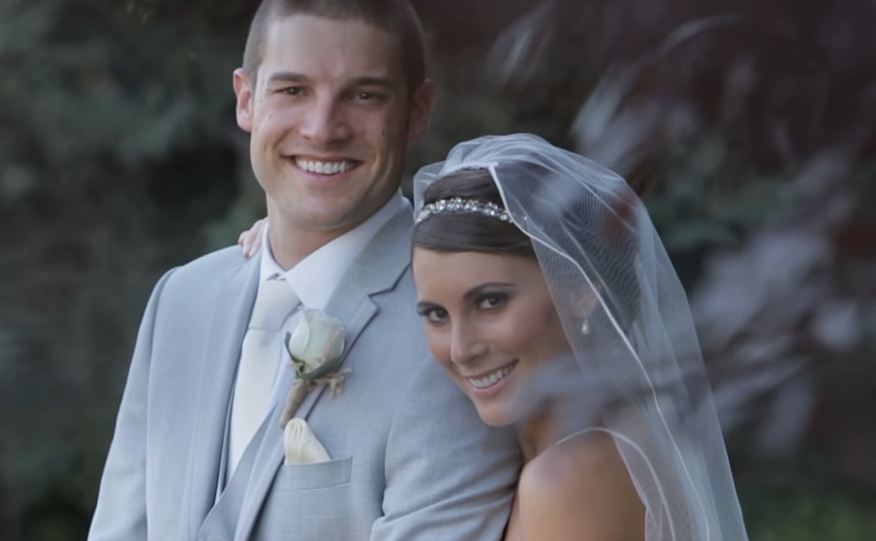 Garrett Yrigoyen and his ex-wife Kayla Cunningham who had a brief two months marriage in 2015 (Photo: youtube.com)
After his engagement with Becca, Garrett and Becca chatted with host Chris Harrison where he publicly apologized for the controversial stuff that came out on his social media in May 2018. Back in November, he liked Instagram posts, which mocked transgender people, immigrants, feminists, and Parkland shooting survivors. On 31 May 2018, he issued an apology statement and said that he takes full responsibility and is sorry to those he offended.
In a conference call with The Hollywood Reporter on 7 August 2018, Garrett revealed that he followed the Instagram account, which was filled with homophobic posts because he is the patriotic guy and loves his country. He then added that he was offended by the post after he understood the underlying meaning. He then concluded by saying,
"I grew up in a very open family that was welcoming of everyone and I still stand by that today, as I'm open and accepting of everybody."
The avid baseball player vowed to be better in the future and said that it was affecting his fiancée as well as him a lot. The medical sales representative also thought he would lose Becca over the Instagram scandal. However, his fiancée knew he was a better person and didn't mean to hurt or offend anyone. His wife-to-be said that she doesn't condone his action in Instagram but knows that her fiancé stood by his apology and didn't mean to offend anyone.
After chatting with host Chris on the After the Final Rose stage, the newly engaged couple headed outside where they received a surprise gift from the ABC network, an old wood panel striped mini-van. Their mini-van also had a toy-filled baby carrier in the back seat. After the show concluded, the couple drove in their old mini-van.
Well, all seems to be in the groove for this lovely and they are reportedly thinking about their future. Garrett revealed to people on 8 Agust 2018 that he would love to have kids someday. He then added that his fiancée would make a lovely mother.
Going Separate Ways? Braces Himself For Brother's Wedding
After a week of their engagement, he shared a throwback picture with Rebecca on his Instagram account on 15 August 2018. He even captioned the picture that Rebecca makes him laugh so hard that he sometimes couldn't see.
You May Like: Lesley Murphy Wiki: Age, Job, Family, Engaged, Boyfriend, Dating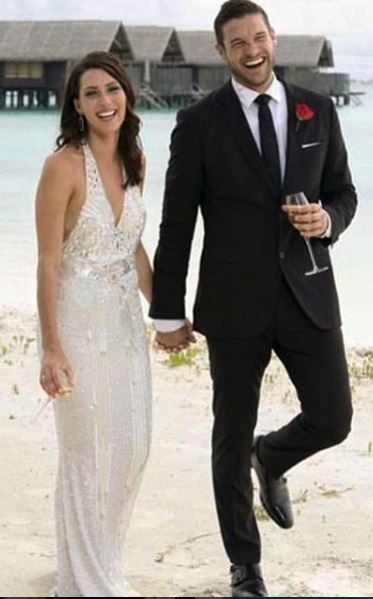 Garrett and his fiancée hold hands as they walk after getting engaged, shared on 15 August 2018 (Photo: Instagram)
Garrett shared a picture with his brother, Jeffrey and revealed that his brother is all set to exchange wedding vows. On the other hand, his fiancée also shared a picture of her named Emily Kufrin and mentioned that Emily would be off the market.
While Garrett is spending quality time with his brother in Spain, Rebecca is accompanying her sister Wisconsin. So, the pair now miles apart for each other, but would reunite soon after their respective sibling's nuptials.
How Does Garrett Yrigoyen Gather Net Worth?
Garrett Yrigoyen gathers his net worth as a reality TV star. He has collected some lucrative amount of salary as the winner of TV series The Bachelorette. His job as the medical sales representative in Reno, Nevada has also served to boost his net worth.
Before starring on the reality show, he started his career as a baseball player and played at the Wisconsin Woodchucks during the summer league. The medical sales representative is an avid baseball player and played as pitcher and infielder while he was a student of the University of Nevada.
Short Bio
Garrett Yrigoyen was born in 1989 and celebrates his birthday on 24 February. He grew up in Manteca, California and currently resides in Reno, Nevada. Garett stands at the height of 1.87 meters (6' 2") and possesses American nationality.
His parents David Yrigoyen and Barbara Yrigoyen were farmers in Central California.
Read Also: Rachel Lindsay Wiki, Age, Birthday, Married, Boyfriend/Fiance, Sister
The Bachelorette alum attended the San Joaquin Delta College and later went to the University of Nevada as the transfer student. As per wiki, he likes to be outdoors and enjoys swimming, traveling, and snowboarding.
---