Lil Reese Real Name, Girlfriend, Baby Mama, Children
Updated On: 06 Aug, 2019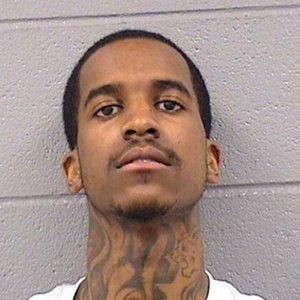 Lil Reese is an American rapper who's most notable for his hit songs Beef, Us, Traffic, and Bang Like Chop. Having signed for Def Jam Recordings, Lil Reese's fame quickly rose to great heights. But as his reputation grew, controversies followed, and Reese was making headlines a lot and mostly for his notorious bad boy habits.
From assault to drug-related issues, Reese's bad-boy attitude has got him in a lot of trouble in the past few years.
Girlfriend/ Children?
In the past, Lil Resse has had one or two girlfriends over the years. His past affairs have brought some joy in his life. And, one of them being in the form of his daughter Aubri. She was born on June 15, 2014.
Read More: Thamela Mpumlwana Wiki, Parents, Ethnicity
Although the baby mama remains anonymous, it was rumored to be Tiairah Marie. But that has never been confirmed, so the details regarding Reese's baby mama is obscure.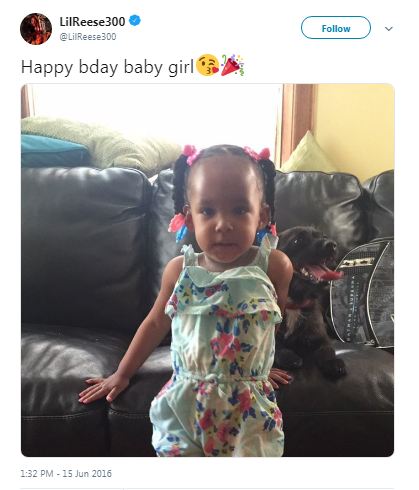 Lil Reese wishes his daughter her birthday on 15 June 2016. (Photo: Lil Reese's Twitter)
Speaking of his alleged baby mama, Reese landed himself in a ton of trouble when a video surfaced online showing Reese assaulting a woman, pushing and beating her as she lay helpless on the ground. It was rumored the woman Reese assaulted was the mother of his daughter, Tiairah Marie. Reese later apologized for his actions and charges against him were dropped.
Currently, Lil Reese does not seem to have a girlfriend. There have not been any rumors linking him with a possible significant other. It seems that Reese might be a single man, as of 2019.
Net Worth
Lil Reese is an American rapper who holds the estimated net worth of $500 thousand. Over the years, he released several singles, but it was not until he started to be associated with top artists, his name started to hit the streets. He began to attract significant attention after he released music videos for the songs, "Us" and "Beef," which he published after signing with Glory Boy Records. He was later featured on the Chief Keef single, "Don't Like."
Further along, No I.D., introduced Reese to executives at Def Jam Records, after which, he subsequently signed with the label. But as of now, Reese has kept his music career on hold.
Reese got held as a suspect for the murder of Joseph "Lil Jojo" Coleman, another Chicago-based rap artist. And the video of him assaulting Tiairah also made its mark. A talented artist, non the less, Reese's controversies have become more famous than his songs.
Wiki & Bio
Lil Reese, whose real name is Tavares Taylor, was born on the 6th of January 1993. He is a native of in Chicago, Illinois. Reese has a height of 6 feet 2 inches.
Interesting: Kathleen York Bio, Husband, Family, Net Worth
Details about his personal life, his early days and his family are yet under the radar.
---