Rebecca Dalton Bio, Age, Height, Boyfriend, Engaged, Instagram
Published On: 17 Jul, 2017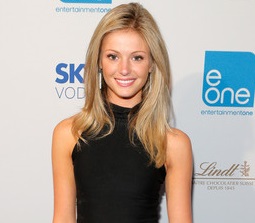 We have recently been discussing the other halves of the famous celebrities, who are mainly recognized for only being related to them. Rebecca Dalton who is the wife of the famous race driver James Hinchcliffe, on the other hand, has had a successful career of her own. She is an aspiring actress who has already put numerous TV series and movies to her credit. Her career is on the rise as she is getting more roles along with the leads.
Rebecca's Career and Net Worth:
Beginning in 2010, she set foot in the entertainment industry with a role in the TV series Unnatural History along with a part in the TV movie; My Babysitter's a Vampire. It led to a series of her work in more and more number of television shows like The LA Complex, Degrassi: Minis and Spun Out along with small roles in others.
She is currently the part of the series Good Witch where she portrays the character of Tara Russell. She has now upped the game and has moved to the movies and is set to appear in the TV movie Christmas Wedding Planner and feature film Total Frat Movie.
She definitely has amassed a remarkable net worth from such a short but prolific career in entertainment industry.
Not just that, her boyfriend has a net worth close to $30 million that can afford both of them a lavish life.
How Did She Start Dating James?
Quite an unexpected turn of events led to her meeting the race driver, James Hinchcliffe. In 12th grade, she was a student of an acting class when a friend of a friend approached her asking to go on a prom date. The event that led to it was that he James had broken up with his girlfriend just a few days before prom. So, he asked to go with her as a friend, and she replied positively.
She remembers the day like it was much closer to a date but not actually as they had friends who had an eye for Rebecca as well as her prom date. After they had graduated, they both left to pursue a career in their respective fields and didn't see each other for next 12 years.
After the news of serious accident of Hinchcliffe had become a major news in Toronto, she reached to him through contacts from mutual friends. It resulted in a Facetime conversation between them and later a Facebook and text messages before setting up their first dinner date in February 2016. It was what triggered the romance between them making up for a perfect love story. Although they are in a relationship at the moment, they have not yet engaged.
Short Bio:
Rebecca Dalton currently aged 28 was born on 10th January 1989. Her wiki profile states that she was born to the parents Mark and Jane McKinnon Dalton.
She has a brother named Evan Dalton who is the vice president of the Vancouver-based financial services company, RentModa. The Canadian national belongs to white ethnicity.
The beautiful actress is also active on Instagram, and her followers are increasing day by day. She has the height of 5 feet and 6 inches.
---