Alex Bregman is an American professional baseball infielder for Houston Astros of Major League Baseball. He joined Albuquerque Academy at the age of 16 and became a first high-schooler to win USA Baseball Player of Year. During his professional baseball career, he has won AL Player of the Month and 2018 MLB All-Star Game along with several gold medals.
Dating LA Clipper Dance Member? His Low-Key Relationship
Alex was dating Louisiana native Hannah Cormier. His ex-girlfriend Hannah is a dancer for the Los Angeles Clippers' Dance member. Before she came to the NFL, she used to be a cheerleader for the New Orleans Saints' Saintsations. The fan of pop idol Britney Spears also has experience in performing with aerial silks.
The American professional baseball infielder's girlfriend had shared numerous photos of them on Instagram. During the new year of 2017, she hinted the duo are together since 2016. Hannah said that she had great moments in 2016 with Alex.
The couple went on a dinner date in Houston, Texas on January 2017. Also, Hannah stated that she loved her baseball star boyfriend more than a 'brisket grilled cheese sandwich' by sharing their photo on 9 January 2017. 
Further, on 15 February 2017, Alex went towards the beach with his girlfriend. In their romantic holiday, the duo kissed each other, and Hannah shared their snapshot with a caption, 'Not Just Today, But Every day.'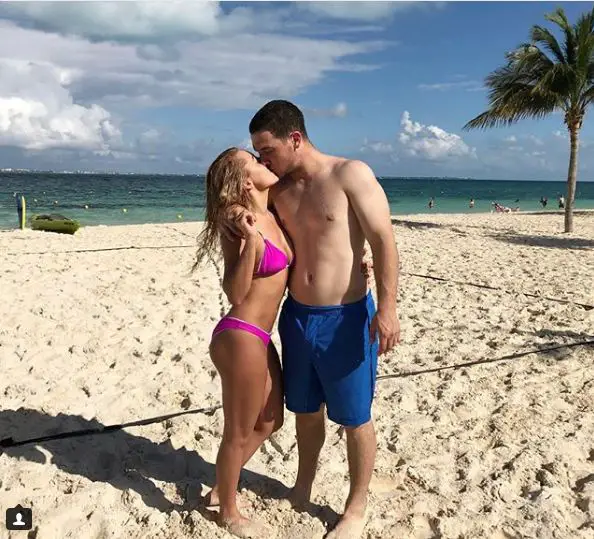 Alex Bregman and his girlfriend, Hannah Cormier enjoyed their outing at a beach in February 2017 (Photo: Instagram)
Although Hannah shared numerous pictures of her and Alex between 2016 and 2017, she has posted fewer photos in the year 2018. Alex has also remained low-key to provide details of their relationship.
Is Alex Dating A New Girl? 
Concerning the social media updates of Alex Bregman, as of 2019, it seems like he is dating Reagan Howard, who serves for Business Development & Customer Enablement at Google Cloud in Gaming field. Reagan is a graduate of A & M University, Texas and currently lives in Austin. 
The notion of the love affairs hit the media when Alex posted a picture of himself with Reagan and captioned 'Happy 4th ususus' on Instagram on 4 July 2019. 
Alex Bregman with his rumored girlfriend, Reagan (Photo: Alex's Instagram) 
Not only that but Reagan's appearance with Alex's sister, Jessie Bregman during the baseball game in New York City further glowed the speculation of her possible fling with Alex. Furthermore, Alex and his supposed lady were spotted spontaneously at the Red Carpet events and other occasions. 
Regardless of his numerous appearance with Reagan, neither of them has publicly admitted the rumors of their possible fling. With a mouth locked up regarding the personal life, the love life of Alex Bregman remains under the wraps.
As of 2019, the baseball infielder is reportedly unmarried and doesn't have a wife.
How Does Alex Bregman Gather Net Worth?
Alex Bregman has gathered his net worth from his career as an American professional baseball infielder since 2016. During his three seasons as a baseball infielder, he has accumulated revenues worth of $7,545,900. In 2015, he signed a contract worth $5,900,000 with Houston Astros of Major League Baseball.
During 2016 season in Houston, Alex earned $507,500, and in 2017 season, he received payrolls of $539,400. In the year 2018, he signed a one year contract with Houston where his salary got raised by $60,000. The baseball star is earning a base salary of $599,000 during his 2018 professional baseball season.
You Don't Want To Miss: Dallas Keuchel Married, Wife, Girlfriend, Parents
Since the age of four, Alex inferred experience with the diamond and turned his first tee-ball game in an unassisted triple play. The baseballer once suffered some blows and missed his senior season due to injury. After recovery, he joined Louisiana State University and played college baseball for the Tigers baseball team. He then signed with Houston Astros in 2015 and made his MLB debut on 25 July 2016.
Complaint With Review Officials Over Ruling
During the game of Houston Astros and Colorado Rockies on 25 June 2018, his team Houston had 2-3 away loss due to replay review. MLB decided to overturn Alex extra-base hit due to fan interference, and the American baseball infielder ripped towards the decision of MLB.
Read Also: Mark Trumbo Wiki: Wife, Girlfriend, Family, Contract
Colorado manager Bud Black asked for a replay review after fan interference, and Alex was ruled out. After the game, the Houston Astros infielder became wholly unsatisfied with the decision and ripped up the umpires over his ruling. He talked with the MLB reporters and said,
It was a f*ck*ng joke, and they should be f*cki*g ashamed of themselves. Obviously, the guy has never played f*ck*ng baseball before in his life, the guy in charge of whoever made that decision. There is no possible way you can say that a left fielder jumping backward into a wall is guaranteed to make a catch. It changed the whole f*ck*ng game. We're up 2-1 at the time, I'm at third base. We need a fly ball to the outfield to get me in, and it's 3-1. It's f*ck*ng horrible.
However, on 26 June 2018, he made sure his complaint was with the review officials rather than umpires on the field. He defended his statement with reporters of MLB.com and said that the referees in the area did a great job and he was frustrated over the decision.
Short Bio
Born on 30 March 1994, Alex Bregman is a native of Albuquerque, New Mexico. While attending Louisiana State University, he played college baseball and won the 2013 Brooks Wallace Award as the country's best college shortstop. Alex belongs to American nationality and posses Jewish ancestry. His stats on 2018 Regular Season recorded 96 game-plays with a batting average of .288 alongside 107 hits and 67 runs.