British professional snooker player Ali Carter is the winner of Welsh Open 2009, Shanghai Masters 2010, and World Open 2016. He is also the two times runner-up of World Snooker Championship in 2008 and 2012. The British sportsman is the survivor of testicular and lung cancer diagnosed in 2013. He is also known as the boyfriend of Apprentice's winner Stella English.
Welcomed Baby With Girlfriend; Bonding With Son 
Snooker pro-Ali is in a romantic relationship with his Apprentice winner girlfriend Stella English since 2016. The couple welcomed a baby in 2017. Stella was previously spotted with her boyfriend in a stunning red dress, showing a baby bump in The Dorchester in London in May 2017.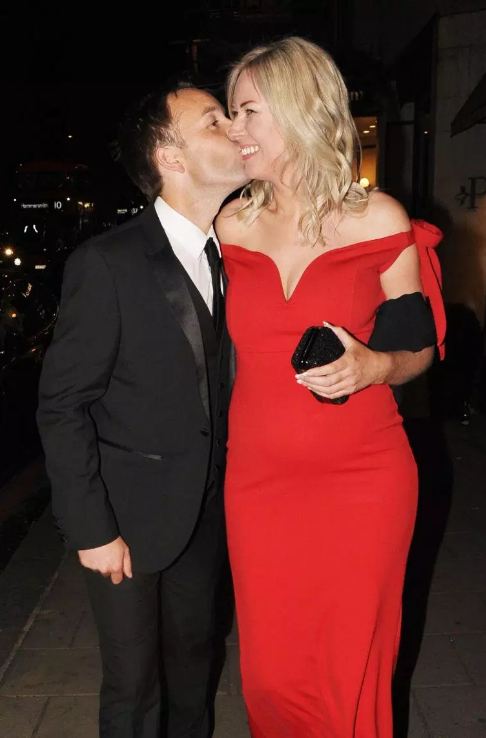 Ali Carter attends World Snooker Dinner and Award with Stella English in London in 2017( Photo: thesun.co.uk) 
While leaving the World Snooker Dinner and Awards, the couple were joking and laughing. As per The Sun, Ali enjoyed being back to the game and mentioned about their upcoming baby. He said,
I'm back in the top sixteen and looking forward to welcoming our little bundle in the next few weeks. We couldn't be happier!
Although Ali has already welcomed his baby with his girlfriend, he has not announced his plans for getting married shortly. However, he is already a father of a son named Max, who was born in 2009 from his previous wife, Sarah. Ali often flaunts pictures of his son on his social media. On 19th June 2016, he tweeted a photo of his father and son having BBQ in his house.
Diagnosed With Cancer; Battles With Ill-Health
Twice World Championship finalist Ali was diagnosed with the Crohn's disease in 2003 and was on a regulated diet since. He was also diagnosed with testicular cancer on 1st July 2013. He went through a surgery a day later and recovered afterward. A month later, he announced that he was diagnosed with lung cancer. His dreams were shattered at that time when he had to receive chemotherapy instead of competing for the championships. He completed his treatment for testicular cancer in August 2015.
After the treatment, his health is all clear, and he recently competed in the 2018 World Snooker Championship. As per Dailymail in October 2014, Ali said that going through the chemotherapy was like going to hell and coming back. But his son Max drove him for his quick recovery. He also has shown gratitude to his partner for her support stating that Stella has been as a positive influence on and off the table.
How Much Is Ali Carter's Net Worth?
Ali Carter has been deriving his net worth from his professional snooker career since 1996. As per World Snooker, he makes a yearly salary of £333,525. He has also competed for the 2018 World Snooker Championship worth prize money of £425,000.
Ali started his professional snooker career at the tender age of 17. He gained popularity after winning the Benson and Hedges Championships in 1999. He has also reached the semi-finals of the European Master in the 2006-07 season.
The English snooker genius has conquered the Welsh Open title against Joe Swaii in the 2008-09 season. He has lost twice in the final of World Snooker Championship with Ronnie O'Sullivan in 2008 and 2012. Moreover, he has won World Open in the 2016-17 and German Masters in 2012-13.
Short Bio
Ali Carter was born on 25 July 1979 in Chelmsford, Essex as Allister Ali Carter. He lives in Chelmsford. He holds an English nationality and belongs to white ethnicity. His nickname Captain came from his hobby of piloting airplanes.