NWSL Chicago Red Stars goalkeeper Alyssa Naeher is one of the prominent American soccer stars. Since 2014, she has been with the U.S. women's soccer team and has established as a starter of the women internationals replacing the likes of Brianna Scurry and Hope Solo.
Alyssa was a keeper during the U.S. 2019 World Cup run, where the U.S. culminated victory as a World Cup Champions.
Is Alyssa Naeher Lesbian? Girlfriend Details?
It's unlikely that Alyssa Naeher is a lesbian. There is not a single record on her romantic life with no possible traces of either boyfriend or girlfriend to date.
Explore This: Is Lindsey Doe Married? Details On Boyfriend, Children & Bio
On the other hand, Alyssa has endorsed the Honor Lesbian Icons for Women's History Month. In March 2019, she chose ABC's Good Morning America anchor Robin Roberts as an inspirational LGBT woman to be honored. 
But that doesn't mean that Alyssa is a lesbian. She has been a pretty low-key celebrity icon, who focuses on playing football as a goalkeeper.
Alyssa Naeher's Salary/ Current Teams
Alyssa started her professional soccer career in 2010, playing with Boston Breakers. She was then transferred to German Bundesliga club Turbine Potsdam before resigning again with Breakers in 2015. She got the Goalkeeper of the Year award in the 2014 NWSL (National Women's Soccer League) season.
Discover On: Royalty Brown Wiki, Net Worth | R&B Artist Chris Brown's Daughter Facts
It was on 25 November 2015, when she got transferred to the Chicago Red Stars, where she currently plays as a goalkeeper. Apart from that, she is a goalkeeper of the United States women's national soccer team. She was a part of the team when the U.S. won the 2019 Women's World Cup. While the world cup winners collected $4 million, Alyssa reportedly secured $173,913 revenues in her name.
(Note: As per heavy.com, the NWSL player earns the salary ranging from $16,538 to $46,200 annually. Due to the low wage, Alyssa, along with her teammates, filed a complaint in the US District Court in LA on 8 March 2019. They alleged the US soccer of gender discrimination between men and women.)
Bio(Age), Height & Weight
Born as Alyssa Michele Naeher on 20 April 1988, Alyssa hails from Bridgeport, Connecticut. She started her high school football career attending Christian Heritage High School in Trumbull, Connecticut. After that, the 31-years-old soccer star enrolled at Penn State University and played from 2006 to 2009.
On the matter of physical attributes, Alyssa stands at the height of 5 feet and 9 inches and has an approximate weight of around 152 lbs.
Family-  Twin Sister
Alyssa is the daughter of John Naeher and Donna-Lynn Naeher. In the family, Alyssa has two sisters; twin sister named Amanda Naher and a younger sister, Abigail Naeher.
Keep Reading: Zeb Hogan Wiki, Age, Married, Wife, Gay, Family, Net Worth, Monster Fish
Alyssa has a strong bond with her twin sister Amanda and credits her for influencing at playing football.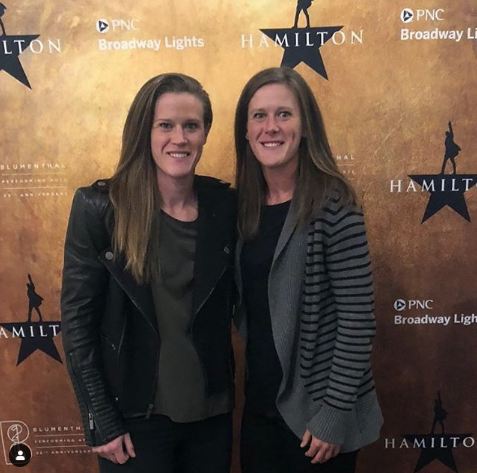 Alyssa Naeher with her twin sister Amanda Naeher at an event at Belk Theater at Blumenthal Performing Arts Centre (Photo: Alyssa's Instagram)
Amanda is a goalkeeper while her twin Alyssa prefers a forward role. The duo often practices drills together, where Alyssa attempts to block kicks from her sister.