Snowboarding, like any other sports, is a beloved game around the globe. The boards gliding through the cold snow, and the man on top adjusting to the sudden turns to chill the hearts of the spectators. The world of snowboarding has several professionals who marked their names in the hall of fame. One such athlete is Brenna Huckaby.
Brenna is the first-ever Paralympian to get featured in Sports Illustrated's swimsuit issues. Moreover, she has won several gold medals in her career. She is an athlete who has worked her way through the struggles of life.
Bio, Family
Snowboarding professional Brenna Huckaby was born on the 22nd of January, 1996 to Jeffry and Kristi Huckaby. She has two brothers, Jeremy and Jordan, in the family. The 23 years old athlete was raised in Baton Rouge, Los Angeles.
Also, Explore: Katarina Johnson-Thompson Married, Husband, Boyfriend or Dating
Brenna completed her high school from Jordan High School. Her love of sports had already started at an early age. She was previously a promising and nationally ranked gymnast before fourteen. Sadly, the career could not continue when she got diagnosed with osteosarcoma in 2010. She eventually won the battle against cancer, but it cost her her right leg.
With a new prosthetic leg, Brenna started snowboarding at the age of 15. She played on her first national championship in 2014 and placed third. As of 2019, the snowboarding geek has won her third World Championship gold medal at the Big White Tournament in snowboard cross, 2017. She is currently a member of the U.S. national team and trains under coach Lane Clegg alongside other superb athletes.
Looking back at her dark days, Brenna recalls her gymnastic days as monotonous and boring. She is positive about the physical struggle she had to go through, and the person she has become after the emotional battle. As for the height, Brenna is 5 feet 9 inches tall and has a healthy weight of 140 pounds.
Husband, Children
Two-time Paralympic gold medalist Brenna is married to Tristan Redd Clegg, who is the head snowboard coach at 'Jackson Hole Ski & Snowboard Club.' Brenna and Tristan, who have been dating for more than five years, got engaged in January of 2018. Tristan had popped the question while they were snowboarding in Snowbird Mountain.
After a year of their engagement, the two married at Looking Glass Arch in Utah on the 8th of June, 2019. The ceremony consisted of around 300 people and was non-extravagant. The reception got held on La Sal Mountain.
Brenna and Tristan already have a three years old daughter named Lilah, who attended the wedding. The sweet, adorable Liah celebrates her birthday on the 21st of May every year.
Also, See: Allyson Felix Married, Husband, Boyfriend, Dating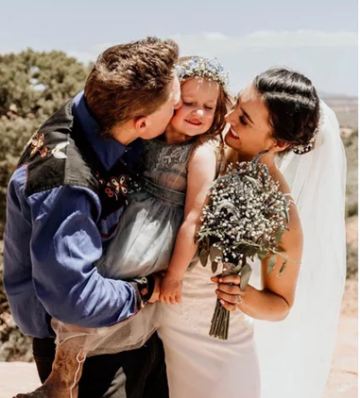 Brenna Huckaby with her husband Tristan Clegg and daughter Lilah (Photo: si.com)
Also, Brenna hinted to her fans in August of 2019 that she and her husband Tristan are expecting baby number two. As of now, the proud couple is looking forward to welcoming their second child in January 2020.
Tattoo
Brenna has long emerged from her battle with cancer. But, her scar during the treatment is something she has always hated. She disliked when people got distracted by her battle wounds on her left chest.
You May Like: Sanya Richards-Ross Salary and Net Worth
Fed up with the diversion, Brenna tattooed her medical record number over the scar. The tattoo has six figures that have been crossed. The crossing line indicates her victory over the physical blemish years ago.
She later shared via Twitter on 16th February of 2018 that she wanted people to pay attention to the scar she deliberately put on rather than a natural injury.