With God gifted height and body, Brian Shaw has made his career as a strongman. As people say, do what your body is designed for, he has become a legend in his field and in the process, he has won many titles.
No one in the world, not even Brian himself while being a basketball player back in the days would have thought that he would develop into one of the greatest in the field of being strongman. 
What is Brian's Net Worth? 
Brian Shaw summons his net worth by working as an American professional strongman and also as a YouTuber. Being known as a strongman, Brian has taken part in the various competition and became the winner in 2011, 2013, 2015, and the 2016 World's Strongest Man competitions. Apart from that, he also uploads his fitness and strength videos on YouTube and from where he makes around $5.8K - $92.1K per year.
See Also: Dallas McCarver Bodybuilder, Wiki, Age, Dies, Family, Girlfriend, Height
Brian had a massive weight from the time he studied in At Fort Lupton High School. Back then, he was a basketball player and was around 240 lbs before joining Otero Junior College in La Junta, Colorado. Since adopting his career as a strongman, there has only been one way for him, and that is going forward in his life. 
Brian Credits Diet Plan For His Humongous Body Size! 
Brian Shaw has been ruling as the strongman since 2011. From his young age, his weight was heavy and now talking about his current body measurements, Brian has a chest of 152.4 cm (60 inches) and has very big biceps at the size of 58.4 cm (23 inches). 
Don't Miss: Mike O'Hearn Wife, Height, Net Worth, Diet Plan, Workout
To maintain perfect body shape and size, Brian follows a strict diet plan. He consumes 68-gram of protein, 74-gram carbs, 68-gram of fat, and 1180-gram of calories on his first meal alone and has six more of those meals on a daily basis. In total, Brian consumes around 12,019 calories, 705 gram of protein, 1,402 gram of carbs and 399 gram of fat on a regular basis. Brian spends about $620 weekly in buying 14Kgs of meat just for himself. 
Well if eating is not just how Brian maintains his massive body. Brian also follows planned workout regularly which includes squats, deadlift, bench press, chest press, etc. 
All About Brian's Wife; What About children? 
Strongman Brian Shaw is a married man after he shared the wedding vows with Keri Shaw back on 4 July 2015. The couple is relishing married life for three years, and Brian keeps updating pictures of his wife on his Instagram.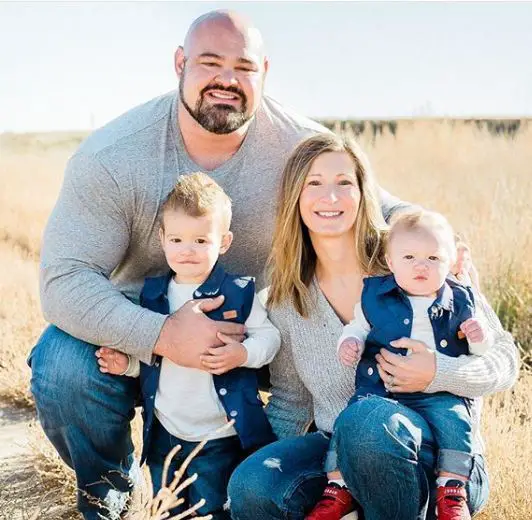 Brian Shaw with his wife and two sons on 1 November 2018 (Photo: Instagram) 
The beautiful couple is blessed with children as well. The couple has two kids both son.
His journey to the family of four had been challenging and had a hard decision to make. But with the supportive wife on his home, he left his 39-weeks pregnant Keri to compete in WSM In 2018. On top of that, Keri had an uphill task to look after their 22-month-old son.
You Might Also Like: Bodybuilder's Jessica Sestrem Wiki: Age, Personal Life, Height, Stats
Quick Facts About Strongman Brian Shaw! 
Here are some unknown facts that you should not miss about Brian Shaw:
Brian Shaw has won the world's strongest man title four times in his life, first time in 2011, and holds the record of being the only single man to win four times in the world. 
 
His personal record includes Squat-410 kg, Bench press-238kg x 2, Deadlift-460 kg, Log lift-200kg, Atlas Stone/Manhood Stone- 254 kg, Hummer Tire Strongman Deadlift (with straps)- 520 kg 
 
Out of seven meal Brian eats, he consumes 1,200 calories in meal 1, 1,100 calories in meal 2, 2,220 calories in meal 3, 1,000 calories in meal 4, 1,400 calories in meal 5, 3,400 calories in meal 6 and his last meal consist of just four slices of cheesecake and an 80-gram protein shake.