One of the flamboyant and dexterous soccer stars of England, Dele Alli, has been phenomenal when it comes to showing his tactical and technical skills on the field. Currently, he plays as a midfielder from an elite English club, Tottenham Hotspur.
During his career as a soccer player, from MK Dons to Tottenham, he has been entitled to several awards. For instance, he was awarded BBC Goal of the Season in 2015/16, for his mesmerizing goal. Also, he was named PFA Young Player of the year in 2015\16 to 2016/17 season. Besides, he was honored with the Premier League Player of the month in 2017. 
Who is Dele Alli's Girlfriend?
The relationship affairs of the star player often make the headline in tabloids and magazines. In this regard, the star footballer of Tottenham Hotspur, Dele Alli, couldn't be missed out.
He was rumored to have been dating love Island beauty star, Megan Barton Hanson, since 2019. Supporting the rumors, some paparazzi even spotted them exchanging numbers at the nightclub.
However, both have denied the claims saying there is nothing personal between them. Dele's affair with Megan appears a month after his split with his girlfriend, Ruby Mae.
Enjoy Reading This:- George Lamb Girlfriend 
Past Dating Life
Dele Alli had a prolonged affair with his former girlfriend Ruby Mae before parting ways on 20 February 2019.
The ex-lovebirds were first spotted together in 2016 during the Euro cup match at the stadium stands. Thier meeting was almost a love at first sight. Their relationship sustained just for three years. And, unfortunately, they called it quits.
Even after the split, the ex-couple has maintained a friendly relationship. And so far, there is no hostility between them.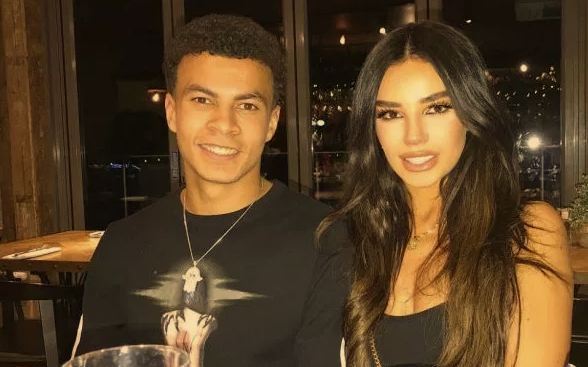 Dele Alli with his ex-girlfriend Ruby Mae (Photo:- metro.co.uk) 
Dele Alli's ex-girlfriend, Ruby Mae, has worked with the top fashion brands, like Chanel, Hidden Fashion, and The Couture Club. Besides, she has offered her enchanting style to Dolce & Gabbana and Rare London.
Before Dele's affair with ex-girlfriend Ruby, he hanged out with TV Personality, Ferne McCann, back in March 2016.
Dele Alli's Brother
It is no longer a mystery that Dele Alli has a brother named Harry Hickford. Although Dele doesn't have any blood ties with Harry, he has been his best friend and a playmate for long. When Dele was 13 years old, he moved to the foster home where he first met Harry.
Knock! Knock! This May Excite You:- Amanda Clapman Brother 
Harry's parent was his foster family, where he spent the rest of his childhood. Both of them used to play for MK-Dons.
Now, Harry Hickford is the manager of Dele Alli. Furthermore, Dele has always treated Harry like his brother, and they are often seen together partying and enjoying.
Net Worth
The estimated net worth of Dele Alli is about £5.3million ($7 million), as per goal.com. With his club signings, brand endorsements, and collaboration with a fashion enterprise, he has been striking gold of fortunes. He reportedly has a salary of about 2.86million euros per annum.
In October 2018, he signed a six years lucrative deal with English club Tottenham until 2024, which will benefit him with an annual salary. Furthermore, he has enriched his net worth endorsing a famous sports brand, Addidas, for 8 million Pound. Plus, he collaborated with a fashion brand named BoohooMan to launch his line of fashion.
Spending his lucrative fortune of about £2 million, Dele had bought a new mansion in a gated development near Elstree, Hertfordshire in May 2017.