When it is about achieving a dream, nobody has achieved it as Frances Tiafoe did. Growing up taking inspirations with his role model Juan Martin del Potro, Frances had his most significant achievement when he got to play against his idol. He, then reached to the cloud nine when he defeated his idol at the 2018th Delray Beach event as his first-ever ATP winning a title. 
Frances has his own style of play— he uses the 1-2 punch of big serve and big forehand to outmatch his opponents. Besides that Hyattsville native reached the number two position on the ITF junior circuit.
Net worth
Started tennis at a very young age, Frances became the first-ever youngest Orange Bowl Champion and also the world number 2 ranking on the ITF junior circuit throughout in 2013.
From an early age to now being 21, he is counted in one of the highest rankers in his tennis career. With his amazing tennis skills and talents, as of 2019, he earned the prize of $895,452, and from his career, he earned $2832909. 
Although his 2019 earnings are disclosed, his total net worth is still a mystery. However, his 2019's provided earnings made it easier to analyze how much his whole net worth could be.
Dating Girlfriend?
Francis, also known as Big Foe, has a strong bonding with his girlfriend because he and his lady love are involved in the same career path. He has been dating Canadian student and the UCLA Women's Tennis team athlete Ayan Broomfield since 2015, which will be four years as of 2019.
Francis showers his love frequently, sharing a couple's goal pictures on his social media and expresses his love for a sweetheart. They together look so perfect when the 6' 2" height and weight of 86 kg's Frances stands beside his fittest girlfriend.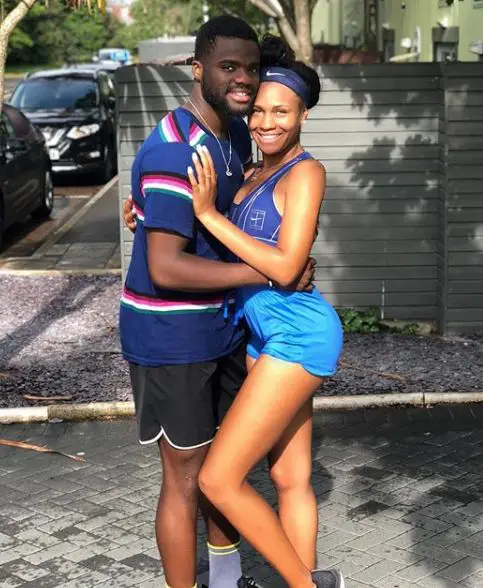 Couple: Frances with his tennis payer girlfriend, Ayan. (source: Frances' Instagram)
The lovebirds celebrate their anniversary of dating every year on 8 September. From the look of their social media updates, it kind so obvious that Frances probably will turn his girlfriend into a wife pretty soon if the connection continues as smooth as it is now.
Parents
Big Foe's parents must be the proudest after all their twin sons, Frances and Franklin have become the stars from the place they used to work for. His father Frances Sr was a janitor of the Junior Tennis Champions Center, and his mother was a housewife. They were forced to live in poverty until his father got promoted to the center's maintenance man and his mother as a nurse. That was the time his father managed a surrounding for his little boys to take training from there.
Eventually, after years of training in the Junior Tennis Champions Center, he later moved to Florida to get training at the USTA National Training Center in Boca Raton. It is the same place where he competed on the junior circuit match. 
Also, read: Cael Sanderson Net Worth, Salary, Wife, Children
Prior to Frances and his twin brother's birth, his parents immigrated from Sierra Leone, West Africa to survive from the civil war happening there. However, his father and mother didn't migrate to the USA together. His father entered the US in 1993 while his mother in 1996 after winning the Visa Lottery and a Green Card in the USA.
Bio- College
Frances and his twin brother were born on 20 January 1998. They were well-trained enough to be a future champion as they are today. Since they were guided and given training from their childhood, they also used to fetch extra skills from their school matches at DeMatha High School.
Among the two, Franklin was quite active during school sports and was considered one of the standout performers. Moreover, he also spent a year at Salisbury University, playing one year of college tennis. 
You May Like: Aneel Bhusri Wife, Net Worth, Daughter, Parents
However, in the present, Frances is doing quite better as he recently also won the 2018 ATP title and also achieved the 29th career-high ranking in the entire world in February 2019. In this success, his 29 years coach Zack Ecenden is also credible.