"Lightning never strikes the same place twice." This quote best describes the life of Freddy Adu, a Ghana-born American soccer player, who began his professional playing career at the tender age of 14. Also known as the American Golden boy and American Pele, he was offered $750,000 to play for an Italian soccer team Inter Milan when he was just ten years old. But after his mother's denial, he had to reject the deal.
It cost Freddy a lot in his career when he tried to find his space in the elite clubs. 
Now, let us find out what happened to Freddy Adu during his career?
What Happened To Freddy Adu?
It is no doubt that Freddy Adu is one of the most talented and exuberant players in the soccer world. However, his real potential and talents remained unnoticed because he couldn't get proper exposure in the elite clubs throughout his career. He made headlines when he was signed by Dc United in the MLS Super Draft at a tender age of 14 in 2003.
He also tried his luck in the Manchester United giving trials for the club, but he couldn't make it there as he didn't get the work permit. In 2006, Dc United traded Freddy to the Real Salt Lake club, where he showed his impeccable skill.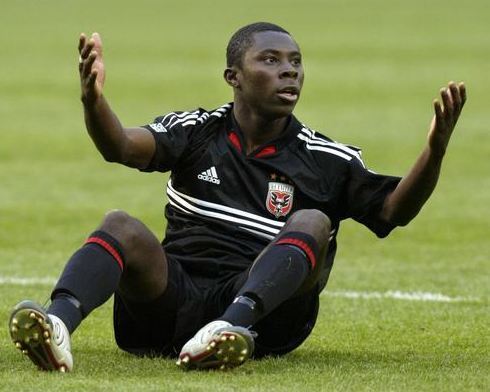 Freddy Adu plays for DC United (Photo:- soccertravelsnet.wordpress.com)
Seeing his potential, Portuguese giants Benfica signed him in the lucrative deal of $2 million, where Freddy spent four years. Unfortunately, he only got the chance to play 11 games.
It simply didn't stop for Freddy. From 2008 to 2011, he spent in four different clubs, namely Monaco, Belenenses, Aris, and Caykur Rizespor, but he could score only four goals in his 28 appearances.
At times when he needed the best consultation for his career, good exposure for his potential, and a time to show off his skill, he became vagabond at the pick of his career. Although Freddy tried to make a comeback with his tactical gameplay from Philadelphia Union, he had to spend the rest of his career giving trials for the European clubs.
Unfortunately, the American golden boy couldn't find fertile soil to blossom his expertise.
What Is American Pele Doing Right Now?
Right now, Freddy Adu is using his career expertise and experience to coach the Youth players in suburban Baltimore. Freddy, who played for Las Vegas in 2018, is also looking for an opportunity to play for some club in 2019, and he has been in contact with several managers and soccer agents.
You May Like This:- American sports agent Casey Close
Furthermore, his previous year stint with Las Vegas didn't go as well as expected. By the end of the season, his coach commented on his performance, saying he was just a body without a soul.
Despite that, Freddy Adu is not ready to hang up his boots yet and says that he has more to accomplish. He has a desire to play for some clubs within the United States.
Family Plus Age 
Freddy Adu was born in Ghana, in West Africa on 2 June 1989 in the seaport town of Tema.
To find for a better opportunity and career for their children, Freddy's parents moved to the USA through an Immigration lottery program. Before that, Freddy's parents, father Maxwell, and mother Emelia Adu used to work in the local convenience store back in Ghana. 
Freddy had a precocious talent as a soccer player, and his mother always supported him. When Freddy's parents arrived in the USA, on Washington Dc, his father parted ways with family. It compelled his mother to work 70 hours a week at two different jobs to aid her family.
Now, Freddy recalls that moment and says that his mother had a tough time raising the family, and he hasn't met his father since the time he abandons his family.
In the family, Freddy Adu has a younger brother named Flo, who got married to Marcia in June 2013.
Dating And Wife
As of now, it seems like Freddy Adu isn't looking for his future wife. Rather, he seems to be more focused on ending his career to high notes. 
This may mesmerize you:- Freddy Harteis wife
In the past, Freddy was in a relationship with an American Singer JoJo—they began dating in May 2005, but their relationship sustained just for a year. They first fell for each other when they met on MTV's show 'Fake ID Club' in 2005.
In November 2006, the duo parted ways before turning themselves into husband and wife. But they remained a good friend for a long time.
His former girlfriend, Jojo, is an American vocalist, songwriter, and actress who got limelight from the sets of 'Americas's Most Talented Kids.'
Net Worth 
The estimated net worth of Freddy Adu is $12 million. Having had played in different clubs and endorsed many brands, the high-spirited winger has added a significant amount to his fortune. 
In his 14 years of career in football, he has played for 14 various clubs around the world and enriched his net worth. When Freddy was just 14 years old, his annual salary was $500,000 a year, which made him the highest-paid American soccer in 2003. 
Apart from this, he has endorsed for renowned brands like Pepsi and Nike. For the latter, he signed a contract worth $1 million.