Argentine former athlete Gabriela Sabatini is one of the most dominant women in tennis history. In her more than a decade-long career, she has won over 41 titles and achieved the highest career rank of 3rd over singles and doubles. The legendary tennis veteran announced her retirement in 1996; she has been busy promoting her brands and businesses. 
Sabatini's Early Days 
US Open Champion Sabatini was very fond of tennis from an early age. Gabriela Beatriz Sabatini was born to Osvaldo and Beatriz Garofalo Sabatini on May 16, 1970, in Buenos Aires, Argentina. She has a sibling who is older than her.
Born to a supportive father, she was supported and encouraged to play tennis. She discovered her interest in tennis after witnessing her father and brother play as children. Then she began training by hitting the ball against the wall when she was six years old. Her father saw her talent and put her in professional coaching.
She quickly established herself as a natural talent, and at the age of 10, she was named No. 1 in her country in the 12-and-under class. As she grew older, she continued developing and maintaining her. No. 1 status as she progressed through the age categories. She was the youngest player to win the Orange Bowl in Florida at the age of 13.
Dominating Tennis Career
After drawing the tennis world's attention, she began playing when she was six years old and won her first competition when she was eight years old. She became the youngest player to win the Orange Bowl in Miami, Florida, at thirteen. 
She won six major international junior titles, including the girls' singles gold at the French Open. In 1984, she was named No. 1 in the world as a junior player. She made history by becoming the youngest player to reach the semifinals of the French Open when Chris Evert defeated him. 
In 1988, she got to the finals of her first Grand Slam singles tournament, the US Open, when she played Steffi Graf.
The champ took her retirement in 1996, having won 27 singles titles and 14 doubles titles. She played her last match in October against Jennifer Capriati; unfortunately, she faced defeat.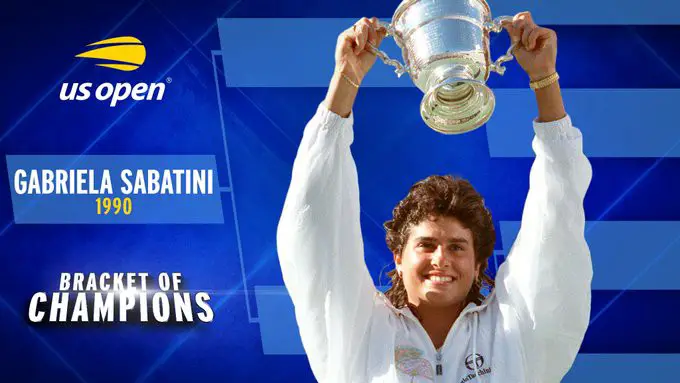 (Photo: Vickey Maverick)
Unfolding Sabatini's Fortune
US Open Champion has stockpiled a staggering fortune of $8 million earned from her tennis career. Besides her tennis career, her perfume company also helped her to boost her net worth. She enjoys her lavish lifestyle, and it is predicted that her fortune will rise as she continues her business. Besides her tennis career, she has been operating her own fragrance company, 'Gabriela Sabatini,' established in the 80s, held in partnership with Muelhens, a German perfume brand. After retirement, she focuses on her perfume company, and products are growing day by day. Aside from that, she also has been very active in different sports events, ceremonies, and philanthropic acts since her retirement.
Similar Topics : Suzanne Malveaux Today, Married, Husband, Boyfriend, Gay or Lesbian, Today, Net Worth
Dating History & Lesbian Rumors
Though Sabatini has kept her private life a secret, we combed the internet and have piled up some information regarding her dating history and personal life. As per sources, she is not married and isn't dating anyone. 
She has been alleged in the media that she is a lesbian because of her lowkey dating status right now. However, she is yet to respond to the rumors.
Looking at her dating history, she was in a romance with Donald Trump in 1989 but broke up after a month. Then she was in a relationship with Frank Unkelbach, a German businessman, in 1989 but parted their ways in 1990.
She later dated Ricky Martin, a Puerto Rican musician, beginning in May 1992 and ending five months later in October 1992. She was believed to be dating Argentinian TV star Leo Montero in 1992, although this was never confirmed. 
Although the tennis legend has a long list of dating affairs, she cannot find the love of her life to this date. Nevertheless, the star player in her 40s is a massive inspiration to many aspiring female tennis rookies worldwide.