Obstacle course racer Hunter McIntyre, who turned into a reality star, rose to fame after hosting the Travel and Escape Channel and Esquire Network series Boundless TV. He is a professional athlete and fitness trainer.
From his early days in high school, Hunter was a record-setting cross-country runner and a champion wrestler. He was named as one of the top 50 fittest athletes by Sports Illustrate in 2017.
He is also the champion of CMT's reality show, Broken Skull Ranch for three years. Moreover, being the member of the Spartan Pro Team, he has been able to score sponsorships from Garmin Fitness, Fitaid, ProMera Sports, OpenFit and more.
Interesting: Mark Wiens Wiki, Age, Wife, Ethnicity, Net Worth
Does Hunter McIntyre Have A Girlfriend? Or Already Married?
It was the year 2015 when Hunter first mentioned his girlfriend, Cassidy Watton, a fitness freak and a programming director at Epic Interval Training, on his Twitter. He had twitted how much he loved carrying a picture of his girlfriend when he is traveling.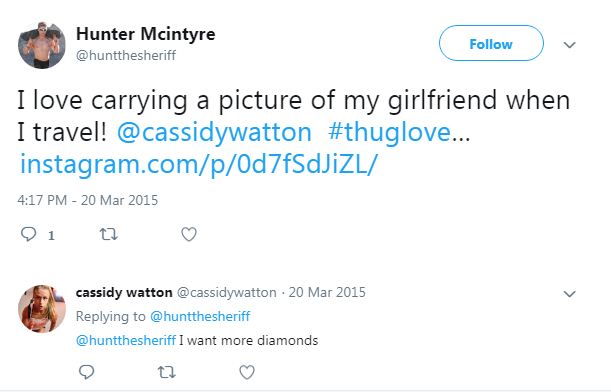 Hunter McIntyre mentioned his grilfriend on his Twitter for the first time (Picture: Hunter's Twitter)
Furthermore, on Valentine's Day of 2015, his girlfriend Cassidy had posted a picture of him on her Instagram and mentioned him a Happy Valentine's Day. She also added that two years of togetherness was a roller coaster ride for them. Since that last post, neither of them have mentioned each other.
And in 2017, when a guy named Alexander Nicholas posted a picture with Cassidy and called her his workout partner, Hunter's fans were sure enough about his breakup with his ex-girlfriend.
Read More: Zach King Wiki: Married, Parents, Nationality, Net Worth
Even though fans were still not convinced regarding their breakup, Cassidy cleared the confusion when she posted a picture of her wedding with Alexander and mentioned herself as his wife on her Instagram on April 3rd of  2019.
Net Worth Of Hunter McIntyre
Some of the awards and the recognition that he has received so far are 6x OCR World Champion,  4x OCR National Champion, Tough Mudder X Undefeated Champion (2017-2018) and Undefeated Broken Skull Ranch Champion (3 years running).
Although his exact net worth is yet to be disclosed publicly, Hunter makes a right amount of $30,000 plus with every race, he wins. Furthermore, he earns a good fortune from his affiliates.
Wiki & Age
Hunter McIntyre, age 30, was born on March 9, 1989, in the United States. His family raised him on the east coast between NYC and New England along with his three older brothers, who have pursued careers in law, medicine, and finance.
Also Read: Lorraine Kelly Wiki, Married, Husband, Diet and Weight Loss
At the age of 14, Hunter got into drugs and alcohol. But a beam of light entered in his life when in November of 2012, he competed in a local Spartan Race and finished at the ninth position. Later on, he realized that he was only eight minutes behind the Spartan world champ at that time. The realization was the wakeup call for Hunter which made him the person that he is today.