Work hard until you make a name for yourself. But in this case, the baseball player not only made a name for himself in the sporting world but also has a street named for him. Now, that's an achievement. Jarrod Dyson, who lived in public housing until he was eight, is now one of the tops ranked player and bags an annual salary $2.8 million. The father to a son Jarrod Martel Dyson Jr. is an inspiration in many ways to overcome the obstacle and leap towards success.
Career and Progression:
As a young prodigy, he became a talent when he set a record of 47 runs when playing with Southwest Mississippi Community College. In 2006, he was drafted as an amateur and signed for a mere $5,000. While playing for AZL Royals, he had a batting average of 273 with no home runs.
He joined the major league as a Kansas City Royals player in September 2010 and played 18 games with nine stolen bases in 57 at-bats. On 18th July 2016, he hit his first ever grand slam against Cleveland Indians. Dyson was then traded for Nate Karns on 6th January 2017. As of 4th August 2017, his stats prove he is world class player. Though his 12 career home runs don't define his talent, a stolen bases of 202 reflects his worth.
You can predict his influence and charisma by the fact that, the city of McComb, Mississippi renamed one of the streets Dyson Drive in January 2016 to honor his sporting dedication.
His Contract and Salary:
The player signed his first professional contract back in 2006; then he put down his signature in a mega contract in 2017 for Seattle Marriers. His current one year contract guarantees him an eye watering salary of $2,800,000 in annual salary alone and is also entitled to massive bonuses and add-ons.
Though the baseball player will become a free agent in 2018, the quality he brings along with experience, he won't be short potential buyers. Many biggies would come hunting for him or can opt a contract extension with Seattle Mariners.
Father to Jarrod Martel Dyson Jr, But Does he Have Girlfriend or Wife?
The MLB star is a father to an 11-year old son named Jarrod Martel Dyson Jr. who lives with his mother in Mississippi. Sources suggest that he loves his son and visits him whenever he can.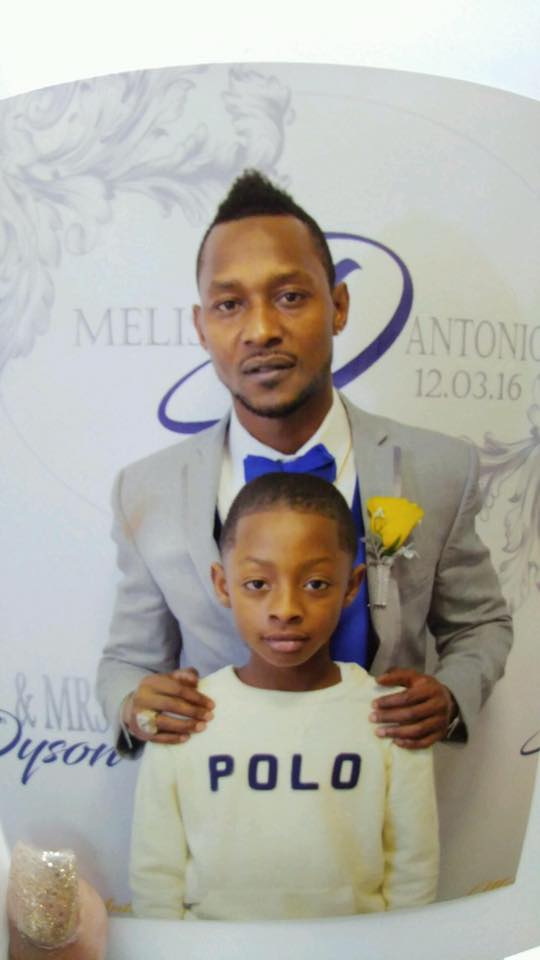 Caption: Jarrod with his son Jarrod Dyson Jr.
Source: Facebook
It is still not known if the Jr. is his biological son or another way round, but one thing is for sure, they are inseparable.
The man, who swings left hand to sent balls out of diamond, hasn't revealed his dating profile yet and likes to maintain certain boundary when it comes to personal life.
As of now, he is not married and doesn't have a wife. But for a professional baseball who is enjoying an illustrious career full of lust and luxury, it's hard to conclude that he doesn't have a girlfriend or ex-girlfriend.
Jarrod to undergo a Pelvic Surgery!
Jarrod Dyson couldn't accompany his team on its seven-game road trip starting September 11 against the Rangers due to the problem in his pelvic area from past three weeks. Sources reported that the speedster is dealing with "core-muscle issue and sports hernia" for which he is seeing a specialist on East Coast. Dyson is set to undergo surgery this week and will probably take halt from his sports career for a year.
Jarrod's Short Bio and Family:
The baseball powerhouse graced this world in 1984 in McComb, Mississippi. Jarrod Dyson who currently ages 33 celebrates his birthday with close friends and family on 15th August every year. Born with the birth name Jarrod Martel Dyson, he had some issue with his biological father and was raised by her mother, Cecilia.
He was one of five Dyson siblings as he had three older brothers and a younger sister. The outfielder possesses a tall height of 5 feet and 9 inches and maintains an excellent physique with athletic built. He belongs to Afro-American ethnicity and holds American nationality.