Professional bodybuilding has come a long way since its dawn and still remains as one of the most competitive sports. Like any other sport, facing the world as a bodybuilding competitor requires tremendous grind, unwavering discipline, and a sense of willingness for chiseling your body. With aesthetic bodybuilding rising its way up the popularity ladder, you are likely to come across several times Mr.Olympia winner and IFBB competitor Jeremy Buendia.
Jeremy started his fitness venture at an early age and claimed that he developed such a passion thanks to his father, who lifted weights on a regular basis. As a kid, he grew up in a competitive family, which most likely describes his tenacious approach in the bodybuilding industry.
If you are wondering what the guy looks like, he stands at an average height of 5.8 inches with body weight ranging from 79.4 to 83.9 kgs.
 BIO - Family, Ethnicity
Jeremy was born on 10 October 1990 in Roseville, CA. He was born to a Filipino father(Louie Buendia) and a Greek mother(name not publicly disclosed).  
Being a champion is not an action, it is a state of mind.
The half-Philipino bodybuilder rose to prominence after claiming his Mr. Olympia Physique title in 2014 and 2015 subsequently. This rewarded him with the substantial fanbase and social following he currently owns.
The transitions in his career are quite astounding, though, as if he had a knack for professionalism from the start. After winning his first title in National Physique Committee and the IFBB at the age of 19, he altered to Men's Physique category just after two years(2012). He then won the overall at the NPC Jr(2013) following by his qualification for Olympia ar 22. Impressive, isn't it?
With 4 IFBB Pro Men's Physique titles in his pocket, he became the first-ever athlete to win the competition on repeat.
Net Worth
From a business perspective, fitness is a growing business with media and exposure playing a big role. The 28 years old athlete has been indulging in this business since 2013. 
Jeremy's estimated net worth counts up to $1 million(2018). So how does he accumulate such a bulging amount? Well, aside from the prize money he gets from competitions, he also runs his own fitness programs. You can find more about his workout regimes and diet tips from his self-titled website Jeremybuendiafitness.com.
With several supplement endorsements from Evogen Evolution, Live Fit, and Hany Rambod, it is of no surprise that the Fitness tycoon takes home a weighty load of cash each year.
Girlfriend; Married Now?
"Birds of a feather flock together."
When you are involved in the fitness industry for several years, it's highly likely that you find your partner with similar immersion. Meet  Jermey's current girlfriend, Stacy!  She has been actively slaying the business for ten years and recently started online coaching as of 2019.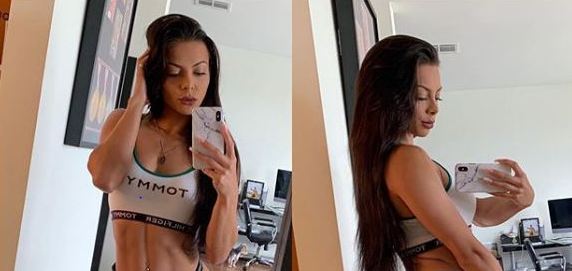 Fitness goals: Jeremy Buendia girlfriend snip aesthetics (Photo: Jeremy Buendia's Instagram)
Apparently, Jeremy has known her for ten years and plans on getting married soon. He finds her industrious attitude admiring and constantly praises her on his Instagram posts.
Ex-girlfriend
Prior to his relationship with Stacy, Jeremy shared his love life with Hilda Amaral(fitness trainer). Their relationship crumbled somewhere in 2018.
The reason behind their tragic breakup has been somewhat a controversy. Hilda has alleged Jeremy of verbal and physical abuse via her Instagram post in July 2019. She shared a picture of her leg bruises potentially caused by Jeremy and had raised her voice against domestic violence.
Despite the commotion, we have yet to hear Jeremy's side of the story. No legal charges have been made against Jeremy till this date.