With devotion to workout sessions and some hustle-and-bustle towards the muscle, Jujimufu became the acrobatics expert. The Alabama high-schooler is a prominent weightlifter, who gathered recognition after he shared an insane video of lifting 100 lbs doing a chair splits.
Jujimufu also featured on America's Got Talents where he harvested the national attention as a weightlifter. He showcased his talent on AGT lifting Heidi Klum above his head simultaneously doing the splits.
Brigade Trainers Stolen By Wife!
Despite American weightlifter, Jujimufu is a married man; he has revealed very little information about his better half. In his official site, the Alabama native cites that his best time is to organize his thoughts into the texts documents and be with his wife.
Read Also: Michael T. Sterling Wiki, Age, Net Worth, Parents
In one of his Instagram story shared on 11 February 2017, Jujimufu shared a clip of him doing a bed press with a woman. Though he hashtagged the video with #married and #soulmate, he remained careful not to spill any beans about his wife.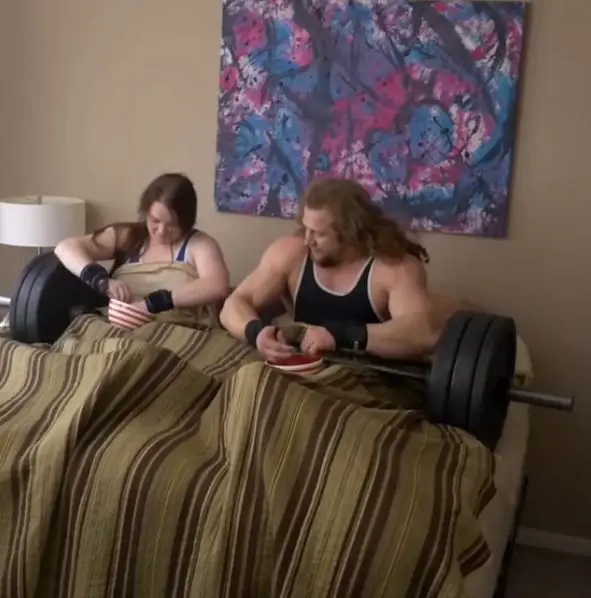 Jujimufu performs a workout session with a woman in February 2017 (Photo: Instagram)
The Acrobolix founder also mentioned on his official site that his wife stole a pair of his Brigade Trainers and he contacted Tenaga Sports owner Brian to check the availability of Brigade. The following event set Jujimufu and Tenaga Sports owner Brian to develop the Jujimufu pants in the future.
Don't Miss: Dascha Polanco Daughter, Husband, Affair, Boyfriend, Net Worth
He first purchased a pair of pants from Tenaga Sports called Brigade Trainers and liked the product so much that he contacted Brian so that they could upgrade it. Now, the Jujimufu pants are available in the market with a price tag of $59.95.
Facts And Net Worth Of Jujimufu 
Here we cover some of the intriguing facts you may not know, along with the net worth of acrobatics expert, Jujimufu.
The weightlifter Jon Call derived his name as 'Jujimufu' with the help of the Internet. As a kid, he signed up for America Online and decided to make a unique screen name. He tried several random letters, and that's when 'Jujimufu' was born. He then used his name on Web forums, and bulletin boards and most of the people began to recognize him with his nickname.
 
He tricks outside three days a week during the summer months for his workout. During winter, he avoids Tricking and works on the bodybuilding. When he is on his Tricking session, he focuses on bodybuilding, and due to his workout, he can carry a flexible training.
 
Jujimufu gathers the net worth from his career as an American professional weightlifter. His YouTube channel is very famous, and Socialblade records his estimated income as $2.4K - $38.1K monthly and $28.6K - $457.3K yearly, as of December 2018.
Bio And Height
Jujimufu whose real name is Jon Call was born in 1985 in Alabama. He celebrates his birthday each year on the 9th of December. By the age of 13, the weightlifter started training from Alabama through Taekwondo. He showed great enthusiasm for being fit and healthy, and with the help from his family, Jujimufu got his first gym membership in 1999.
Discover: Blacklist' Susan Blommaert Wiki, Bio, Married, Husband, Children, Family
The Alabama high-schooler stands at the height of 1.80 m (5 feet 11 inches) and weighs around 230 pounds. With his training skills, Jujimufu formed a mix of bodybuilding and acrobatics known as Acrobolix. As per wiki, he worked in his backyard performing the insanely acrobatic feats laying the foundation for his future "Acrobolix" brand.