Kyle Kuzma is a professional American Basketball player who plays forward for the Los Angeles Lakers. He was picked in the 2017 NBA draft by the Brooklyn Nets. He, along with Brook Lopez, was then traded to Los Angeles Lakers for D'Angelo Russell and Timofey Mozgov on the draft day of 2017.
Furthermore, he was recognized as an All-Pac-12 First Team player while he was at the University of Utah. 
Is Kyle Dating? 
As of January 2020, Kyle Kuzma has been linked to actress Vanessa Hudgens. The two were pictured sitting down for dinner in a fancy Italian dinner at Lilia, Brooklyn. 
Another NBA Star's Dating Life:- Ben Simmons Reconciles With Ex-Kendall Jenner, Are They Dating?
The said pictures of the duo were published exclusively by TMZ on 21 January 2020 and started quite the speculations.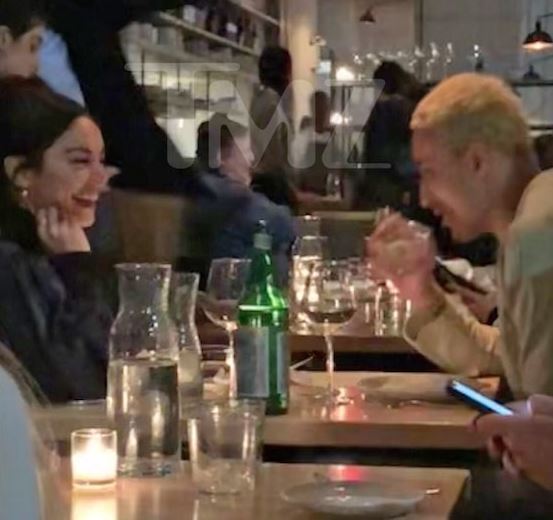 Kyle Kuzma pictured with Vanessa Hedguns on 21 January 2020 (Photo: tmz.com)
However, neither has yet commented on what their dinner date meant.
Past Relationships 
Before the date with Vanessa, Kyle dated the Australian Instagram model Nicole Shiraz at one point. But the boyfriend and girlfriend had already broken up by 1 December 2019.
And even before Nicole, the LA Lakers' forward was rumored to be dating Kendall Jenner due to the two being photographed on a yacht on 4 July 2019. But Kendall shut the rumors down when she spoke to TMZ, saying the photos looked deceiving and more people were present on the yacht too. The two were simply partying together.
Other than the celebrities mentioned, Kyle was in a relationship with Katya Elise Henry as well.
Kyle's Wiki, With Ethnicity, Age & Height
Kyle Kuzma was born on 24 July 1995 in Flint, Michigan. He was born to African-American father, and mother Karri Kuzma who is of Ukrainian, English, and German descent. He has a step-father Larry Smith in his family and grew up with step-siblings Andre and Briana.
He went to Swartz Creek Community School and later went to Bentley High School where he showed amazing talent in basketball.
Another Basketball Player:- Mo'ne Davis Age, Baseball/Basketball, Stats, Parents, Net Worth, Now
After his schooling, the six feet and nine inches (2.06 m) tall basketball player went to the University of Utah in 2013 and graduated with a degree in Sociology along with a year of eligibility remaining to play in college.
Net Worth
Kyle Kuzma has a total net worth of $3 million, according to celebritynetworth.com.
Facts On Kyle
Kyle signed a four-year contract with Los Angeles Lakers worth $8.65 million in 2017.
The contract provided him with a base salary of $1,974,600.