When you are one of the greatest players of all time, your life is pretty much topic of concern for many. Martina Navratilova is not only an 18 Grand Slam winner but also defeated cancer which she described as the toughest opponent. The former world no.1 also has an inspirational personal life as she married her long-time partner, Julia and is leading a happy married life.
Married to Long-Term Partner, Julie Lemigova!
On 30th July 1981, an article published in New York Daily News that she is a bisexual. In spite of Martina requesting the New York Daily not to post the article until she was ready to come out publicly.
During that time, she revealed to Dallas Morning News that she was in a sexual relationship with Nancy Lieberman. After her breakup with Nancy, she entangled herself in a long-term relationship with Judy Nelson from 1984-1991. When she featured in the WITA (Women's International Tennis Association) calendar, she posed with her trophies along with Nelson's children in the background.
 After her publicized break up with Nelson, she came in contact with Julia Lemigova. After several formal meeting, Julia introduced Martina to her children Victoria and Emma. They have been dating since 2006, after dating for more than eight years; the tennis legend purposed Julia in a live TV at US Open on 6th September.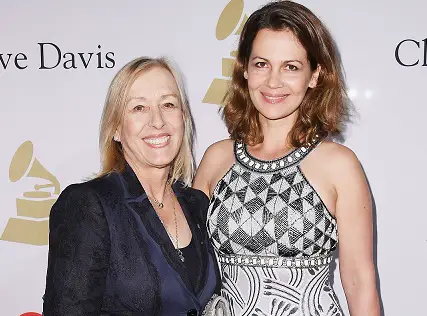 Caption: Martina Navratilova and wife, Julia Lemigova posing together on September 2017.
Source: People.com
According to Dailymai.co.uk, Martina married her partner, Julia Lemigova on 15th December 2014 with few guests in Peninsula hotel. Martina and her newly wedded wife were accompanied by their children Victoria and Emma and Chris Evert former rival of Martina graced as maid of honor.
As per wiki sources, Julia is former Russian beauty pageant holder and won final of Miss USSR title back in 1990 and also finished third in Miss Universe in 1991. Upon asked about the marriage, Julia, who now runs a skin care company, said,
"But by proposing and marrying in such a public I way I hope we'll give inspiration to families like ours, that they too can be married legally one day."
Survivor of Cancer:
The tennis legend described her cancer as the "personal 9/11" when she was diagnosed with a breast cancer in February 2010. Former world no.1 found out that she had cancer in the left breast and was in line for grunting surgery and radiation. In an interview with Dailymail.co.uk, Martina said,
"What I never anticipated was that my toughest opponent would be off the court - cancer. When I first got the news, I was alone in my house. I was shocked, overwhelmed and devastated."
After six-month of recovery, she revealed that she is cancer-free. After undergoing, surgery and six-week radiation she stated that she was practically free of cancer after lumpectomy in March, but she had to undergo radiation to kill any cancerous cells.
Career and Net Worth of Former World No.1:
She not just bagged the top rank in the world but holds the position for 332 weeks and also claimed the top spot in doubles for record 237 weeks. She became the only player in the history to keep the rank in both double and single for more than 200 weeks.  
During her peak time, she won 18 Grand Slam single titles and got her hands on 31 major women's double titles which are a record. She even reached Wimbledon final for another record 12 times including nine consecutive years and ended up winning nine of those surpassing the eight Wimbledon titles of Helen Wills Moody.
The former Czech and United States tennis player boasts a net worth of $15 million and now plies her trade as a coach. She joined Agnieszka Radwanska as a coaching staff but later in 2015, she parted ways as he struggled in the season.
Martina's Short Bio and Family:
According to her wiki, the former world no.1 was born as Martina Subertova on 18th October 1956 in Prague, Czechoslovakia, which makes her age 60. She was born to parents Mirek Subert and Jana Navratilova. When she was just 3-year old, her parents split, and she was raised by her stepdad Miroslav Navratil who became her first coach as well. She then adopted her stepdad's name and added feminine suffix "ova." In her family, she has a sister named Jana and a half-brother.
Martina Navratilova, who was selected as greatest tennis player by Tennis magazine back in 2005, was born as Czech national but later graced American nationality