It is always an awesome experience as a player to show their talent in front of the mass. Meryl Davis is an ice dancer who has not just exhibited her skills in front of small mass; she has been to one of the largest stages in the world, The Olympics along with various competitions. She works as a team with the partner Charlie White, also her childhood friend who has been performing with her since 1997. They are the first American ice dancers to win the World Title. She has been the U.S National Champion for six times.
Introduction Ice Dancing:
She had an early start in the skating on ice. Beginning at the age of 5, she began as a single skater and started dancing at the age of eight. Then, her coach Seth Chafetz teamed her up with Charlie White and in their very first season together, won the silver medal at the Junior Olympics.
She scored her personal best record in the 2014 Winter Olympics which totaled to 195.52. Beginning their career as the senior, they continued to awe the audiences with the perfect performances and became the first team to earn all level fours on their elements. In 2014, she also won the eighteenth season of Dancing with the stars.
How Much is Meryl's Net Worth?
As of now, she has retired from the competitive ice dancing. However, in her professional career that spanned over twenty years, she has accumulated an exquisite net worth of $2 million. She has also been the winner of several trophies along with being the respectful and memorable name in American Sports.
Her achievements include the Gold medal at 2014 Winter Olympic, Silver medal at 2010 Olympics along with being a two time World Champion, five times Grand Prix Champion, Three times Four Continents Champion and six time U.S. National Champion.
Did Meryl Just Get Engaged?
Earlier this year, she along with her dancing partner announced they intended to take a break from the Olympics to focus more time on their personal lives. However, she is going to be busy in something really important, to be precise, getting married as she announced her engagement through an Instagram post on Monday.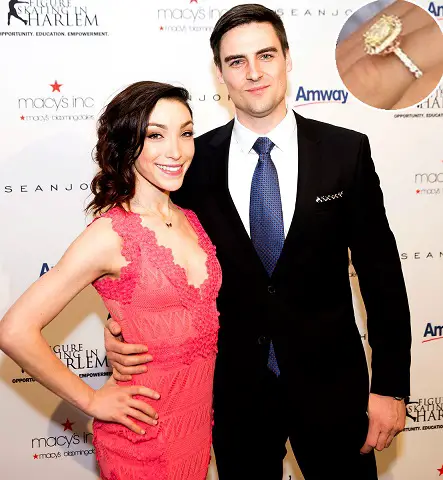 Caption: Meryl Davis Engaged with Long-time Boyfriend Fedor Andreev on 13th July
She revealed the information by sharing a photo which showed a ring on her finger while embracing her long-time boyfriend turned fiance, Fedor Andreev which also contained the date of their union that is 13th July 2017. The beautiful square cut canary yellow diamond ring suited perfectly on her hand.
The event happened after the period of six years they began dating. Fedor is a former professional figure skater and son of her coach, Marina Zoeuva. They had recently announced that they had welcomed a new pet, a dog in their family. Their new friend, Bilbo Baggins is a star too and has her own Instagram.
Short Bio:
Meryl Davis currently aged 30 was born on 1st January 1987 in Royal Oak, Michigan, U.S. She was born to the parents Cheryl and Paul D. Davis. She grew up in West Bloomfield Township with a younger brother, Clayton.
She is studying at the University of Michigan and is majoring in Cultural Anthropology. She is an American National and belongs to white ethnicity. The beautiful and elegant ice dancer has perfect body shape and measurement with the height of 5 feet and 4 inches.