A retired elite American Gymnast, Regan Smith, is a precocious talent whose artistic moves, styles, flexibility, core strength, and balance have mesmerized the sports enthusiast. Besides, her mental focus, discipline, and dedication have been a key factor for her successful career as a gymnast.
Regan is just 19 years old, but she has achieved many accolades and awards from her artistic Gymnastic performances. Delve in to explore her achievements from her career and her personal life details!
Bio-Age, Height & Weight
Ragan Smith was born on 8th August 2000 in Snellville, Georgia. She is also known as Ragan Elisabeth Smith.
Talking about her physical characteristics, Ragan has a height of 4 ft and 6 inches (1.37 meters). And, she weighs about 50 Kg (110lbs).
You Don't Want To Miss: Is Ginny Buckley Married? Details On Husband & Children
Gymnastic Junior Career
Ragan smith began her career journey competing in the Hopes division of the US classic. In this division, she was placed first on the floor; second in the all-around and on vault; and third on balance beam whereas she received the seventh position on uneven bars.
Likewise, in 2013, she got qualified for the Junior elite division, where she impressively progressed through all the rounds. Then in the same year, she left Northwind to be coached by Kim Zmeskal-Burdette at Texas Dreams Gymnastics. Later in October 2013, she was invited to a National Team training camp.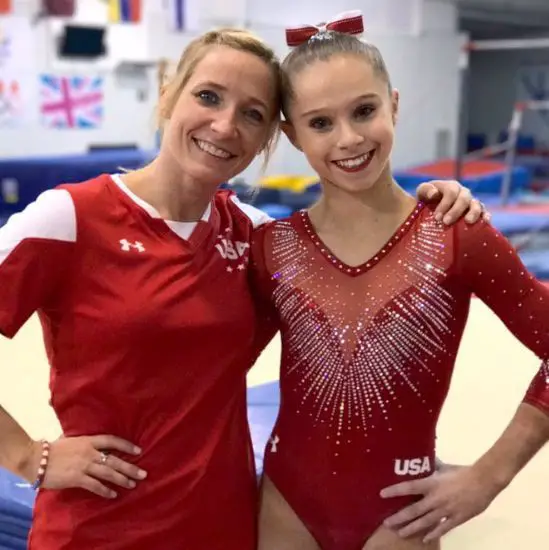 Regan Smith with her coach Kim Zmeskal-Burdette ahead of the USA World Championship 2017 (Photo:- Kim Zmeskal-Burdette's Twitter)
Further, in 2014, Regan received her first breakthrough to represent the US national team in the International Arena at the city of Jesolo trophy. There she performed her level best, which assisted her squad to bag Gold Medal.
Similarly, in March 2015, she participated in the city of Jesolo Trophy, where her laudable performances assisted the US gymnastics team to clinch Gold Medal.
Senior Career
After polishing herself through the Junior career, Ragan stepped into the senior career level at the city of Jesolo Trophy in 2016. There she restyled her gymnastic moves and showed that she is one of the tough competitors in the tournament. In the same year, she was in the possible US squad for the Olympic team.
Check This Out:- Olympic Gold Medalist Rebecca Adlington
Moreover, in February 2017, Ragan won the American Cup; and in late July 2017, she competed on uneven bars and balance beam at the U.S classic, where she clinched Gold Medals on both events. Likewise, in August 2017, she bagged additional Gold medals becoming US National All-Round Champion. It is in the same year she participated in the Montreal world championship.
In 2018, she participated in the city of Jesolo Trophy, where she clinched silver medal throughout the tournament. Sadly, at the end of July, she announced her retirement from elite gymnastics to attend the University of Oklahoma.
Family- Parents 
The 2017th National Gymnastic champion of the United States, Ragan Smith, was brought up in a family that belongs to the sports fraternity. Her mother, Kerry Smith, is a gymnastic coach who trained her from an early age of 4. Kerry was also the college gymnast at Auburn University.
This May Mesmerize You:- Gymnast Ariana Berlin Family 
Also, Ragan has a supportive father named Michael smith. Besides, she has two siblings; a younger brother named Jackson smith and Hudson Smith.
Interesting Facts About Her
Ragan received her formal coaching at the age of four in the year 2004. And it was in the Northwind Gymnastic center where she was trained under former soviet and Belarusian World champion Elena Piskun.
 
In March 2014, she represented U.S National Team at the city of Jesolo Trophy in Venice, Italy, where she made an impressive score of 52.650.
 
On 10 July 2016, she was kept in the possible squad to represent the 2016 Olympic alongside Ashton Locklear and Mykyla Skinner.
 
On 20 September 2017, she was named in the United Nations Gymnastic squad to represent the Artistic Gymnastics world championship.
 
In December 2018. She was roped in for the Oklahoma Sooner's Women's gymnastics program for the 2020-21 Season.
 
High school- The 19 years old athlete was studying at the 'Lakeland Christian Academy,' and would complete her graduation in 2019, as confirmed by Famous People in August 2018.