Sandra Gal is a professional golfer for the Ladies Professional Golf Association (LPGA). She is also the winner of 2011's LGPA, which was held at Kia Classic.
Previously, she played golf for German National Team and German National Girls Championship. Also, she played for the Florida Gators Women's Golf Team (2005-2007). 
Personal Life: Married Status
Up until 8th February 2018, Sandra was single. 
However, her unmarried status didn't bother the golfer as, apparently, she didn't have to share her avocado with anyone.
Out From 2019's Season
The professional golf player, Sandra, couldn't play 2019's mid-matches due to her dormant Lyme disease. 
Another Athlete: UCLA's Lisa Fernandez Married Status & Family Background
In an interview with the Ladies Professional Golf Association (LPGA) on 28th August 2019, Sandra claimed that though she intended to play, her condition didn't allow her to do so.
 "I felt like I wasn't myself. I would come to a tournament, practice, I would have intentions of what I would want to do on the golf course, but I wasn't able to execute it." 
Sandra was carrying this disease since her six-week-long play in 2018.
In early 2019, the offseason helped her to take rest for a while, but she couldn't keep the fatigue away. As a result, Sandra was unable to play forward from the first round for Mediheal Championship.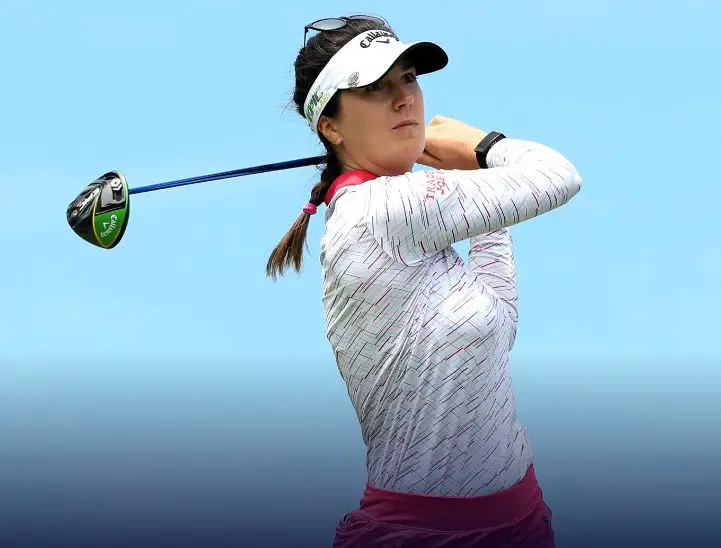 Sandra Gal in action in 2019 (Photo: Ladies Professional Golf Association)
Likewise, Sandra did play nine out of ten weeks from the Pure Silk Championship in May 2019 to the AIG Women's British Open in August 2019. Also, she had the best finish of the season. However, she couldn't continue further in 2019. 
Bio And Age
Sandra was born on 9th May 1985 in Düsseldorf, Germany. She holds American-German nationality.
She is the daughter of her parents: father Jan and mother, Alexandra Gal.
Related: Billy Wingrove Personal Life: Girlfriend, Wife, Children Details
In 2004, she graduated from high school. Later, Sandra enrolled at the University of Florida. She received her Bachelor's degree in Advertising from the university in 2008. 
Interesting Facts About Her:
The professional golfer stands at a height stretching 6 feet and 1 inch (1.83 m).
Sandra's birth sign is Taurus.
She started playing golf when she was just five years old.
Sandra played golf for German National Team when she was 17 years old. 
The professional golfer was the receiver of First Team All-American honors in 2007 and was an NGCA Academic All-American from 2005 to 2008.
After winning the Ladies European Amateur in 2007, she entered the LPGA Qualifying Tournament. And then, she got qualified for the LPGA Tour in 2008.
Sandra has won four events in the NCAA competition.
She also lifted the 2011's Solheim Cup, in which she represented Europe. 
Sandra also participated in the 2012's U.S Open and held the third position.
Her career earning amounts to $4,323,518.