Injuries are the worst nightmares of any sportsperson. They are incredibly deadly since they can dwindle a hard-earned reputation in just mere seconds. Steve Young suffered a big hit in 1999 and could never play again. 
In the article, we will learn how the 3-time Superbowl champion has been diligently working to prevent brain injuries in American football.
Career & Brain Injury
Steve played 15 seasons in the NFL and was known for his best performance in 13 seasons from 1987-1999 with the San Francisco 49ers. He played college football for Brigham Young University setting school and NCAA records for being runner up for 1983 Heisman Trophy. He even was named AP's NFL Most Valuable Player in 1992 and 1994.
In his final NFL season, the NFL Hall of Famer was tackled by Arizona Cardinal defensive back Aeneas Williams and wasn't able to play again after he suffered from a brain concussion.
After his retirement from the brain injury, the quarterback decided to join brain health analytics company SyncThink as an advisor.
The innovative platform, SyncThink, is a virtual reality-based eye tracking system that can estimate brain health. Its technology helps individual to work with their physicians to monitor their brain performance.
Since getting associated with the company, he has tried his best to educate athletes, college sports programs and professional sports league about general brain health and dangerous brain conditions known as Chronic Traumatic Encephalopathy(CTE).
Steve Young Wife & Children
As people tend to choose a partner with similar interests and mostly from the same career background as them, this hasn't been the case for Steve.
Despite the absolute difference in professions, Steve and his wife Barbara Grahm have found comfort in each other's arms and have been together supporting each other.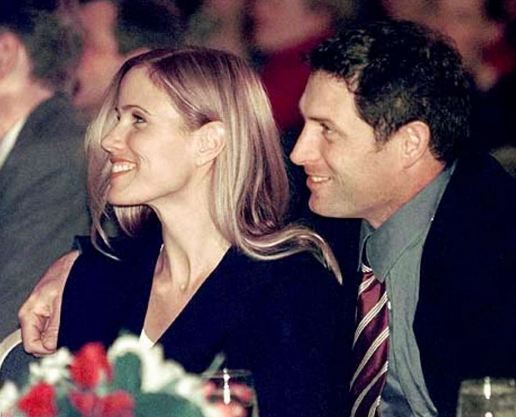 Smiley Wife: Steve Young with his wife, Barbara Graham  (Photo: SFGate)
His wife Barbara Grahm, a summa cum laude graduate of Arizona State, was working as a model when they got married in 1999 just one year after meeting through their mutual friend Tyde Tanner. Later, she left modeling and started working in public relations. 
Children, Now?
Steve and Barbara have four children together; elder son Braden Steven (born on 8 Dec 2000), younger son Jackson Graham (born on 2 March 2003), elder daughter Summer young (born on 17 May 2006) and younger daughter (born 2009).
Currently, Steve's family is residing at their home in Palo Alto, California.
Salary & Net Worth
The Hall of Famer has undoubtedly collected a massive fortune from his football career. He had a successful high school and college football career before he signed a $40 million ten-year contract with the United States Football League's (USFL) LA Express in 1984 after playing college football at BYU. 
The USFL later went bankrupt in 1986 and Steve couldn't get the agreed amount of $1.2 million per season salary and signed another contract with the Buccaneers in 1985.
And in 1987, the quarterback signed a contract with San Francisco 49ers. Ten years later, in 1997, Steve signed a contract extension of seven years for $47.25 Million. The contract made him the highest paid player in the league.
After retirement from football career, the quarterback started working as ESPN commentator in 2001. He even co-founded private equity firm Huntsman Gay Global Capital (HGGC) in 2007 and began conducting his private-equity work in Palo Alto.
At present, the net worth of American quarterback & ESPN NFL commentator & co-founder of HGGC is estimated to be around $200 million.
Bio (Age - Height - Education)
The legendary San Fransisco 49ers quarterback was born on 11 October 1961 in Salt Lake City, Utah, USA. He stands 1.88m (6ft 2in.) tall. He is the great-great-great-grandson of the Mormon Leader Brigham Young.
He was raised by his father LeGrande "Grit" Young and mother Sherry young alongside one sister and three brothers. Growing up, he developed an interest in law because his father was a corporate counsel attorney.
See More: Joey Galloway Wiki, Family, Nationality, Height, Age,  Dating, Gay, Net worth                                                  
He later attended Greenwich High School in Greenwich, Connecticut. There, he joined its Cardinal football team and became a star quarterback. After completing his education in Greenwich, he got enrolled Brigham Young University (BYU) in Provo, Utah, where he eventually got his law degree and established himself as star quarterback once again.