Steven Adams is a professional NBA player for Oklahoma City Thunder. During the end of 2013/14 season, he earned NBA All-Rookie Second Team honors. He also likes to play video games and enjoys playing Valve's Dota 2 and Hi-Rez Studios' Smite. 
Steven's Entrepreneur Girlfriend; Responded Dating Tweet After Three Years
Steven Adams is dating New Zealand based entrepreneur, Ezel Kokcu. His girlfriend Ezel, 25, immigrated to New Zealand from Turkey with her family during her childhood. She founded Passphere in 2017 to solve event organization problems. Her company named Passphere is in Wellington, capital of New Zealand.
During Steven's tour in New Zealand with his Oklahoma City Thunder teammates in August 2016, his girlfriend, Ezel accompanied them. She also participated in a singalong during a road trip. Oklahoma's official Instagram page also shared their video on 29 August 2016. Steven and his girlfriend appreciated their moment singing and cheering in Tauranga, New Zealand.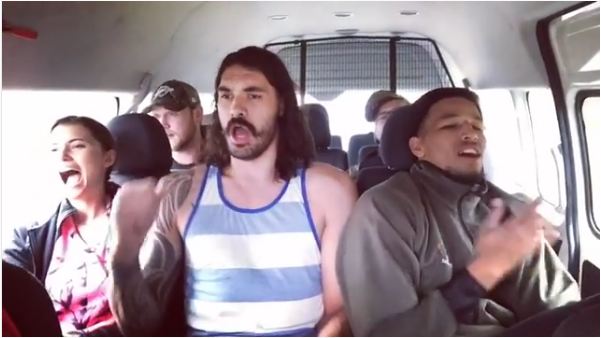 Steven Adams and his girlfriend, Ezel Kokcu sings during Steven's August 2016 tour in New Zealand (Photo: Instagram)
The NBA star also responded to a 2015 Twitter post on 19 February 2018. In the tweet of 27 January 2015, Lauren Myers asked Steven that if she gets 1000 retweets, will the NBA star go out to law school's prom with her? Steven took three years to answer her question and replied with a simple word, 'Absolutely.'
See Also: Corey Brewer Wiki: Net Worth, Contract, Wife, Family
When Stephen answered Lauren 's tweets, Lauren, who graduated from her school and became a lawyer, said she wants to date him. Lauren also added that she had never imagined that she would receive a reply from Steven.
Steven's Family Life
Steven's father, Sid Adams served in the Royal Navy in the United Kingdom's naval warfare force. After Sid retired, he moved to New Zealand and had 18 children with five different women. One of his wives Lilika Ngauamo, who is Steven's mother, is a Tongan. When Steven was at the age of 13, his father died of cancer. His siblings also had the successful sporting career due to their athleticism.
Steven is the youngest among his 18 siblings. His sister, Valerie Adams is an Olympic gold medalist. She won two gold medals during 2008 Beijing, and 2012 London Games. His sister is also a three-time World Indoor Championship and three-time Commonwealth Games champion.
What Is The Net Worth Of Steven Adams?
Steven Adams has amassed a net worth of $3 million as a professional basketball player. He has received seasonal-payments from Oklahoma City Thunder for his position as a center since 2013. He signed a four-year contract extension worth of $100 million on 31 October 2016 with Oklahoma City Thunder. 
According to HoopsHype, his projected salary in Oklahoma City Thunder during 2017/18 season is $22,471,911. During 2018/19 season, his projected income is expected to be $24,157,304. In 2018, Steven is the third best-paid player of Oklahoma City Thunder.
Steven joined Oklahoma City Thunder during 2013 NBA draft and signed a rookie contract on 12 June 2013. He debuted in October 2013 with scoring two points, three rebounds, one assist and three fouls against Utah Jazz. Since then, he is playing as a Center in Thunder.
You Don't Want To Miss: Kenny Smith Wiki, Wife, Divorce, Children, Family, Net Worth, Salary
Throws Shade At Former Teammate
The professional basketball player, Stephen Adams has fired shots to his former teammate Reggie Jackson. In his book titled My Life, My Fight that hit on the bookshelf in late July 2018, he has thrown a shade towards his former teammate, Reggie Jackson. The center player of Oklahoma City Thunder called Reggie a fool after his former teammate said that Stephen should start over Russell Westbrook, following the deal with Detroit Pistons.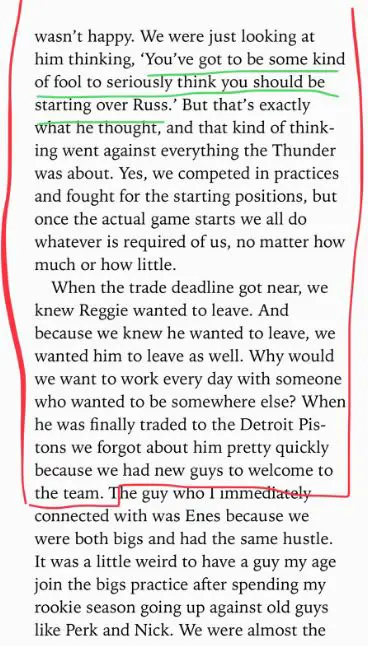 Stephen Adams throws shade towards his former teammate Reggie Jackson on his book 'My Life, My Fight' (Photo: Twitter)
Reggie spent his first three seasons with Oklahoma Thunder and moved to Detroit Pistons with $80 million contract agreement and signed in 2015. Many of his Thunder's teammate also had shaded the basketball player for leaving Thunder and joining Detroit in the wake of his departure.
You Can Also See: Kiki Vandeweghe Married, Wife, Divorce, Daughter, Stats, Salary, Net Worth
During Reggie's career in Detroit, he overlapped for two seasons with Adams. In 2016, during the game between Thunder and Detroit, Stephen and Reggie had some bitter chat towards the end of the game.
Short Bio
Born on 20 July 1993, Steven Adams hails from Rotorua, New Zealand. His birth name is Steven Funaki Adams. He completed his education from Scots College and qualified through the NCAA Clearinghouse in December 2011. As per wiki, he joined Notre Dame Preparatory School after he graduated from Scots College. Steven has the height of 2.13 m (7') and posses mixed ethnicity as Tongan and English.