Growing up in a rough neighborhood, staying out of trouble, and working really hard and eventually playing alongside one of the major team in NFL, New York Giants, Victor Cruz is the perfect example of how determination and hard work can help you achieve anything in life.
Wide receiver of New York Giants, Victor Cruz is now NFL analyst on ESPN after his retirement from the NFL in August 2018.
Victor Cruz's Stats And Networth
Victor has a net worth of $16 million and an annual salary of $8.6 million. Victor made his debut for the Giants in the pre-season ahead of the 2010-11 season. He caught six passes and scored five touchdowns, leading his team to a 31-16 victory against New York Jets. Due to satisfactory performance in the pre-season for Giants, he was rewarded with a place in Giants' 53 men rooster for the 2010-11 season. With that, his NFL career began.
He signed a 5-year $45.9 million contract extension with the Giants in July 2013. He was part of New York Giants until he was released from his contract in February 2017. In May 2017, Victor Cruz signed a deal with Chicago Bears, but they eventually released him in September that year. Victor retired at the age of 31 and is now an NFL analyst on ESPN.
Victor Baby Mama Drama & Recent Girlfriend!
Destiny plays a huge role in one's relationship, and so was the case with Victor and Elaina Watley. Before Victor could turn his fiancé and baby mama Elaina Watley into his wife, the pair went their sperate ways in life.
The relation between the two started in 2003 when Victor was still in high school. The couple became parents in 2012 after the birth of daughter Kennedy. Victor went down on one knee to propose his high school sweetheart and baby mama on 13 July 2014.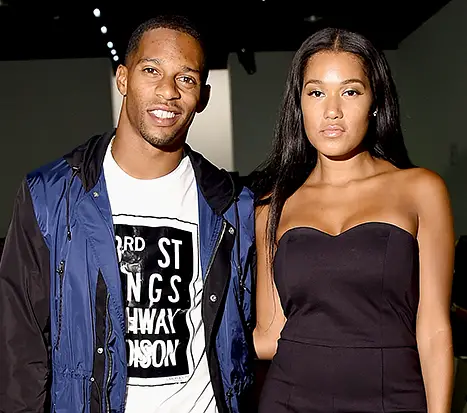 Victor Cruz with baby mama Eliana Watley (Photo: usmagazine.com)
Eliana and Victor, age 32, seemed to have a happy relationship until the rumor about Victor Cruz cheating on Eliana surfaced. Following the cheating scandal, another scandal surrounded the couple when Elaina sent a group text to Victor's alleged mistresses on 2015.
In December 2017 while Cruz was still believed to be engaged to Eliana, he was seen holding hands with Karrueche Tran, which raised a question about Eliana and Cruz's relationship. It was only later in his podcast in 2017 The Victor Cruz Show that Victor revealed he has been single since 2016.
Victor and his new love interest, Karrueche, started their relationship in December of 2017. Despite being busy in their respective career Victor and his girlfriend are inseparable and are often seen spending time together. The couple can be seen flaunting their relationship on social media.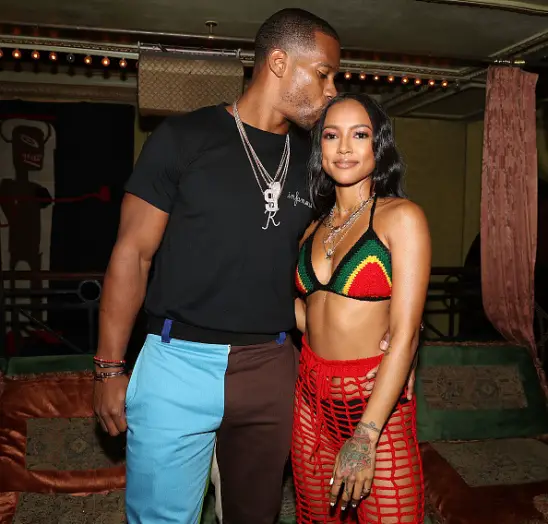 Victor Cruz with his girlfriend, Karrueche Tran, on her 30th birthday (Photo: bossip.com)
The couple was seen spending romantic time together at the beach in Miami on January 2019, which hints that the couple is still going strong.
The Bay actress Karrueche Tran had made headlines earlier after she got a five years restraining order against her ex-boyfriend singer Chris Brown after the reports of abuse. But like they say, 'All's well that ends well.'
Victor Cruz's Wiki
Victor Cruz was born on 11 November 1986 in Paterson, New Jersey. His father, Michael Walker, was African American and mother, Blanca Cruz, was Puerto Rican–born. His father was a Firefighter. Cruz stands tall at the high at the height of 6 feet 0 inch. His sun sign is Scorpio
Facts about Victor Cruz
Victor Cruz was interested in two things as a kid- football and dancing. His grandmother was an accomplished dancer and she gave him dancing lessons when he was 11 years old. After every touchdown during the football games, he would perform a tiny salsa dance routine as a tribute to his grandmother.
He attended Paterson Catholic High School and later went on to the University of Massachusetts but due to the poor grades, Victor had to leave the school and return to Paterson to regroup and take classes at a local community school to boost his college grades.
Even though Victor's priority was always football, he also enjoyed playing basketball and is actually good at it.