At the NBA team Indiana Pacers, there exists a player Victor Olapido, whose exciting and explosive dunks are always enthralling to watch. He is the shooting guard of Pacers and can play the position of point guard too. With the career average of 15.9 points and 4.4 rebounds, Victor plays a pivotal role for his team.
What's more interesting is that this American basketball player had also made his appearance in the Washington Catholic Athletic Conference and City championships.
Girlfriend, Wife?
One thing that Victor's fans always have been mesmerized of is his connection with Los Angeles based model Bria Myles. The duo was rumored to be dating in late 2017. According to the Bossip, his rumored girlfriend Bria was even presented at his basketball game.
See Also: Tobin Heath Girlfriend, Boyfriend, Gay, Lesbian, Salary, Net Worth
The speculations of them further get ignited the fire when Bria labeled him as 'Bae' on the since-deleted post on social media. Also, the things between them heated up after Bria further attended the Indiana Pacers game and shared the pictures of herself in a since-deleted Instagram feeds.
Although Victor and Bria are often linked together, both of them have remained hesitated to adress their romantic association. As of 2019, it remains a mystery whether or not the twosome are currently dating.
Besides Bria, Victor has yet to get linked to any ladies. As of now, the Maryland native is unmarried with no traces of possible future wife.
Parents & Siblings
Victor's parents Christopher Oladipo and Joan Oladipo immigrated to the United States from Nigeria. From his family roots, the NBA star possesses African-American ethnicity, along with Nigerian and Sierra Leone ancestry. 
Both his parents Chris and Joan, who are African immigrants, indulged in the field of health sectors. They raised Victor in the suburbs of Washington, D.C.
His late-father Chris worked as a health executive at Maryland, while his mother Joan is a nurse. He is an immigrant of Blama, Sierra Leone, who graduated from the University of Maryland obtaining his Ph.D. in behavioral science.
In his family, Victor has three sibling sisters, namely Victoria, Kristine, and Kendra.
You Might Enjoy: Michael Lomenda Wiki, Married, Family, Net Worth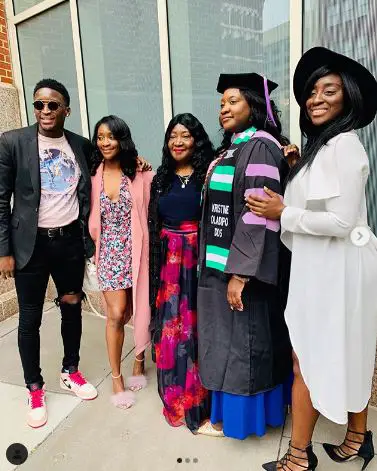 Victor Oladipo with his mother Joan and his three siblings at Baltimore, Maryland (Photo: Victor's Instagram)
He encloses a close bond with his family and keeps on gushing about them on his social network. According to his former roommate Christian Watford, Victor and his father Chris, who was reportedly antisocial, had a weird relationship.
Net Worth- Contract
Victor Oladipo has an estimated net worth of $10 million as an American basketball player. Victor reportedly signed a four-year contract with the Oklahoma City Thunder, worth $84 million in 2016. He bags the average salary of $21,250,000, as per the records of Spotrac.com.
The 6-foot 4-inch shooting guard got traded at the Indiana Pacers of NBA for 2017/18 season. He is known for his generosity, who donated his Kia SUV to a survivor of domestic violence in 2018. He had won the car during the 2017/18 season after being voted for the NBA's Most Improved Player.
Bio & Education
Born in 1992 on the 4th of May, Victor Oladipo hails from Upper Marlboro, Maryland. The 27 years old NBA star received his education at the prestigious DeMatha High School. Upon graduation, he attended Indiana University and played basketball for the team Indiana Hoosiers.
Read This: Ai Miyazato Age, Wiki, Bio, Married, Husband, Boyfriend, Dating, Net Worth
The body measurements of Victor includes his height of 1.93 m (6 feet 4 inch) and weighs around 95 kg. His real name is Kehinde Babatunde Victor Oladipo.