Openly revealing those secrets which society considers sinful isn't everybody's cup of tea. But the former husband of Star Jones, Al Reynolds thrashed those fears and spoke about his bisexual orientation during an interview with a leading magazine. Reynolds, a Wall Street Executive and Investment Banker, came forth to encourage the similar individuals who are searching for some motivation to speak their heart out.
Al Reynolds Comes Out as Bisexual!
Al Reynolds has shut down every rumor regarding his sexuality with his recent revelation. The ex-husband of Star Jones admitted in an interview with Radar Online that he is 'capable of loving both sexes, and have done both.' He also shared that people had perceived him with anger and indignation only because of the suspicion that was swirling around. He said,
"Ever since I have been in the public eye, people have been speculating on my sexuality. And 'speculating' is a kind word for how it actually played out. With anger and disdain, people have been calling me out as gay, closeted, a sham and even nastier; much nastier."
Reynolds confessed that his ingrained beliefs and fears on violating the conventional norms prevented him from speaking his sexuality aloud. He kept battling with his personal feelings for the longest times and decided to come out to encourage and provide hope to those people who are living the similar fate. He said,
"As a black man, that message and hate and homophobia were multiplied to the nth degree. I saw no path out that would resolve my personal feelings with my deeply held and ingrained religious beliefs. I tell this story to both encourage my personal path, as well as give some small measure of hope to others that no matter your beginnings, no matter the obstacles, there is nothing so fulfilling and Godlike as living the life that was destined."
Was Previously Married to Star Jones!
While Reynolds has been making these grand revelations on sexuality, his former wife, Star Jones has her own big news to share. Jones recently confirmed the news of her engagement with boyfriend, Richard Lugo, whom she started dating in summer of 2016.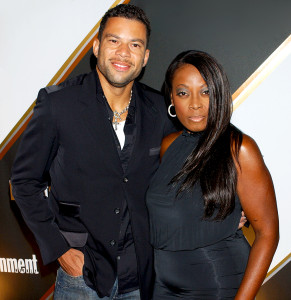 Caption: Al Reynolds and former wife, Star Jones attending Pre-Emmy Party at The Cabana Club in Los.
Source: USWeekly
Lugo is the first guy Jones has shared an affair with since her divorce with the Wall Street executive. Jones and Reynolds, who is seven years junior to her, married in 2004 and stayed together for four years before he called it quits on their marriage.
Career and Net Worth:
The investment banker from the states, Al Reynolds reportedly has an impressive net worth of $5 million dollars. He summoned the amount through his works as a Wall Street executive, investment banker and other projects which haven't received much light. While tying a knot with Star Jones, he organized a publicized wedding ceremony which included over 500 guests and the party of with over thirty corporate sponsors who donated gifts and clothing to the duo in exchange for the 'free' advertising.
His Short Bio:
As per a wiki source, Al Reynolds was born on June 1968 which makes him 49 years of age. He is the youngest child of his Southern Baptist Family who used to reside in Horsepasture Virginia. As a child, he spent his time visiting the church, attending school and doing some after-school activity. Reynolds belongs to Afro- American ethnicity and enjoys an attractive height which enhances his personality.