Albert Bourla is the CEO and the Director of the world's largest pharmaceutical company, Pfizer. He garnered this position on 1st January 2019, after the resignation of Ian C. Read.
Besides this, Albert is a board member for the Pfizer Foundation, which promotes access to quality health care. And he is also the board member for the Biotechnology Innovation Organization (Bio), the world's largest biotechnology trade association.
Albert Bourla, CEO of Pfizer Wiki, Age And Education
Albert was born in 1962 in Greek.
Talking about his academics qualifications, he joined the Aristotle University of Thessaloniki in 1979 and gained his Bachelor's degree in DVM (Doctor in Veterinary Medicine ) in 1985.
Explore this: Camille Schrier Wiki, Age, Education, Family Info 
 Besides, he has also received a Doctorate in the Biotechnology of Reproduction from the Veterinary School of Aristotle University.
Career Information
Albert joined Pfizer's Animal Health Division in 1993 as Technical Director of Greece. In 2001, he moved to Pfizer Global Headquarters in New York to fulfill his duty as a Marketing Director of US Group for Animal Group.
Another Wealthy Businessman: Chris Kempczinski, CEO of McDonald's Wiki: Salary, Net Worth, Family
Later in 2004, he became Vice President of Business Development and New Products Marketing, supervising Pfizer Animal Health global licensing and acquisition activities, as well as the unit's R&D portfolio. After two years, Albert was appointed as Area President of Europe, Africa, and the Middle East.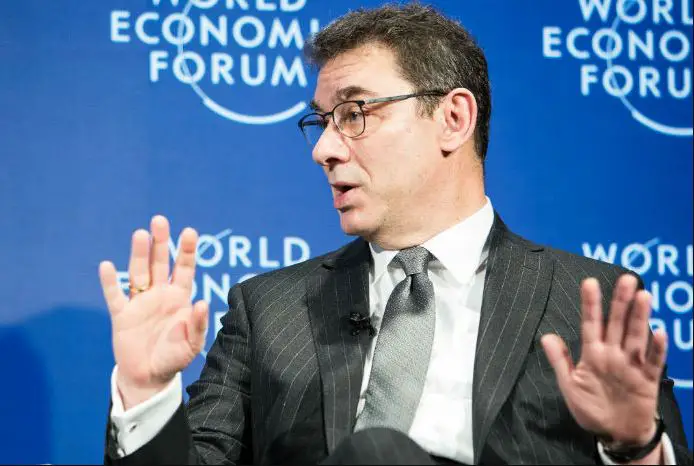 Photo(thepharmaletter.com)
Furthermore, in 2009, he acquired more responsibilities for Asia and the Pacific.
Before being elected as CEO, he served as Chief Operating Officer, overlooking the company's commercial strategy, manufacturing, and global product development functions. He was also the Group President of Pfizer Innovative Health, responsible for the Inflammation & Immunology, Internal Medicine, Oncology, Rare Disease, Vaccines, and Consumer Healthcare business groups.
Quick Facts About His Career:
He served as Group President for Pfizer Innovative Health from February 2016 till December 2017.
He worked as Group President for Pfizer's Global Vaccines, Oncology & Consumer Healthcare (VOC) from January 2014 to January 2016.
He served as President and General Manager of Pfizer's Established Products Business Unit from 2010 till December 2013.
Net Worth And Salary
Albert's net worth is estimated to be $ 22.8 million. Most of his earning come from Pfizer. He has been serving this company for more than two decades. And in the company, he owns over 64,322 units of Pfizer's stock worth over $12,993,775; over the last six years, he had sold PFE stock worth over $0.
In Addition, he has made 12 trades of the company's stock since 2014.
Be Inspired From Another CEO: Darren Woods, CEO Of ExxonMobil: Salary, Net Worth & Family Life
On the other hand, as a CEO and the Director of one of the world's largest pharmaceutical company, Pfizer, Albert made $9,854,557 in total compensation in the fiscal year 2018. Out of his total compensation, $1,400,000 was received as a salary, $1,533,000 was a bonus, $3,954,369 was received in stock options, $2,592,079 was awarded as stock and $375,109 came from other types of compensation.