Immigrants can face a hard time when they leave their native land to become a permanent resident of another foreign country, and same was the case for American-born British financier, Bill Browder, who left the United States for Britain to avoid tax from his foreign investment source.
Bill Browder is mostly recognized as a Chief Operating Officer of an investment fund and asset management company named Hermitage Capital Management for the last two decades.
Married To Russian Women; Has Three Children
Bill Browder was previously married to a Russian woman named Melanie Browder in April 1996. He has a son named Joshua Browder, who was born at the Portland Hospital in London in December 1996. Joshua is now the founder of DoNotPay, the first chatbot, which lets drivers review their parking passes automatically.
Bill and Melanie marriage lasted for a short period and got divorced when Joshua was three years old.
The Businessman married another Russian woman, Elena Browder when he was 37 years old back in 2001. Both the couple fell in love with each other in Moscow. They have welcomed two children.
His wife, Elena and one of his son, David had helped him to write his first career book, Red Notice: A True Story of High Finance, Murder, and One Man's Fight for Justice, which talks about his struggles in Russia.
Family & Giving Upon His American Nationality
Bill was born to a Jewish family. He is the son of late mathematician Felix Browder and Eva Tislowitz and has an elder brother named Thomas Browder, who is a doctor by profession.
His late paternal grandfather, Earl Browder was an American political activist and was known as the leader of the Communist Party USA (CPUSA).
Bill left his American citizenship in 1998 to avoid paying taxes from his foreign investment. The businessman, who owns financial firm Hermitage Capital Management in Russia for ten years was abandoned to live in the country in 2005 and was alleged as a threat to national security. He was convicted for exposing the corruption of the country.
His companies were seized, and Russian authorities banked $230 million of Hermitage's previous paid taxes. Not only that Bill's lawyer, 37, was arrested and killed in custody in November 2009 after 358 days of torture.
What Is Bill Browder's Net Worth?
The 54-year-old financer summoned the majority of his net worth from his investment company named Hermitage Capital Management since 1996. He is the co-founder of the finance company along with his partner, Edmond Sarfa and between the year 1995 until 2006 their firm was one of the largest foreign investors in Russia.
Don't Miss: Jamie Mazur Wiki, Job, Net Worth | Alessandra Ambrosio's Ex-Fiancé Facts
The Investor amassed millions of fortunes form his management of the finance company. He reportedly earned £125–150 million as his profit share for two consecutive years in 2006 and 2007. Apart from his soaring wealth, Bill is noted to one of the harsh critics of the Russian President, Vladimir Putin.
In the YouTube video uploaded by MSNBC in July 2018, Bill had slammed President Vladimir for unnecessarily dragging his name to his recent diplomat meeting with the United States President, Donald Trump.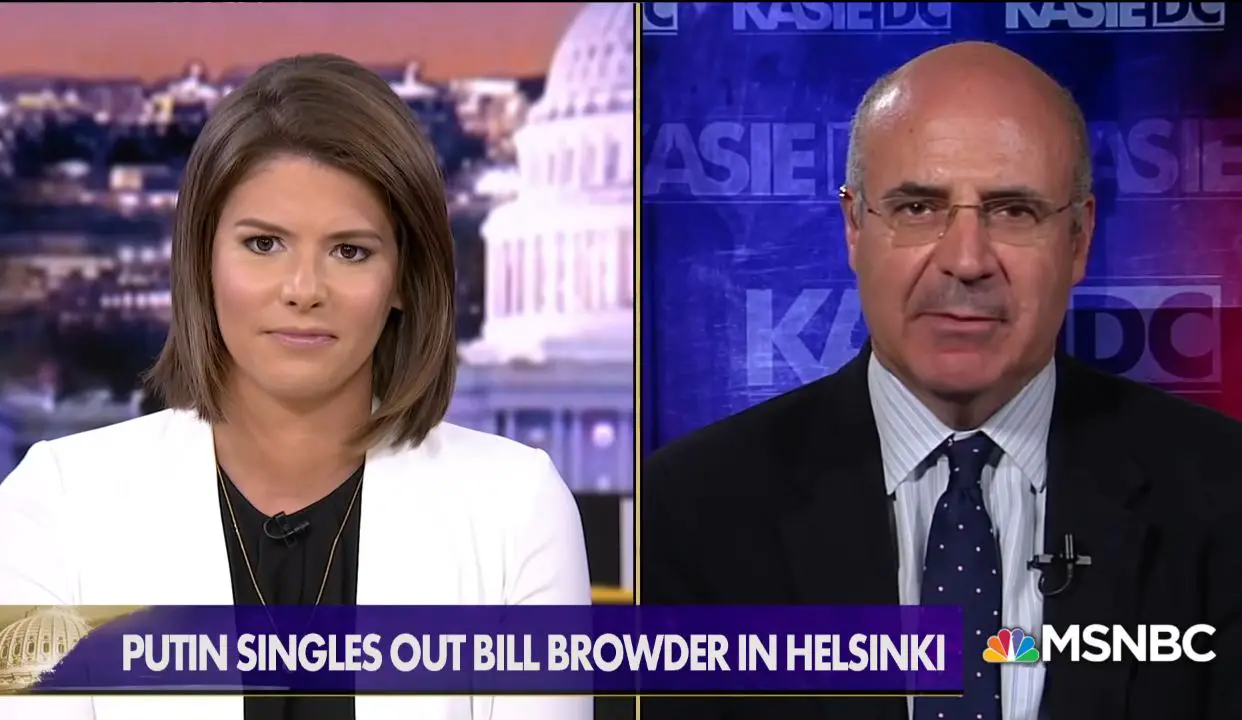 Bill Browder on his MSNBC interview about President Vladimir Putin on 23 July 2018 (Photo: MSNBC's YouTube)
During his another conversation with the CNBC in 2017, Bill revealed that wealth of Vladimir is more than the combined net worth of billionaires, Bill Gates and Jeff Bezos. He had also published a book on his career titled Red Notice: A True Story of High Finance, Murder, and One Man's Fight for Justice back in February 2015, which is priced at $9.07 in Amazon. He talked about his years of staying at Russian and the Russian Government attacking his Hermitage Capital Management.
Short Bio
Bill Browder was born on 23 April 1964 in Chicago, Illinois as per wiki.
He first went to the University of Colorado and later transferred to the University of Chicago, to complete his graduate degree in economics. Bill then attended Stanford Business School and obtained his MBA degree in 1989 to enter the financial sector.
Bill is quite active using the social networking platforms and till now has gathered more than 161,000 Twitter followers with more than 11.2K Tweets.