Candy Spelling is unlike any other woman you've ever seen before.
A multi-talented woman, she has managed to maintain a balanced lifestyle between being the wife of a world-renowned TV producer, to having an illustrious career of her own while also managing to raise her two children.
An author, a businesswoman, a TV star, a producer, a blogger, car enthusiast, and more, Candys' life is sure to amaze those who dive deep into her world. 
Married To Husband, Children?
To date, Candy Spelling, age 74, has been married twice.
Her first marriage ended with a divorce, while her second marriage came to a halt after her husband passed away.
Candy's first marriage took place in 1963 when she tied the knot with Howard Frederick Leveson.
Her time with Howard was a short one, as their marriage lasted only one year. In 1964, the couple divorced and parted ways for good.
It was her second marriage to legendary TV producer Aaron Spelling that really throttled her fame into the sky.
She met Aron in a dance bar and began a bond with them. And in 1968, they tied the knot and became husband and wife.
Their marriage was long and joyous, blessing them with two children, Tori, and Randi Spelling.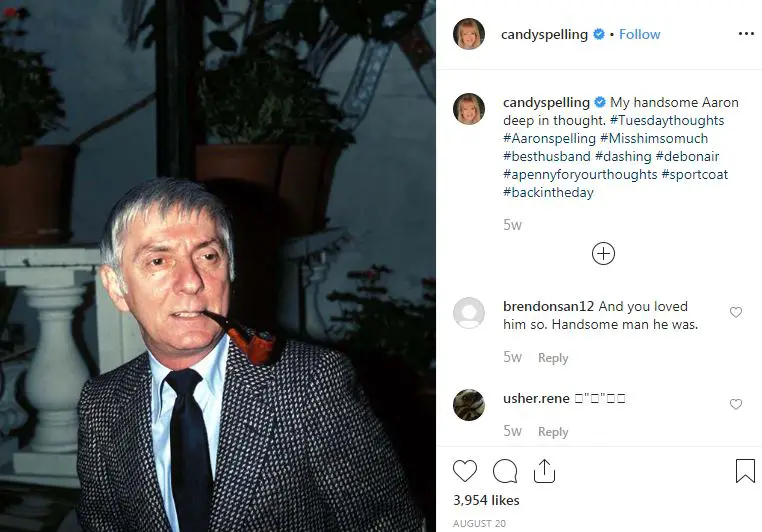 Candy Spelling posts about her late husband, Aaron Spelling, on 20 August 2019 (Photo: Candy Spelling's Instagram)
Candy's marriage was cut short only after Aron passed away in 2006.
To this day, she still reminisces about her late husband. 
As of today, she is not dating anyone, relishing her life while managing her professional life, and swinging from house to house.
Candy Spelling's Net Worth, Assets & House
As of 2019, Candy Spelling has a net worth of $600 million. Most of her net worth can be credited to her late husband, Aron, who was a world-renowned TV producer.
But she has also gathered up a decent sum through her own businesses and endeavors. She has authored quite a number of books over the years. 
Likewise, she has also written for LA Confidential, TMZ.com, and The Huffington Post.
Having gone on to serve on the board of trustees of the American Humane Association, Candy has even contributed as a member of the Los Angeles Coliseum Commission.
Interesting: Summer Zervos Wiki, Age, Lawsuit, Net Worth
Moreover, the author also acted as the commissioner for the Department of Recreation and Parks for the City of Los Angeles.
And to top it all off, she was a panelist on the reality TV series, Bank of Hollywood, from 2009 to 2010. All her works and being the heir apparent has added to her hefty net worth. 
But apart from her career, what is really interesting about her life is the fact is she seems to enjoy moving on from house to house.
In 1988, Aaron and Candy commissioned a 123 room mansion in the Holmby Hills neighborhood of Los Angeles known as Spelling Manor.
They lived in the house until Aron's death. After that, Candy listed the manor for sale for $150 million.
The price was dropped down to $85 million when, in 2010, she sold the house for $85 million to British socialite Petra Ecclestone.
5 Exclusive Facts of Her Worth
She inherited a large portion of her net worth from her late husband, legendary TV producer Aron Spelling.
She is an author, a producer, a TV personality.
She is also a car enthusiast.
She likes to keep changing homes as evident by her history regarding houses.
She recently bought a 35 million penthouse called The Century.