Chris Kempczinski is the CEO and President of McDonald's, the largest restaurant company around the globe. He got appointed as the CEO in November 2019 after Steve Easterbrook, who had been CEO since 2015, was removed from his position.
Before securing his prestigious position, Chris was looking over the global strategy, development, and innovation of the company.
Career
Chris started his career from Procter & Gamble (PG.N), where he worked as a brand manager. He was with the company for four years. After that, he joined PepsiCo Inc and worked as a vice-president of marketing in the company. 
Later, he joined Kraft Foods in 2008 and became president of international business at the company in 2015, before joining McDonald's, the largest restaurant company in the world.
After joining McDonald's in 2015, Chris served as the President of McDonald's, the USA franchise overseeing the operation of around 14,000 McDonald's restaurant chains all over the United States before taking up the big spot as the CEO of the company.
Also Read: Ian Abrahams [Talksport] Wiki: Facts On Age, Career, Family
Salary & Net Worth
Chris has garnished immense fame and relative wealth in his life from his entrepreneurial career. According to Wallmine.com, his net worth is estimated to be around $15.1 million.
Being the CEO of McDonald's, he earns the basic salary of about $1.25 million with the target bonus opportunity at 170% of his annual base salary.
In addition to that, in November 2019, Chris was paid $500,000 for 2,580 shares in McDonald's. He also owns stock option 9,291 shares and restricted stock units of 6,975 shares.
Is Chris Married?
CEO of McDonald's Chris Kempczinski is very secretive about his personal life. But, it is a known fact that Chris is a married man. He tied the knot with Heather Kempczinski.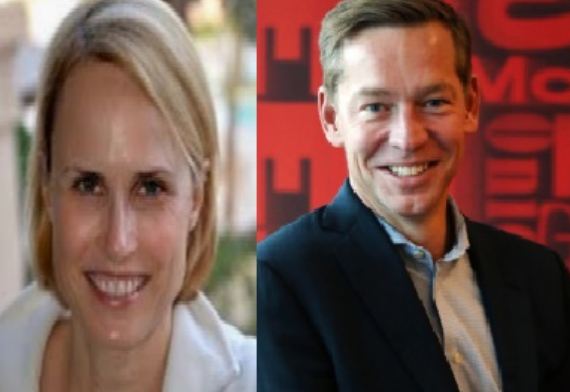 Chris Kempczinski and his wife Heather Kempczinsk (Source: wagcenter)
Together, the couple has two children.
Enjoy Reading: Is Drew Pritchard Still Married To Rebecca Pritchard?
Family Details
Chris's father and mother are no more alive. His late dad Dr. Richard Kempczinski passed away in 2017. His father was a former chief of vascular surgery at the University of Cincinnati Medical Center. 
Likewise, Chris's mother, Anne Marie Campbell, was a teacher who taught third-grade at Terrace Park Elementary School. She passed away, losing the battle with ovarian cancer in 1991.
CEO of McDonald's Wiki- Age, Education
Chris was born in 1968 in Cincinnati, Ohio. He completed his high schooling from Indian Hill High School in 1987. 
Later, he got his bachelor's degree in Economics from Duke University in 1991. For further education, he attended Harvard Business School and graduated with an MBA degree in 1997.
You Need To See This: Darren Woods, CEO Of ExxonMobil: Salary, Net Worth & Family Life
Some Interesting Facts About Chris:
During his early years in the company, Chris serves as business units, identifying the new idea and the best strategy to accelerate the company's growth as well as the growth of the overall value of the system.
 
After working for about one year and one month in McDonald's, he was promoted to president of McDonald's USA in October 2016.
 
Chris is responsible for over 200,000 employees of McDonald's globally.
 
The Ann Kempczinski Foundation which supports early literacy and launches after-school programs for children in need is named after his mother.
 
Chris was an athlete during his childhood—he was in soccer in his high school years and a member of the National Honor Society. Furthermore, he was an editor for the school newspaper The Chieftain.