Transforming the company's retailing business and scaling up the profit wasn't an easy task for Craig Menear. However, with his broad vision and insights, Craig became the successful retailer of his time. He didn't only reach the targeted audience through the online retailing and effective business policy, but also he fostered the company's image in the global sphere through his philanthropic works.
As an influential merchandiser, CEO, and chairman of the Home Depot. Inc, Craig has enhanced the global sourcing and supply chain mechanism of the company. It is the reason he became Forbes Retailer Of The Year in 2018.
Wiki Plus Family 
Craig Menear was born in 1958 at Flint, Michigan. He made himself familiar with the tools and entrepreneur mindset because of his family. His father worked in General Motors as a tool and dye maker, which also helped him to set his career path.
CEO of The Home Depot
Now, Craig is the CEO and the chairman of one of the renowned and largest Home improvement retailers of the United States named Home Depot. Inc.
Since his inception in the company as a CEO back in 2014, he has been driving the company's retailing business in an innovating and creative way. His broad insights and vitality haven't been dwindling even at the age of 60.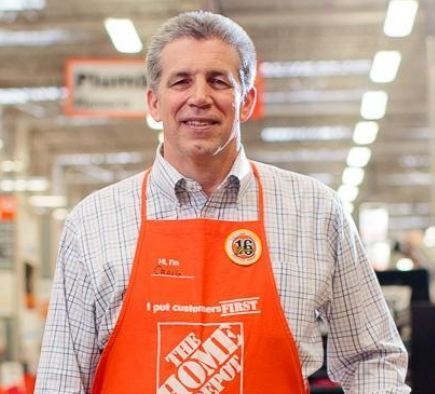 Craig Menear in Home Depot apron (Photo:-moneyinc.com)
Craig has spent 16 years in Home Depot in a different position, including merchandising, supply Chain, and Store operation. And with his contribution, Home Depot has been able to take hold of the 15% market share of the home improvement business in his tenure.
Education And Career
Craig went to Flint Central High School in 1975. Later, he completed his undergraduate degree from Eil Broad College of Business of Michigan State University in 1979. Taking note of his philanthropic initiatives, Michigan University felicitated him with MSU's Distinguished Alumni Award in 2017 for his kind endeavors of providing $4 million for the disaster relief program.
Check Out For:  Recipient of Michigan Hall of Honor 
Talking about his career journey, he worked as a retailer in a department store named Montgomery ward, and then he got affiliated with Builders Emporium. He also worked as a distribution manager for IKEA before joining Home Depot in 1997. 
Apart from being the CEO and chairman of Home Depot Inc, he is also in the board of directors of the Retail Industry Leaders Association.
Wife And Children
Craig Menear turned his high school love-affair into a marriage bond. He met his wife Dawn at Michigan, where they used to attend the same school. They started hanging out during their junior high school, and eventually, they fell for each other. 
As confirmed by Biz Journals in 2018, it had been 32 years since they tied the nuptial knot. Together the couple is blessed with two daughters. 
Net Worth And Salary
As of 14 November 2018, the estimated net worth of Craig Menear was more than $85.1 Million. As a CEO and President of Home Depot, he earns a base salary of $1.3 million per annum. Besides, he has amassed over 117,327 units of Home depot stock in his name, which cost over $58,711,831.
While glancing at his 13 years company's stock transaction, he enriched his fortunes by selling Home Depot stock worth over $14,995,979.
You May Like This:-Mark Leigh Bourish net worth
Likewise, in November 2018, he sold over 17,327 units of Home Depot stock worth $3,792,009. However, in November 2019, the company's stock fell by 5% as it is yet to receive the investment returns.
Currently, he is likely to have at least 264,969 units of The Home Depot stock to his fortunes.