In the A&E hit series Storage Wars, American auctioneer Dan Dotson competes with other co-stars to auction the contents of containers. He is an owner of full-service auction company named American Auctioneers in Riverside, California. 
The credit of Dan's passion for auctions goes to his grandfather Sam Fancher, who was a farm and cattle auctioneer. Sam taught auction to his grandchild and worked with him while he was not in the school. Dan then traveled to the Chino auction in California in 1978 and sold the furniture as his first auction item.
How Much Is Dan Dotson's Net Worth?
Dan, age 56, is an American auctioneer who holds the astounding net worth of $4.5 million. As an auctioneer, he featured on A&E reality television show, Storage Wars and discovered a locker containing a whopping $7.5 million cash along with his wife Laura Dotson in November 2018.
Explore More: Rick Kamla Wife, Family, NBA, Salary, Net Worth
Dave and his wife Laura (net worth $4.5 million) reside in their Yucaipa, California luxurious house which they bought for $629,000 in July 2004. Their apartment consists four bedrooms and 3.5 bathrooms along with 3,171 square foot area. Initially, they purchased a lot and later build their house in Yucaipa.
In the reality series Storage Wars, Dan starred alongside the business magnate Dave Hester, who has a net worth of $4 million. As Dave received a salary of $25,000 per episode from the reality show, Dan might also have collected some handsome chunks of revenues. 
The hit series follows an adventure of a group of men and women who search the hidden treasures that are being auctioned off. Besides Dan and Dave, the seasoned veterans like Mary Padian (net worth $600 thousand), Brandi Passante (net worth $2 million), Nabila Hannis (sold locker worth $10 million), and Darrell Sheets (net worth $4.5 million) have featured in the hit A&E series Storage Wars. 
Don't Miss: Erin Krakow Married, Husband, Boyfriend, Relationship, Family, Net Worth
Personal Life With Laura Dotson
The duo of Dan Dotson and his wife, Laura Dotson may be auctioneers in the reality series, but behind the camera, they are parents of their son. Laura is also a proud step-mother and nourishes Dan's two older sons. Prior to his marriage with Laura on 26 August 2000, Dan had an estranged relationship with his first wife, which the auctioneer does not prefer to talk much.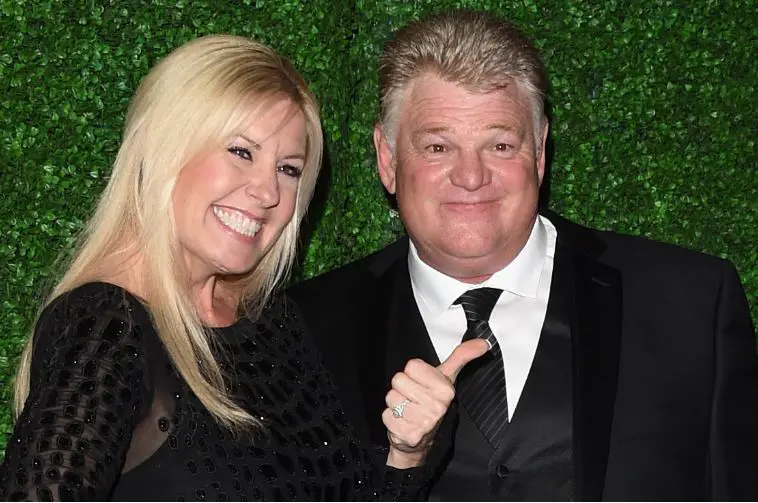 Dan Dotson and his wife Laura Dotson tied a knot on 26 August 2000 (Photo: kiwireport.com)
They first met at the hit series Storage Wars, and Laura spotted her future husband in the different auctions. She knew that he was the man who could keep her happy and the duo inaugurated their loveable romantic journey. Within four months of their dating, Laura got pregnant and later welcomed their son. 
See More: Cole LaBrant Wiki, Bio, Age, Family, Siblings, Girlfriend, Snapchat
Bio, Wiki, And Dead
Born as Danny Dotson on 23 November 1962, Dan has his hometown in California. Since the age of 11, Dan has been into the auctioneering business.
In 2014, Dan was unable to feature in the show Storage Wars because the auctioneer was nearly dead due to suffering from a double brain aneurysm. He received treatment from the health officials, and the surgeons were able to save him. After becoming healthy, Dan quit his smoking habit, as per wiki.