Debbie Sterling is a business executive and a founder of the acclaimed American toy company called GoldieBlox. She is a true entrepreneur, who has a visionary in women's capability as well as on her business.
The 36-years-old woman created interactive engineering toys for girls with a belief in empowering girls. Her strategy was neglected at first by many toy companies, but at present, her company GoldieBlox is on the peak and has 23.8k followers on Instagram.
Now, Debbie is a source of inspiration that encourages and motivates women empowerment breaking the stereotypes. Her innovation and skills are even awarded by the title TIME's Person of the Moment and with the Business Insider's 30 Women Who Are Changing the World.
Wiki, Bio And Her Family
GoldieBlox's CEO Debbie was born on 26 February 1983 in Los Angeles, CA. She grew up in LA alongside her sister Steph Glasband aka Steera. Although detailed information about her family members is concealed, her social posts reflect that she has a close relationship with her three generations' family.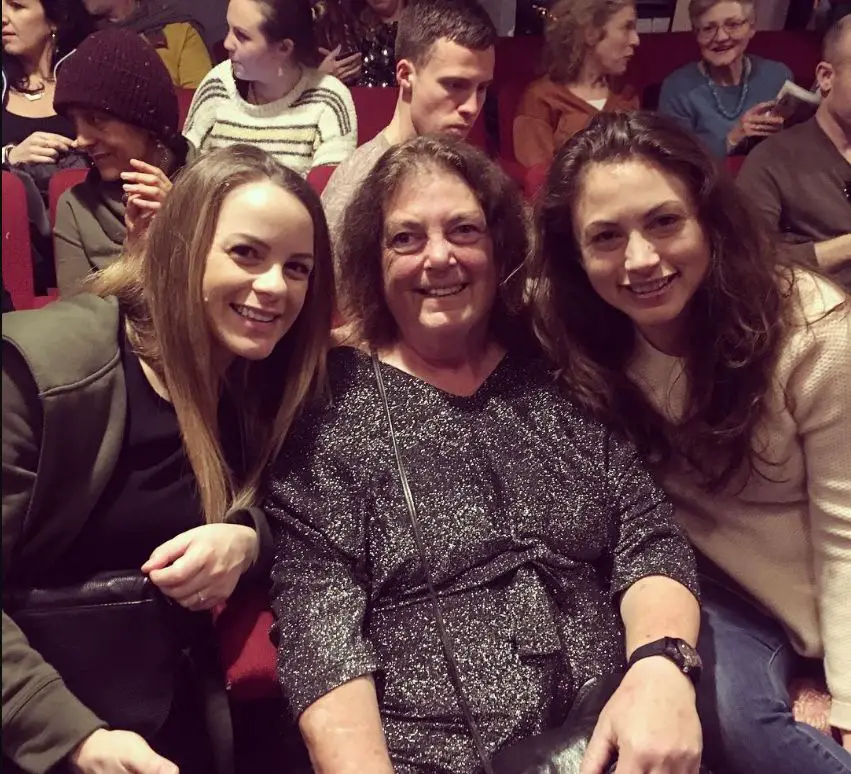 Debbie Sterling (left) shared a picture with her mother and sister, Sterra, at The Victoria Theatre on 16 December 2018. (Photo: Instagram)
Inspiring: Quinn Shephard Dating, Boyfriend, Net Worth
Speaking about her education, Debbie, the founder and the CEO of GoldieBlox, graduated with a degree in Mechanical engineering and product design from Stanford University in 2005. She was recommended by her math teacher to be a Train Conductor and had suggested pursuing a study in engineering.
Then, she did not know why her teacher wanted her to be a train conductor. But as she realized few numbers of women in the program, she couldn't help herself from disrupting the pink aisle with a toy that would introduce girls to the fun but knowledgeable engineering.
However, her journey to the GoldieBlox wasn't comfortable. She faced several criticisms and negligent from toy companies. She had to raise around $300,000 for GoldieBlox on Kickstarter.
Career & Net Worth
"Just because this is the way things are doesn't mean this is how they have to be," said Debbie in an interview with TED talk in 2013. Well! The saying has a deep meaning. 
According to the 2012 congressional report, only 14 percent of engineers in the US were women. Just like the saying, Debbie always had wanted to change the scenario of the dominating male society since the beginning. With a motive of inspiring the next generation of female engineers, Debbie gave birth to an innovative and interactive idea, GoldieBlox, in 2012.
The GoldieBlox is now in a run of 7 years of establishment, and Debbie has not only taken over the market but also has inspired and encouraged many girls towards science, technology, math, and engineering.
Do Not Miss: Laurieann Gibson Married, Family, Net Worth
Along with the good deed, the Los Angeles native also receives a good fortune from her business. Founded GoldieBlox in 2012, Debbie has sold a million sets of construction-toys by now and generated millions of net worth.
Within only six months of the GoldieBlox, the company had an earning of $30,000 in sales per month with $285,000 on a Kickstarter before launching her company. Additionally, the company also won the Super Bowl ad among 15000 other rivals contestants and accumulated $ 4million. 
However, it is not the salary she earns, but the great work she has done for the future generation. More than the salary she earns, Debbie is worth praising and admiring for the jobs she has done.
Debbie's Married Life
Debbie is not only a businesswoman but is also a proud wife and a mother. She and her husband Beau Lewish, who got married on 19 June 2011, shares three years old son Miles.
Along with their precious son, they also share the same work at the company and most importantly the love. While the couple is on their duty, their son is looked after by Debbie's parents, who live nearby their office.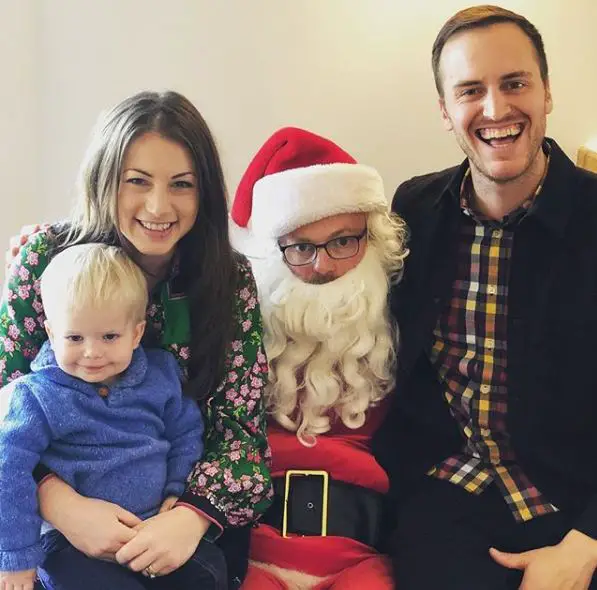 Debbie Sterling, her husband Beau Lewish and their son Miles takes a snap with the Santa during the Christmas of 2018. (Photo: Instagram)
Regardless of long togetherness and a busy schedule, the duo still falls in love every day and never fails to show their love through social posts. The couple has surpassed their eight happy years of marriage on 19 June 2019 and going strong with the time.
Husband Details
Her husband, Beau works as the company's VP of product and as a video maker. He is the man behind the 5.4 million viewed video of ''he Mac v. PC rap battle" video. Also, he holds a prestigious record of working with Google, YouTube, and Pepsi.
Before the GoldieBlox, Beau was an owner of the viral-video production company Seedwell for five years.