American Entrepreneur Jamie Siminoff is popular for his invented device Ring, a wi-fi video doorbell founded in 2013. The device functions in seeing and talking with the visitors through the video doorbell, which is accessed through the wi-fi. The main motive of the device is to provide security and to reduce the rising crime in the areas.
However, the successful company Ring was sold to Amazon in 2018. Apart from that, the graduate of West Morris Mendham High School is the former Chief inventor at Edison Junior Design Laboratory. His other successful career journey holds PhoneTag and Unsubscribe.com.
Wiki, Bio
Born on 1976, Jamie, now at the age of 42, is widely recognized as a successful entrepreneur. His birthday falls on 18 October.
His inventions are world widely famous and implemented in almost every house and business. However, his success story wasn't always a pleasant one. He had faced several physical and mental break down since the beginning phase of his journey. After several failures and rejections, he was able to build up himself as a successful entrepreneur and a creator of Ring.
Family Background
In an interview with LA Times in May 2017, Jamie has spoken about his family background. He said that his parents used to have a garage beside their home, which was a playground for him.
He was fond of mechanical stuff since childhood. Unlike other children, he spent most of his childhood in his parent's garage building and exploring many dangerous and exploding things. In relation to his adventure, he was even bruised and hurt.
Married, Wife & Children
In the quest of his ups and down in Jamie Siminoff's life, his wife Erin Siminoff has been the one who stood side-by-side of him. His wife always has been a source of motivation to him. She is a graduate of Pepperdine University and currently working in Twentieth (20th) Century Fox Film Corporation, as per her Facebook bio.
Jamie and his soulmate Erin got married on 7 October 2006. After their marriage, his wife's support and dedication brought a flourishment in their life. Meanwhile, the birth of their son Oliver brought the tears of happiness to the couple.
Sadly, their happiness couldn't last long when it was discovered that their child Oliver was diagnosed with a rare condition, Galactosemia at the time of his birth.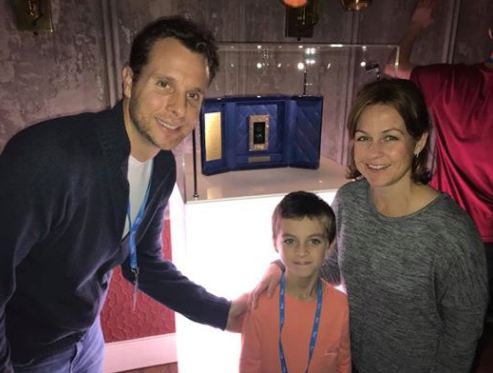 Family: Jamie with his son Oliver and wife Erin while launching the World's Most Expensive Doorbell in November 2017. ( Photo: Jamie's Facebook)
However, rushing to every well-known doctor, Oliver was brave enough to beat the disease.
At present, Jamie and his wife have been donating the money to the "Galactosemia Stem Cell Fund" to support people with the syndrome.
Education, Business & Career
In 1991, He enrolled Morristown Beard and completed his high schooling from there in 1995. Later, he joined Babson College, where he studied BS in Entrepreneurship and earned the graduation degree in 1999.
Jamie is now a successful entrepreneur and recognized as a CEO and Cheif Inventor of  Ring. Initially, he began his career by making money writing business plans for people. Later, he worked as President for Your First Step.
Currently, he is the founder and CEO of EdisonJr.
Career/ Net Worth
The founder and CEO of Ring had appeared in the TV show Shark Tank in 2013, where he faced rejection by the sharks when he asked for the investment of $700000. His annual sales from Ring during the period was $1million.
Later in 2018, Ring was purchased by none other than Amazon for about $1.2- $1.8billion. However, the profit he earned from selling Ring is not disclosed yet. But, he bought a mountain bike that cost around $8,000.
In regard to his earnings, his present net worth is yet under the radar.