Co-founder of YouTube, Jawed Karim is most importantly recognized as the first person to upload a video on YouTube. Professionally, he is a German-American computer scientist and Internet Entrepreneur.
Besides, he is also the youngest Commencement Speaker (and the 136th) in the history of the University of Illinois.
Jawed Karim Married Status Now, Girlfriend?
Pertaining to personal affairs, Jawed is very confidential and likes to maintain low-key as much as possible. So his marital status is not disclosed yet.
Check This Out: GloZell Married Life With Husband, Details On Baby & Net Worth
However, there was a rumor that he was dating an author, Kia Abdullah, from 2011. Also, there was a kind of hype that she was Jawed's about-to-be wife. But in 2019, they walked different paths due to undisclosed reasons.
Career Info
Jawed Karim commenced working with the American high-performance computing manufacturer, Silicon Graphics Inc. as an Intern in early 1998.
Soon after that, he started working for an American company that operates an online payment system worldwide, PayPal. Karim designed and implemented several core components of PayPal, which included a real-time anti-fraud system.
Interestingly, in 2005, Jawed, along with his two other employees, Steve Chen and Chad Hurley of PayPal, created the video-sharing website, YouTube, when Jawed couldn't find the two events i.e. Super Bowl XXXVIII halftime show controversy involving Janet Jackson and Indian Ocean earthquake and tsunami. Whereas, his two other colleagues came up with these ideas from the dating site, Hot or Not.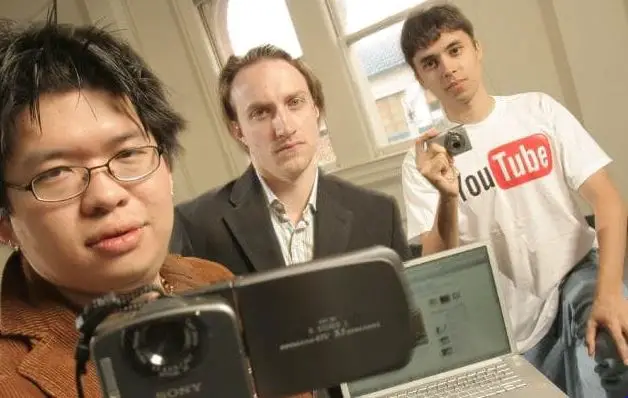 Jawed Karim(from left) with co-youtube founders Chad Hurley and Steve Chen(Photo:answersafrica.com)
Similarly, Jawed created his YouTube channel, Jawed, and uploaded his first video titled, 'Me at the zoo' on 23rd April 2005. But due to his studies, he chose to be an informal advisor of the company instead of the employee at the time of launch of the website, in February 2005.
As a result, he became unrecognized in the mass. Not only this, when Google took over YouTube in 2006, he received comparatively fewer shares to the other two co-founders.
You May Like: Ozzy Lusth Married Status Now, Facts On Girlfriend, Net Worth & Job
Besides that, Jawed has delivered a lecture at the annual ACM Conference of the University of Illinois on the history of YouTube in October 2006. Also, he partnered with Kevin Hartz and Keith Rabois to launch Youniversity Ventures, a venture fund in March 2008.
Net Worth
As an internet entrepreneur, Jawed's net worth is estimated to be $140 million.
Reportedly, he added a chunk of change to his net worth when he received 137,443 shares of stock after selling the website to Google for $1.65 billion in November 2006.
Family Details
Jawed is an elder son to his parents. His father Naimul Karim is a Muslim Bangladeshi and a mother, Christine Karim is German.
Hang Onto This: Yoko Ono, John Lennon's Wife Wiki: Age, Net Worth, Children, Now
Concerning his parents' profession, his father was a Researcher, and his mother was a German Scientist of Biochemistry at the University of Minnesota. Apart from his parents, he has a younger brother, Ilias Karim.
Bio, Ethnicity, And Education
Jawed was born in 1979 in Merseburg, East Germany. He celebrates his birthday on the 28th of October. He is of Bangladeshi ethnicity and follows the Muslim religion.
Despite being born in Merseburg, he was raised in Neuss as they relocated to West Germany due to Xenophobia during the 1980s.
Keep Surfing: Is DeStorm Power Married? Insight His Personal Life & Net Worth
Talking about his academics, he graduated from Saint Paul Central High School. And he has a degree in Computer Science from the University Of Illinois at Urbana-Champaign.