Joseph Tsai is a Taiwan-born businessman and the co-founder of the largest retail and e-commerce company, Alibaba Group. He was one of those 18 members since the beginning of the company.
As the executive vice-chairman of Alibaba Group, Joseph has aided in raising nearly $7.8 billion of financing to the company until now. Plus, he played a significant role in selling 40% of the company's stake to Yahoo back in 2005. 
Moreover, Joseph is also the NBA governer of Brooklyn nets and chairman of the board of directors of the Barclays Center.
Personal Life: Wife And Children
Joseph has been married to a woman named Clara Wu since 6th October 1996. The couple exchanged their wedding vows at the Park Avenue Christian Church in New York. The wedding ceremony was officiated by a Baptist minister.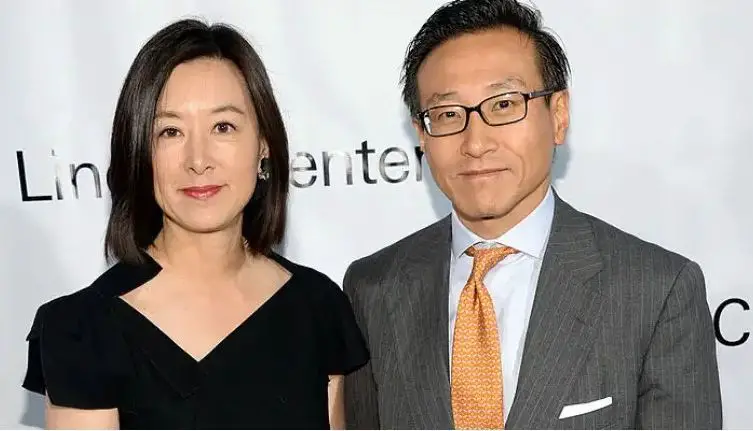 Joseph Tsai and his wife, Clara Wu in 2014 (Photo: Heavy)
Together, they are parents to their two sons named Dash, and Jacob and a daughter Alex.
Career Information
Joseph commenced working with one of the management buyout firm based in New York City.
In the year 1990, he joined Sullivan & Cromwell in New York. In the company, he served as an associate attorney. He left the company, after working for nearly three years in 1993.
After leaving Sullivan & Cromwell, Joseph was recruited by Rosecliff, Inc. in 1994 for the post of vice president and the general counsel. Joseph served for almost one year in Rosecliff, Inc.
Another Businessman: Albert Bourla, CEO of Pfizer Wiki: Age, Salary, Net Worth
The following year, he got an opportunity to work for Investor Asia Limited, which is a subsidiary of Investor AB and the largest industrial holding company in the Nordic region. In Investor Asia Limited, Joseph worked till 1999 by holding the post of vice president and senior investment manager and focusing on Asian private equity.
Later, in 1999, Joseph moved to Alibaba Group as a member of the Alibaba founding team. He has experience of working as the chief operating officer from 1999 to 2000 and chief financial officer from 1999 to 2007 of Alibaba.com. Plus, Joseph has also served as the chief financial officer at Alibaba Group Holding Limited from 1999 to May 2013.
How Rich Is Co-Founder Of Alibaba Group?
The co-founder of Alibaba Group's total net worth is $7 billion according to the Celebrity Net Worth.
Besides Alibaba Group, Joseph also makes high earning from his sports club like Brooklyn Nets, which he bought in 2017. In the initial phase, Joseph purchased only 49% of Brooklyn Nets for $1 billion in 2017. 
The following year, he bought the remaining 51% of Brooklyn Nets at $1.35 billion, which became the highest price ever paid for an NBA team-paying $2.35 billion in total. Also, Joseph became the NBA governer of Brooklyn Nets. Plus, he became chairman of the board of directors of the Barclays Center as he also bought the arena for $700 million.
Know The Net Worth Reed Hastings:  CEO of Netflix Wiki: Salary, Net Worth, Wife, Kids
Additionally, Joseph also earns from the team, San Diego Seals, which he bought for $5 million.
Similarly, in the year 2019, Joseph widened his source of income by buying $10 million stakes in G2 Esports. Also, he bought WNBA's New York Liberty in the same year.
Details On Joseph's Education
Joseph attended Yale University and he received a Bachelors's degree in Arts and Science. Also, he holds the Doctor of Jurisprudence from Yale University.
Quick Facts About Joseph Tsai
His wife, Clara holds a Master's degree from Harvard and Stanford.
He has Canadian citizenship.
He is ranked second for the largest individual shareholder after chairman Jack Ma.
In the year 2020, Forbes listed Joseph as Hong Kong's 50 Richest ranking number 9. And he was also ranked at 147 in the category of Billionaires 2019 and at 31 in the category of Richest In Tech 2017 by Forbes.