The precious moment which signifies the end of a whirlwind romance and the initiation of an eternal love story is an engagement. American businessman Joshua Kushner is also engaged to his longtime girlfriend, Karlie Kloss and is all set to get hitched.
Joshua is the founder of the investment firm Thrive Capital. He is also the co-founder of Oscar Health but is prominent as the son of real estate magnate Charles Kushner. Joshua became a household name after his brother Jared Kushner became the son-in-law of the 45th U.S. President, Donald Trump.
Engaged To Super Model, Girlfriend Flaunts Engagement Ring
Joshua Kushner, 33, and the American model Karlie Kloss, 25, are engaged after dating each other for quite a long time. The longtime girlfriend of the American businessman, Karlie confirmed their engagement on 24 July 2018 on social media. The 25-year-old beauty shared a picture kissing her boyfriend of six years on his cheek and said that he is her 'best friend and soul mate.' She also expressed her love towards the businessman and shared an engagement ring emoji.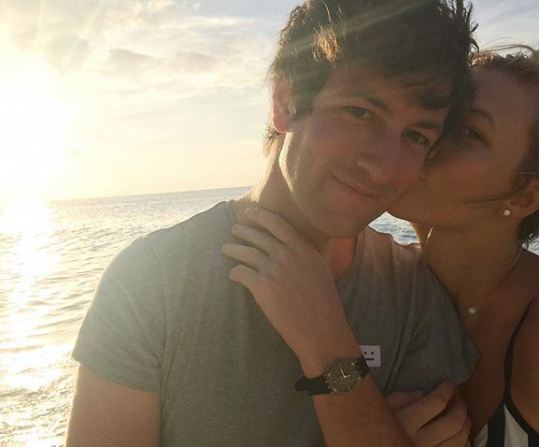 Joshua Kushner and her longtime girlfriend, Karlie Kloss confirmed their engagement on 24 July 2018 (Photo: Instagram)
Don't Miss: Maurice "Mo" Fayne Wiki, Age, Facts | All About Karlie Redd's Fiance
Some hours after the announcement, his fiancée Karlie uploaded a video on Instagram and showed her massive diamond engagement ring, which she recieved from Joshua. When the American model's cell-phone started to buzz with the inquiries of her engagement ring, she surprised her fans flashing the glimpse of her stunning-ring. Karlie took an Instagram and recorded a video with a sweet thankful note to her wishers and showed her giant emerald-cut ring.
Although Karlie kept their relationship out from the public eye, on 3 August 2018, she shared a rare photo with Joshua. She showed her PDA kissing her new fiancé and thanked photographer JR for their elegant snap. Although her friend Taylor Swift did not publicly congratulate on her engagement, during the Chinese interview with Xiao Hong Shu, the model said she has plans to go to Taylor's forthcoming show.
According to PEOPLE, the founder of Thrive Capital proposed his supermodel girlfriend in mid-July 2018 during their vacation in New York. The source also added that the third-highest-paid model in the world converted to Judaism in early June 2018.
Joshua's family is related to the mix of billionaires, his brother Jared Kushner, sister-in-law Ivanka Trump and especially Donald Trump. Karlie's friends include Taylor Swift, Serena Williams and the blend of supermodels and celebrities. Their wedding guest list is bound to be full with the faces of big-shots.
Joshua and Karlie are dating since 2012. The lovebirds were first spotted during Victoria's Secret Fashion Show afterparty in 2012. Since then, they have become a power couple and has gone to various romantic vacations including Italy, the coast of Capri, and upstate New York.
You May Also Like: Rebecca Dalton Bio, Age, Height, Boyfriend, Engaged, Instagram
Joshua's Family And Their Net Worth
Joshua was born to his parents Charles Kushner and Seryl Kushner. His father, Charles is an American real estate developer and is the founder of Kushner Companies. His father donated $100,000 to Donald Trump's Make America Great Again PAC in August 2015 and supported the 2016 presidential campaign of the 45th U.S. President.
In his family, Joshua has three siblings Jared Kushner, Dara Kushner, and Nicole Kushner. His brother, Jared is married to Ivanka Trump, the daughter of the American president Donald Trump. Jared is also the Senior Advisor to the President of the United States and has his professional stint as an American investor and the real-estate developer.
Dara and Nicole both are the sisters of the two brothers, Joshua and Jared. According to the Forbes, the Kushner family is a billionaire and has the total net worth of $1.8 billion.
What Is Joshua Kushner's Net Worth?
Joshua Kushner has accumulated a net worth of $800 million as an American businessman and investor. Reportedly, his family controls a $7 billion real estate portfolio, and each sibling has received the share of the trust worth of $800 million. In his early intern years, the American businessman pooled $10,000 to found social network Vostu. As a founder of Thrive Capital, he raised $750 million from institutional investors from 2009 to 2018. His insurance company, Oscar Health Insurance also had a worth of $2.7 billion in 2016. 
In August 2018, Alphabet invested $375 million for Joshua's health insurance company Oscar Health Insurance. The investment decision came after his insurance company's worth, reached a value of $3.2 million. Google employee Salar Kamangar is also set to join Oscar's board as a part of the strategic investment of the company. The CEO of his company Mario Schlosser talked about Alphabet's investment and said that it would help their life insurance companies to various cities.
You Don't Want To Miss: Martin Shkreli Net Worth 2018 | How Much is Martin Shkreli's Worth?
As for his fiancée Karlie Kloss, she is one of the world's highest paid models. As per Forbes, in 2016, she was enlisted as the third-highest-paid model in the world with $10-million earnings. At the age of 18, the American model signed up for Mother Management and reportedly racked over $1 million a year. Other income sources include her stint in Victoria's Secret Angel and her endorsement with various top fashion magazines like Scene Magazine, British Vogue, Japanese Vogue, and more.
Short Bio
Born on 12 June 1985, Joshua Kushner is a native of Livingston, New Jersey. He is a little bit shorter than his fiancée Karlie Kloss, who stands at the height of 1.88 m (6' 2''). Joshua belongs to American nationality and possesses Ashkenazi Jewish ethnicity. 
At the age of 26, he graduated from the Harvard University at Harvard Business School. As per wiki, the American businessman's real estate father, Charles Kushner donated $2.5 million to the University so that his son could attend Harvard.