Kyle Cook is best known for his appearance on American reality television series Summer House which premiered on the network of Bravo. In the show, his relationship with Amanda became one of the significant story plots of the series. The entrepreneur featured in its first season where he escaped 'the hustle and bustle' of city life. Kyle is known for his nutrition consulting app called FENIX.
How Much Is Kyle's Net Worth?
Kyle who is a successful entrepreneur has a net worth of $1.1 million. He was a founder of Nightjockey, INC in New York City where his company used to create the management solution for the restaurant and nightlife industry. In April 2013, Kyle worked at ZocDoc where his job was to achieve sales targets and the company's strategic objectives. After his more than one-and-half years of experience, in 2014 he moved towards Dallas where he worked as a co-founder and advisor in Blownaway which increased his fortunes substantially.
In September 2015, Kyle went back to Greater New York City and joined Birddogs as it's a chief brand officer. Birddogs is a company that sells activewear and Men's Gym Shorts. While working on Birddogs, he founded an application called FENIX, which is a subscription-based nutrition consulting app. The software is also available on the Apple store for iOS devices under the name FENIX 1:1 nutrition consulting developed by Join Fenix, Inc.
Who Is Kyle Dating? Glance Into His Personal Life
The reality TV star is dating Amanda Batula. She is a senior graphic designer and art director who appeared on Summerhouse. The love-duo met each other in 2015.
In 2017, they decided to spend the summer together. But in May 2017, they took a month break and did not see each other while Kyle was involved in the show Summer House.
In an interview, she revealed that at her birthday, Cristina Gibson who was also a star of Summerhouse said her that Kyle made out with reality star Katie Maloney and she needs to strengthen her bond with him. Amanda also said that she felt hard to watch Kyle with other ladies on the television.
In the finale of the season, when Kyle admitted having hookups during his stay at the Summerhouse but Amanda took the revelation and explained that,
He was single. We were broken up. It's okay. It's just never easy to watch your ex, your current boyfriend, someone that you want to be with making out with another girl that's half naked and sleeps in your bed.
Nevertheless, they patched the things up as Kyle on 5 April 2018 posted a photo with Amanda on his Instagram where Kyle said that he let her in because he trusted her and saw how big and kind her heart is.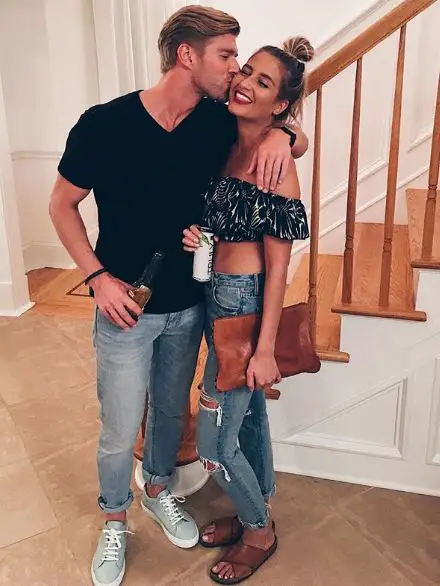 Kyle Cooke clarifies his bond with Amanda Batula (Photo: Instagram)
His twitter post on 8 April 2018 revealed that he is not married, but after seeing his brother share wedding vows, he said that he is capable of settling down and committing to someone. In the same tweet, he applauded the way how Amanda handled their fallout.
Kyle Cooke & Amanda Batula Are Engaged!
After two years of dating and having let their relationship flourish despite tough times, Kyle Cooke and Amanda Batula are engaged. Their supporters were left in awe and full of joy after the news of their engagement evolved in September 2018 through the pair's respective Instagram pages. Kyle popped the question in September of last year and Amanda said Yes!.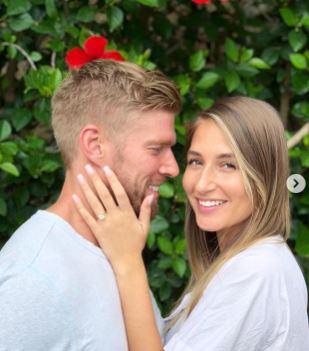 Kyle Cooke & Amanda Batula engaged in September 2018 (Photo: Instagram)
The pair no doubt have undergone hardships in their relationship, but they managed to push through it, coming out stronger, bolder and more in love than ever before. Their decision to become each other's fiance was what everyone was waiting for. 
As for when to two will officially tie their knot and be labeled husband and wife is something to wait for. But from the looks of it, it could be sooner than we expect. As of now, the pair are living their best lives as each other's fiance.
Kyle's Family
Kyle is seen posting his family photo on his social media. As a sibling, he has also got a brother named Cary Cooke. On 18 June 2017, Kyle shared a video on his Twitter where his father was taking a stroll. Also, Kyle shared a picture with his parents but hasn't revealed their names yet.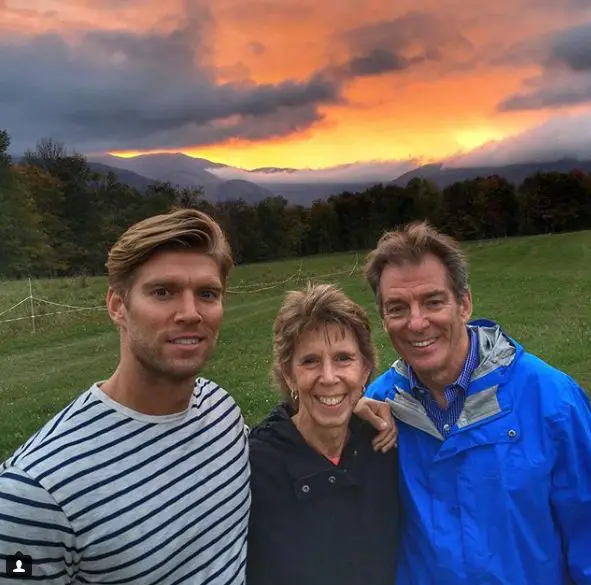 Kyle Cooke poses with his father and mother shared on 8 October 2017 (Photo: Instagram)
Short Bio And Facts
Kyle who is currently aged 34 was born in the year 1984. He graduated from Babson College in Greater Boston Area with an MBA in 2011. As per wiki, Kyle has a prosperous track record in the field of sales, business development, and product development. He works as an entrepreneur in Manhattan and spends his time in Hamptons during his weekend. Belonging to white ethnicity, he stands at a tall height with healthy body shape.