Canadian entrepreneur Manjit Minhas is a Television personality and venture capitalist by profession. She is the co-founder of the 13th largest craft brewery in America named Minhas Craft Brewery along with her brother, Ravinder Minhas. Manjit is also a television personality and has starred in Dragons' Den. She also served as a celebrity judge in 2017 Calgary Stampede Annual Parade.
How Much Is Manjit Minhas Net Worth?
The entrepreneur, 38, has accumulated the net worth of $200 million as a venture capitalist in the alcohol industry since 1999. Manjit and her brother Ravinder capitalize $10,000 to acquire the oldest Brewing company named Joseph Huber in 2006. The siblings later changed the beer company name into Minhas Craft Brewery.
The Beer company today is one of the largest brewing companies in the country and employs more than 200 people in Canada and the United States. The company's valuation rakes more than $150 million in sales.
Manjit and her business partner brother later opened their second brewery, the Minhas Micro Brewery in Calgary, Alberta in June 2012. Together they have also added Minhas Distillery, Minhas Winery and Minhas Kitchen in Monroe, Wisconsin. The combined revenue of the Minhas Breweries & Distillery and the group of companies is worth 155 million according to 2014 reports.
Manjit stars in the Canadian TV series, Dragons' Den. She and the internet entrepreneur, Michele Romanow joined in the tenth season of the popular reality show.
Married To CEO Husband; Welcomes Daughter
The Businesswoman is married to the Managing Director of Shergill Homes Limited, Harvey Shergill. The couple exchanged wedding vows in July 2007 and its been almost 11 years, the pair lives blissful matrimony along with their two daughters
Manjt wished her husband on their eight-year anniversary in July 2015.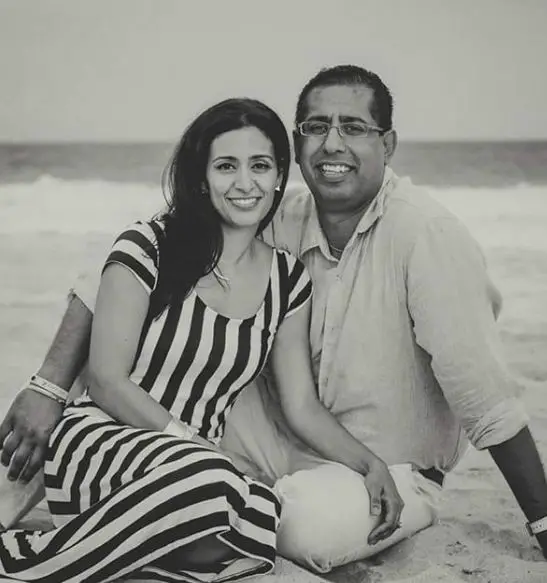 Manjit Minhas with husband, Harvey Shergill at a beach on 28 July 2015 (Photo: Instagram)
She has two daughters with her husband. Manjit's Instagram pictures are filled with her spouse and daughters. She described her daughters as her sun, moon and all of the stars in her Instagram post on 26 December 2017.
Manjit along with her husband has also co-sponsored the Sobeys Liquor BBQ Event in 2016, where all the resident of Fort McMurray, Canada came at grand re-opening of the liquor store.
The people were given free burgers and some best tasting products of Minhas Brewery. Her husband's housing company, Shergill Homes has also been building houses in Fort McMurray for more than ten years and is proud sponsors of such programmes.
Short Bio
Manjit Minhas was born on 31 May 1980 and raised along with her business partner brother, Ravinder in Calgary, Alberta. Her birth sign is Gemini. Manjit comes from a Sikh family.
The businesswoman was enrolled in engineering programs at the University of Calgary and the University of Regina, but she focused on entrepreneurial studies and decided to concentrate on creating and marketing businesses.