South African entrepreneur, Mark Shuttleworth is best recognized as the founder and the Chief Executive Officer of Canonical limited, a UK based software company. His company Canonical is known for the development of Linus based Ubuntu Operating system. The business mogul is also known as the first African tourist to travel space in the year 2002.
What Is Mark Shuttleworth's Net Worth?
The 44-year-old entrepreneur has amassed a net worth of $500 million. He accumulates a significant portion of his net worth from his company Canonical Limited that he founded in March 2004. As the CEO of Canonical Limited, he is entitled to a handsome salary in millions of dollars. 
The company generates a profit from 800 paying customers that includes Netflix, Tesla, and Deutsche Telekom. The company galvanized the modern world when they created operating system Ubuntu, which can connect almost everything to the internet, in October 2004. His creation helped him and his company to bring in big cash.
Mark previously founded Thawte Consulting, a certified entity, that issued digital certificates back in 1995. A networking company, Verisign later acquired Thawte Consulting for $575 million in 1999. The selling of Thawte Consulting has also added a significant portion of revenues in his fortunes.
The entrepreneur splashed out $20 million to travel space in Russia's Soyuz TM-34 rocket ship in 2002. Mark's mother Ronelle Shuttleworth also announced at "highlight of Durbanville's 200th anniversary" in Durbanville Town Hall that her son is donating $12 million to upgrade two libraries in Durbanville community in August 2006.
Mark Shuttleworth's Dating Rumors
Mark was rumored to be dating South African TV Host Khanyi Dhlomo-Mkhize. The businessman was very fond of the glamorous host but never admitted that he was dating her.
The businessman and his alleged girlfriend Khanyi first met at the Fancourt ball in George in September 2001. The couple, who was dubbed as IT couple, attended the launch of Sol Kerzner's luxury Le Touess Rock hotel in Mauritius in January 2002. The pair also attended Nelson Mandela's 85th birthday together.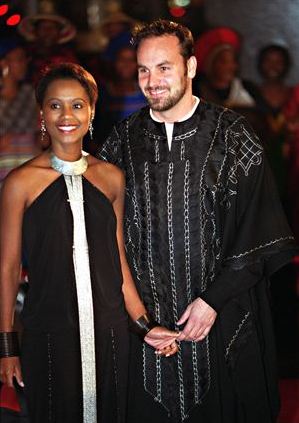 Mark Shuttleworth and his rumored girlfriend Khanyi Dhlomo-Mkhize attends Nelson Mandela's birthday event in 2003 (Photo: w24.com)
However, Mark shut down the rumors when he said that they are only close friends. According to the news24.com, Mark admitted that there are very close friends and a world apart for a romantic link-up.
Mark was once struck when a 14-year-old girl popped the question to be his wife. A girl named Michelle, who is the cancer patient, wanted to become an astronaut. Mark was genuinely fluttered by the girl's unusual question at the live crossing held in Johannesburg in 2002. Mark never answered the question and changed the conversation topic to space. Late Nelson Mandela, who was also one of the attendees, couldn't hold his laughter after the innocent girl's question.
Family: Brother Composes Song For Mark
Mark was born to parents Richard and Ronelle Shuttleworth. His father, Richard is a surgeon. His mother attended the Durbanville's 200th anniversary as the representative of Shuttleworth Foundation in August 2006. She expressed her thoughts about the event and also said that her son couldn't attend the event but is passionate about maths and science.
In his family, he has two sibling brothers: Grant and Bradley Shuttleworth. Grant is an engineer and a musician who also composed a particular space song for his brother.
Short Bio
Mark Shuttleworth was born on 18 September 1973 in Welkom, as per wiki. He is a South Africa origin but holds dual citizenship of the United Kingdom also. Mark went to Western Province Preparatory School in 1986 and later obtained Bachelor's Degree in Finance and Information Systems after attending the University of Cape Town.