Some people infamously gained popularity wandering themselves into forbidden paths, even to the extent of doing things they know are wrong. Martin is also one of them, who caught into the immense criticism after his company, Turing Pharmaceuticals, raised the price the drug Daraprim from $13.50 per pill to $750. American businessman Martin Shkreli is known as the Founder and former CEO of Turing Pharmaceutical. He is also the co-founder of the hedge funds Elea Capital, MSMB Capital Management, and MSMB Healthcare.
Martin Shkreli Gushes About Girlfriend; Ex-Girlfriend Accused Him!
The infamous businessman, Martin revealed that he had a serious relationship with the 20-year-old nursing student, Elizabeth O'Connor. In an interview with PageSix in January 2017, he said that they are dating on and off for six months.
But after that revelation, Martin has remained silent about revealing his love affair with Elizabeth. Though he has been linked to many ladies, he has not gushed of making any of them his future wife.
The Pharma CEO in one of the conversations with a lady said that she had to stay in the long line to date him in October 2015. In the talk, an unknown lady proposed him to go on a date. After then Martin told her to stay in a long line. Further giving a reply to Martin, she asked him if there is any way to skip a line. And he replied saying he had a very special woman.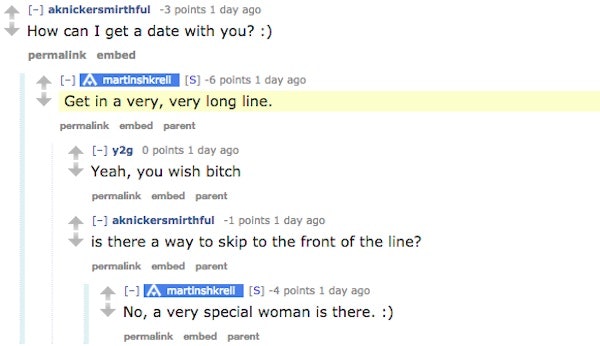 Martin's Reddit AMA in October 2015 (Photo: elitedaily.com)
Back on 9 February 2009, Martin Shkreli's ex-girlfriend Katie wrote in her blog In Defense of Getting Off that he has been a douchebag, who messages his ex-girlfriend even after several years of a break-up. Also, she claimed that he offered her $10,000 to go down on her.
Martin and his ex-girlfriend dated each other when Martin was of age 19 and Katie at age 18. The couple met on the bus home from a Green Day/Blink-182/Saves.
Read Also: Martin Shkreli Net Worth 2018 | How Much is Martin Shkreli's Worth?
Martin's Tinder Date; Not His Dream Girl
In 2015, Martin went on a date with a woman named Jacklyn Collier. The couple met each other on Tinder, where Martin proposed her saying "I'm that guy who has been in the news lately." He also gave her a proof sending her photos of his license and credit card. During the date, Martin surprised her after he ordered the $US120 tea. He also asked her if she wanted one, but Jacklyn denied it.
At the end of a date, Jacklyn thought that Martin was not her Prince Charming nor she was his dream girl. Though the couple went on dating, the couple didn't make a further plan to have a boyfriend-girlfriend relationship.
Martin Showing Gay Nature With His Gay Investor
Back in July 2013, Steven Richardson, who is gay and has a partner, revealed that Martin started showing unpleasant behavior, which worried him. The 33-year-old would often tell him that he wanted to have sex with male coworkers and waiters.
Martin reportedly made some suggestive comments on Steven. Steven asked Martin if he was physically attracted to him. Later, Martin denied saying he hasn't interested him. Knowing the fact, Steven said;
"I was very pleased that we had removed any doubt about whether this was a purely platonic friendship."
Short Bio
Martin Shkreli was born to Albanian and Croatian parents on 1 April 1983 in Brooklyn, New York, the U.S. Standing at the height of 5' 7" (1.7 meters), Martin also is known by his nickname Marty.
He completed his high schooling from Hunter College High School. Later, he joined and completed his graduation from Baruch College in 2004 as per wiki.
His family emigrated from Montenegro. Both his parents worked as janitors in Brooklyn. He has three siblings, two sisters, and a brother.