Marty Caffrey, age 66, all of a sudden, came to the limelight when he became the third husband of Danielle Staub, the alum of Real Housewives of New Jersey. Marty, who maintains a low-key life, married Danielle after being the 20th fiancé of the reality star. "South Jersey boy," as his wife calls him, manages investments of her 92-year-old mom, Janice.
Marty Caffrey Shares Wedding Vows
Marty, with his fiancée Danielle walked down the aisle and shared the wedding vows on 5 May 2018. The wedding ceremony was celebrated on the Bahamas' North Bimini Island at the Luna Beach Club.
Marty Caffrey and Danielle Staub first met each other at the set of Real Housewives of New Jersey. The couple started dating each other back in April 2016. Later on 22 May 2017, Marty proposed her with an engagement ring. Following the engagement, Danielle accepted his proposal. Previously, she got engaged 19 times, and Marty is her 20th fiancé.
More About Real Housewives of New Jersey's Star: Kim DePaola Wiki: Age, Birthday, Husband, Fiance, Son, Net Worth, Family
The couple often was seen together in public events as well as spending a vacation together. Also, the pairs never missed expressing one another's love in social media. Danielle shared the pictures of her with fiancé Marty on Valentine's Day 2018 and mentioned that Marty surprised her with a bunch of roses.
The couple is enjoying a cherishing moment together. And now, the two have come with surprised to all fans. Well, the surprise is, the couple married with each other in a secret wedding ceremony on 5 May 2018 with family and friends. Melissa Gorga and Margaret Josephs graced the ceremony as bridesmaids.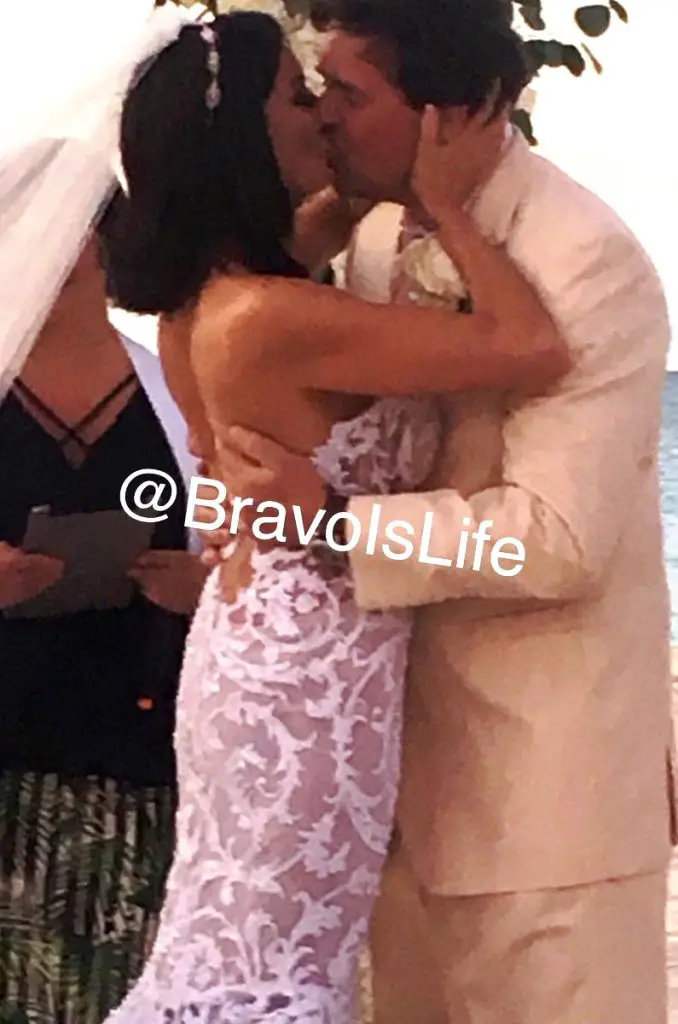 Marty kisses his bride Danielle on 5 May 2018 (Photo: Twitter)
Though the wedding was organized secretly, Bravo film crews were in the presence filming the couple's wedding for the next season of the hit reality show. Well, the wedding photos are still kept secret and hidden from tabloids, which will feature at the upcoming ninth season Real Housewives of New Jersey. However, few phots did sneak through social media.
Marty Caffrey is not her first husband. Danielle was previously married to Kevin Maher and Thomas Staub. She has two kids, two daughters from her ex-husband Thomas named Christine and Jillian Staub, who were also present in the marriage.
Also Read: Dolores Catania Wiki, Age, Married, Husband, Children, Ethnicity
Marty Caffrey's Divorce After Four Months Of Wedding Vows
Marty Caffrey and his wife Danielle now has called off their wedding vows as Marty Caffrey reportedly filed for divorce with his wife on 23 August 2018. As per People Magazine, Marty was willing to reconcile with Danielle, but after the last few weeks, he knew that there was no turning back on their relationship. 
The rumor about their separation swirls back to July 2018, when Marty reportedly hired a divorce attorney. Later on 14 August 2018, the news about Marty alleging Dannielle of trying to stab him filtered on the internet.
As per the Radar Online, Danielle threatened Marty to "stab" him during the weekend altercation. After the incident, Danielle received a temporary restraining order against Caffrey after the two fought when they met up over the weekend. Meanwhile, the source claimed that Danielle was angry since Thursday after knowing Marty was filing for a divorce with her. Thus, she threatened to "stab" him. Later, Marty's ex-wife was ordered by a New Jersey court to maintain her distance from her estranged husband. 
Recently in February 2019, the couple finalized their divorce after six months Marty filed a divorce paper in August 2018. Marty stated that Danielle appeared in the court and processed the divorce settlement. Caffrey told Page Six that after his divorce, he would feel relief but sadness too. Meanwhile, he wished her the best for her future and for everything she does. 
Just after a week of their divorce finalization, her estranged wife, Danielle, astounded his fans after she announced her engagement with Oliver Maier.
She shared her engagement ring worth between $4,000 to $145,000 on the media and splashed the news of her bond. As reported, Danielle and Oliver met through a mutual who was dating him at the time in October 2018. Oliver is the managing director of Speyside Equity.
Danielle and her fiance, Oliver in 2019 (Photo: Danielle's Instagram) 
Later on 26 February 2019, she even posted a picture with her sled lip-locking with her fiance on Instagram and captioned it "Mystery Solved."
Concerning the news of Danielle's engagement, Marty exclaimed with surprise that she was engaged too soon after their separation. 
Marty Caffrey To Return In RHONJ With Estranged Wife!
Marty Caffrey's relationship with his estranged wife was turning even sour by the time. Marty, who filed for divorce from his wife Danielle in August, kept their New Jersey mansion for sale on 8 November 2018 without deciding with his estranged wife. Danielle and her youngest daughter, Jillian, is residing there. The pair has been sharing the 7500 square foot house.
After hearing the news, Danielle reportedly burst into tears and called Marty to confirm the story before she calls her attorney to block the sale of their mansion.
However, as of now, it seems like things are being better now. In an exclusive statement to Page Six, Marty told that things were going well between them, and Danielle decided to go back on the show. But, Marty confirmed that he wouldn't be reconciling with her and told that their doomed marriage is the only reason for their return in RHONJ.
Ex-Wife Split 
Marty Caffrey's ex-wife, who is The Real Housewives of New Jersey star, Danielle Staub, split from her fiancé, Oliver Maier. Danielle announced their separation days before their engagement in March 2019. Previously, the sources have revealed that their wedding got postponed; however, they met with a tragic split later. 
Despite the engagement set up, wedding plans, and break-up, Danielle's daughters have not met Oliver yet. Their wedding was set to be officiated on 4 March 2019. The couple had been dating for six months before Oliver proposed her to become the co-pilot of his life. Later, she came with an announcement stating; 
Love life is great. I'm in love with my business. … I'm not interested in dating, I'm totally off the market, and I have seven men as business partners. I have work husbands. 
How Much Is Marty Caffrey's Net Worth?
Marty Caffrey has been managing modest investments of his mother in the estate plans. Besides, he has not mentioned his job and also the information but enjoys a lavish lifestyle and fortunes.
His wife Danielle Staub is an American author, and reality star, She had an illustrious career, however, in June 2012, she filed for Chapter 7 bankruptcy protection. Since then, she has $1 million worth of debt. Though information about their wealth is missing, the couple bought a house in New Jersey.
Previously at his birthday party, he was seen throwing a lavish birthday party inviting celebrities on the birthday. From which we can analyze, Marty is enjoying a luxurious lifestyle.
In June 2019, the ex-wife of Marty Caffrey, Danielle Staub, re-listed her New Jersey's home of worth $2.2 Million for sale. As per the sources, Marty and his ex were living together in the Englewood residence. It is also reported that she re-listed her home for sale when she was unable to come up with the money. 
The lavish mansion, which is spread in an area of 7,500-square-foot with 6-bedroom and 8-bath property, features a gourmet kitchen, high ceilings, a media room, and a sauna. They kept their house on sale for up for sale for $2,195,000 million with Sotheby's International Realty. 
Don't Miss: Nicole Napolitano Wiki, Age, Husband, Divorce, Children, Dating, Height
Short Bio
Born in 1952 in South Jersey, Marty Caffrey celebrates his birthday every year in January. He is currently residing with his family, a wife, and daughters in New Jersey. As per wiki, Marty was born to a mother named Janice Bennet. He is one of the eight siblings in his family. Marty is few inches taller than his wife Danielle, who stands at the height of 1.78 meters (5 feet 10 inches).