Mathew Knowles is an entrepreneur and also a music executive who is recognized internationally in the entertainment industry for his active approach to developing and promoting award-winning artists. Apart from that Author, professor, lecturer, artist manager would be enough, to sum up, the professional career of Mathew Knowles, Ph.D.
He is also the founder of record label Music World Entertainment (MWE). For his hard work and dedication towards his, work Knowles has garnered countless awards for his achievements in business, the music industry, and community partnerships. 
What Is Mathew's Net Worth? 
Mathew Knowles summons his net worth by working as an American music executive and also record producer and manager. His net value is around $500 Thousand. He also accumulates his net profit by working as an author, professor, lecturer, and a businessman. 
Don't Miss: Savannah Guthrie Salary, Net Worth, Husband, Kids
Dr. Knowles possesses an MBA in Strategic Planning and Organizational Culture and a Ph.D. in Business Administration from Cornerstone Christian Bible College. Mathew started his career as a salesman, selling office equipment to pharmaceutical companies. He gave up his corporate job to form record label imprints and establish ventures with labels such as Sony Music and Interscope in 1992. He started co-managing Girls Tyme and helped Destiny's Child on their way to becoming one of the most successful female groups. After managing Destiny's Child for almost a decade, Knowles started focusing more on his daughter Beyoncé's solo career.
His net worth, now, has decreased as he requested the judge to reduce his $12,000 monthly child support payment for a son. From earning about $3 million back in 2011, his earning slumped to just $120,000 a year and claimed to no longer be as wealthy as he once was.
Married Twice! Total Children Of Four With Four Women! 
Mathew Knowles got married twice, first with Tina Knowles and later on with Gena Charmaine Avery. Mathew, whose first marriage to Tina Knowles, yielded two daughters named Beyonce and Solange with Tina. Both of his daughters are now wealthy celebrity singers with millions of fan following. But the couple could stay in terms and separated in 2009 ending their 29 years of married life. 
Their separation came after it got revealed he had an affair and a baby son, Nixon, with actress Alexsandra Wright following an 18-month relationship. His 30-year marriage to Tina saw its official ending in 2011 as she said in her court documents that the marriage was insupportable because of discord or conflict of personalities.
See Also: Brandon Boyd Married, Wife, Girlfriend, Daughter, Personal Life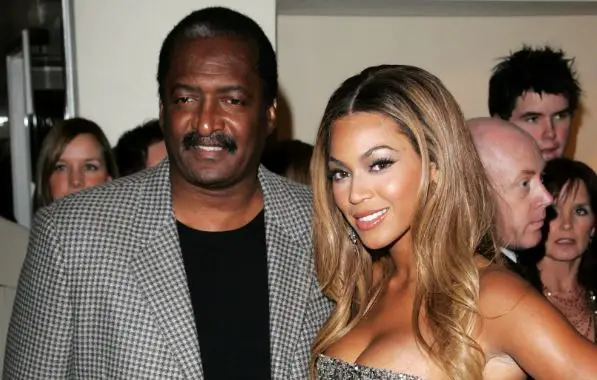 Mathew Knowles with his daughter Beyonce at the premiere of Dreamgirls in 2007 (Photo: telegraph.co.uk) 
He also has another daughter named Koi with his affair with Taqoya Branscomb. A DNA test proved paternity, and the results came out 99.998% that Matthew was the biological father of Koi, who was born in 2010. Although he tried to settle the matters outside the court by offering $225,000 hush money, the court ordered him to be $71K for previous child support and along with that was slapped with $1.5K of monthly child support. Apart from that, the businessman would be liable to pay Koi's health insurance and Taqoya's attorney fees.
As time passed by, Mathew moved on with his life. The 67-year-old married former model Gena Charmaine Avery in 2013 in Houston, Texas. He finally confirmed his secret wedding with Gena in April 2018 when he appeared on The Wendy Williams Show. 
Breast Cancer?
Mathew Knowles, the father of music stars, Beyonce and Solange, revealed on ABC's Good Morning America that he recently got diagnosed with breast cancer. He stated that the disease was genetics and meant that his kids have a higher chance, a higher risk, even his grandkids have a higher risk. 
He frequently noticed the recurring dots of blood on his shirts after which he contacted a doctor. Later, he had a mammogram and was diagnosed with breast cancer. Similarly, Matthew came with a revelation that he has the BRCA2 gene mutation, which means that he is at the highest risk category for developing cancer. Also, he has started a conscious and healthy lifestyle. Moreover, he plans to remove another breast after already having 'three lymph nodes' removed. 
Previously, Knowles had his infected breast removed back in July 2019 and will be having the second breast removed in January to minimize the risk of getting another tumor. Knowing that the disease was genetics, Matthew's daughter, Beyonce, and Solange were tested for the BRCA2 gene. 
Short Bio
Mathew Knowles was born on 9 January 1951 in Gadsden, Alabama, America. He is a great admirer of his parents Matthew Q. Knowles and Lue Helen and also very thankful for them for his incredible career. 
You Might Also Like: Jesse L. Martin Married, Wife, Gay, Net Worth, Rent, Education
He holds American nationality and belongs to African American ethnicity. He stands tall at a height of 1.94 m (6 feet and 4 inches).