Michael Cohen is an American lawyer who formerly worked for the 45th president of the United States, Donald Trump. He is famously known for allegedly paying off $130,000 to pornstar Stormy Daniels for Trump. 
Aside from his controversial fame during his time as Trump's lawyer, he is also an aficionado of taxi and real estate business. From exciting details of his career, his net worth to covering his personal life; here's everything you need to know about the American Attorney:
Family Scrutiny: His Wife Laura & Daughter  "Subjected To Harassment" 
In the Trump-Russia probable-collusion dossier, Cohen surfaced as a key suspect who allegedly handled the proceedings between Trump's Presidential Campaign and the Russian government during the 2016 election cycle. 
However, he wasn't the only member of his family who made the headlines on the tabloids. His wife, Laura Cohen, along with his daughter, Samantha Blake Cohan, also began to gain additional attraction after he was involved in the investigation.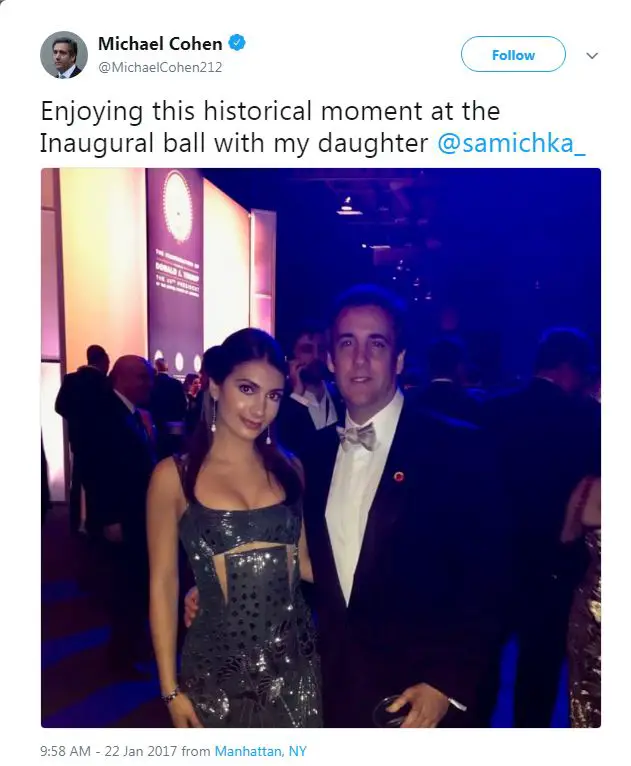 Michael Cohen poses with his daughter, Laura in Jan 2017 (Photo: Micahel Cohen's  Twitter)
When Cohen provided his statement to the Senate Intelligence Committee in September 2017, he mentioned his wife and Ivy League daughter, and how they've had to endure criticisms,
"My wife and I have been married for 23 years, and are now entering into the season of our lives when we get to watch our children become adults themselves. My daughter, who is at an Ivy League school, and my wife, who is of Ukrainian descent, have especially been subjected to harassment, insults and threats … some so severe I cannot share them in mixed company."
For instance, his daughter had to face unnecessary public scrutiny when he shared a picture of her dressed in lingerie on Twitter in May 2017.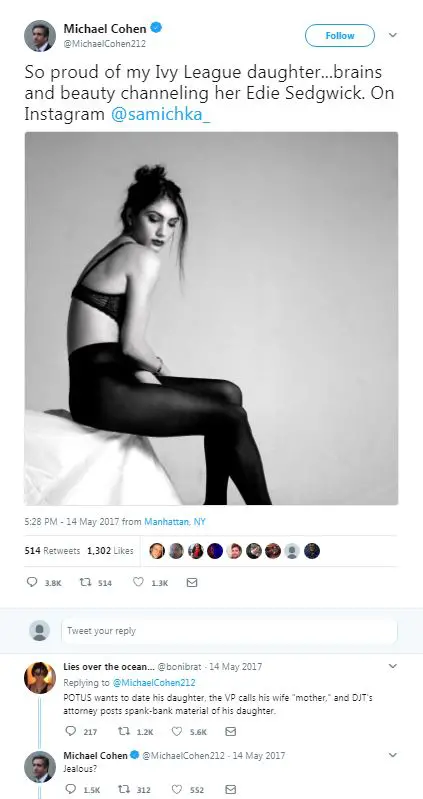 Michael Cohen defends daughter from shameless public harassment (Photo: Michael Cohen's Twitter)
Also in the same statement to the intelligence committee, Michael provided his alibi against the dossier's claim that he had met with the Russian officials in Prague during 2016.
Amidst investigation from Muller and other bodies of law, Cohen's legal fees drastically increased, bringing him closer to bankruptcy.
He also claimed that he was with his son, Jake, visiting a prestigious university, USC, in Los Angeles on that day. He further expressed in his statement that his family shouldn't be subject to scrutiny just because of his role in the government.
What is Michael Cohen's Net Worth?
Michael Cohen enjoys the net worth of $20 Million. He has derived the majority of his fortune from his investments in transport and real estate business. He sold three rental buildings at 237 Henry Street; 239 Henry Street; and 235 East 27th Street, profiting $9.25 million in 2015. A year before that, he earned $10 million when he sold a rental building at 172 Rivington Street. In the year 2014, he reportedly sold four buildings in Manhattan for $32 million.
He and his wife owned more than 30 taxi medallions during a time when one medallion was worth $1 Million. According to the Fortune article published on 20 June 2018, the pair got state warrant for about $185,000 in unpaid taxes (on his taxi business) by New York. The pair also (probably in 2017 or 2018) put their apartment in the Trump Park Avenue plus other assets (valued together at $9 million) in collateral against $12 million-plus loan they owed to Sterling National Bank Of Montebello. Previously, his taxi medallions had secured the loans, but not more it was the reality after their value dropped down to as much as 80 percent. The competition from Uber and Lyft was the reason for their plummeting value. 
Aside from his investments, his annual salary from his law career is expected to be around $731,000 annually.
Short Bio:
Michael Cohen was born on 25th August 1966. He married Laura Shusterman in 1995. He has a daughter with his loving wife to whom he married at The Pierre.
In 2018, his house and office were raided by the FBI, and numerous documents were seized.