Pasquale Rotella is an entrepreneur best known as the CEO of Insomniac Events, a promotion company that performs electronic music events. He is considered as one of the most successful EDM event-producer in the world and the creator of the 'Electric Daisy Carnival'.
But, success didn't come overnight—his first event was held in Halloween weekend in 1993 which attracted only 300 audiences. He kept working his way and now his events pull millions of people a year. His carnival holds a mass concert in Texas, Nevada, New Jersey, and Florida which last for several days.
Wife, Children
Pasquale got married to model Holly Madison on 10 September 2013. Holly is a model and TV personality who is well-known as the star of the reality TV show The Girls Next Door (2005). 
The pair had tied the knot at Disneyland six months after the birth of their daughter Rainbow Aurora Rotella (born on 5 March 2013).
Don't Get Left Behind: Is Amymarie Gaertner Married? Dating Life, Parents, Net Worth
After getting married for three years, they further got blessed with their second child, a son Forest Leonardo Antonio Rotella on 7 August 2016.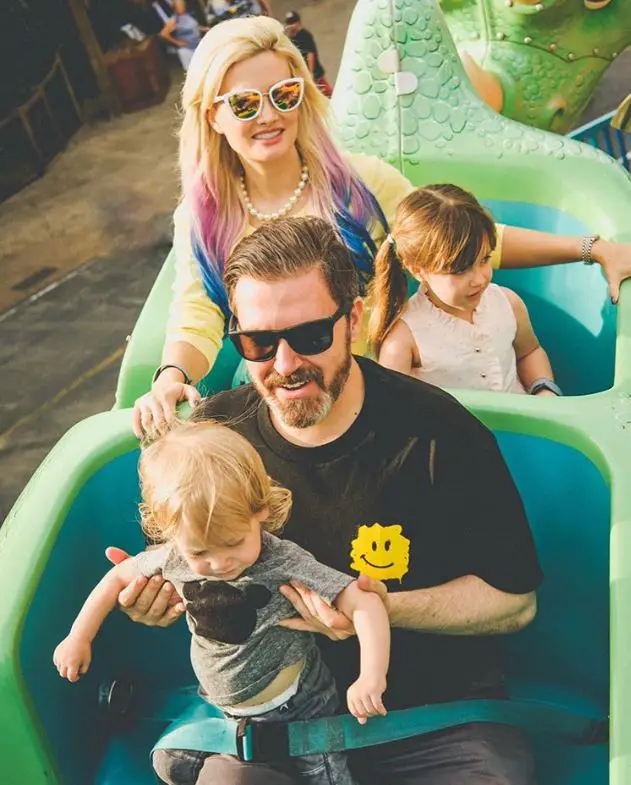 Pasquale Rotella with his former wife Holly Madison and children(September 2018)(Source: Pasquale's Instagram)
Unfortunately, relationship Pasquale's relationship with his wife Holly didn't sail smooth and decided to part ways. Holy filed for divorce on 31 August 2018 in Las Vegas just a few weeks before their fifth wedding anniversary.
Their divorce was later finalized in February 2019. According to Radar Online, Pasquale's father revealed that after two years of dating and five years of marriage they grew apart and they were not getting along sexually and emotionally.
The divorce was mutual and both of them are fully committed to raising their children together in a love-filled and positive environment.
Keep Exploring: Chloe Lukasiak Net Worth, Height, Sister, Boyfriend, Who Is She Dating?
Net Worth
Pasquale has achieved a successful career in his EDM event business. His event the Electric Daisy Carnival, which was held in Los Angeles in 1997, became the immediate hit. Following the success, his company later formed a child company partnering with Interscope Geffen A & M-Insocmaniac Records in May 2014.
Now, the CEO of Insomniac Events is believed to have earned a considerable amount of income. According to dirt.com, his estimated net worth is about $50 million.
Besides, Pasquale and his ex-wife Holly had bought the 8,500 square foot mansion with 6 bedrooms and 8.5 bathrooms in Los Angles, California, in January 2015. The freshly renovated 1920s Spanish Colonial house was priced $7.1 million at the time. After divorce, his wife went on to buy $8.7 million mansion-Windsor Square in September 2018.
You May Like: Avi Rothman Wiki, Age, Net Worth- Life of Kristen Wiig Fiance
Wiki-Bio & Family
Pasquale was born on 8 August 1974 in Glendale, California. His parents are of Italian background. His mother was born in Italy. She was a great cook as well as an entrepreneur who always tried to fulfill her dreams and follow her passion.
But sadly. she passed away in April 2015.
As for his dad, Pasquale used to consider him a Mortadella boss.