American billionaire Peter Thiel is one of the successful entrepreneurs who marked his name as #4 on the Forbes Midas List during 2014. The member of executive committee of Donald Trump's transition team during the presidential election, Peter, further secured #246 spot on the richest Forbes 400 list in 2016.
The political activist is one of the co-founders of Palantir Technologies and worldwide online payments system, PayPal. He became the first outside investor in Mark Zuckerberg's (who has a sister named Randi Zuckerberg) company Facebook.
Gay American Entrepreneur Married His Longtime Boyfriend!
When the Silicon Valley billionaire Peter Thiel was labeled as a gay by Gawker Media in December 2007, he vowed to destroy the gossip website. The gay American entrepreneur, who was residing alone maintaining a healthy bond with his boyfriend back in 2014, managed to force the founder of Gawker, Nick Denton into bankruptcy in August 2016.
See Also: Jensen Buchanan Wiki, Married, Husband, Divorce, Children, Net Worth
After a year achieving his revenge towards Gawker, Peter married his longtime boyfriend, Matt Danzeisen on 11 October 2017, according to Axios. The guests initially thought that they were at Vienna, Austria for the celebration of Peter's 50th birthday. However, they were utterly stunned to find out about his nuptials with his longtime partner, Matt, who works as a portfolio manager at Thiel Capital.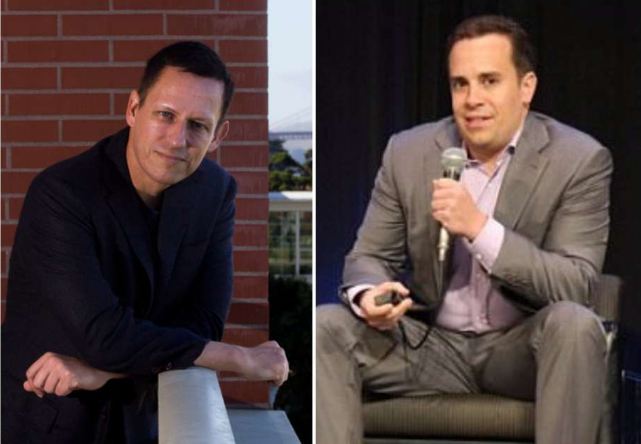 Peter Thiel tied a knot with his longtime boyfriend, Matt Danzeisen, in Vienna, Austria on 11 October 2017 (Photo: dagospia.com)
Despite tying the wedding knot with Matt, the co-founder of PayPal and Donald Trump's campaign supporter continues to show hesitation either to talk about his long-time partner or his extravagant Vienna nuptials. While very little information has surfaced about Matt, back in May 2016, the portfolio manager addressed the conference held in Japan. 
Talking about the state of financial technology, Matt clarified about a part of the stoppages by stating that 'the winner is rising as certain action plans are rolled up to more general things.' Peter's better half further spoke that his ideas despite being cynical assured the development.
What Is Peter Thiel's Net Worth?
Peter, 51, has a staggering net worth of $3.3 billion from his career as an American entrepreneur and political activist. The venture capitalist has an estimated 10% stake as a co-founder of Palantir Technologies which has a value of $20 billion. As a co-founder of PayPal, the Silicon Valley billionaire had a 3.5% stake worth $60 million.
Don't Miss: David Visentin Married, Wife, Gay, Height, Net Worth
Peter invested $500,000 and collected 10.2% of stake in Facebook and sold $638 million worth of his assets when Facebook went public in 2012. The founder of the Thiel Foundation also provided the young entrepreneurs $100,000 to skip college and pursue their business dreams.
Short Bio
Born as Peter Andreas Thiel on 11 October 1967, Peter is a native of Frankfurt, Germany. The entrepreneur's family migrated to the United States and resided in Cleveland at 1968 where Peter's father Klaus Friedrich Thiel worked as a chemical engineer. He has a younger brother named Patrick Michael Thiel. 
Read Also: Kelly Cass Wiki, Married, Husband, Pregnant, Kids, Salary, Net Worth
By the age of 10, Peter settled in Cleveland with his family and marked seven changes to the elementary schools. He attended his middle school in San Mateo and scored first in a California-wide mathematics competition, as per wiki. After finishing education at San Mateo High School, Peter studied philosophy at Stanford University. He also funded the college students in 2009.