Out of the Blue! Yes, folks, Lara Spencer, who never hinted her nuptials with her fiancé, married on 1 September 2018. The lucky guy is none other than Rick McVey. 
Rick McVey is the founding CEO of MarketAxess, is now better known as the second husband of television personality Lara Spencer. Rick and Lara shared the wedding vows in front of their five children from previous marriage.
Rick Marries Lara Spencer!
Rick McVey is off the market.
Rick married television presenter Lara Spencer on 1 September 2018. The duo tied the knot in a beautiful ceremony in Vail, Colorado. The wedding was attended by their close friends and family, and their five children recite emotional readings in the ceremony.
The 58-year-old, Rick has three children from his previous marriage while Lara Spencer has two from her relationship with David Haffenreffer. David and Lara were married for 15 years and ended their relationship in the divorce in June 2015.
Lara met Rick in 2016, a year after her separation with David through a mutual friend and started things off with a blind date. They started dating right away. However, their relationship surfaced in 2017.
Read About: Evelyn Braxton Wiki, Net Worth, Wedding, Grandchildren
After dating for almost two years, Rick and Lara announced their engagement in January 2018. 
Lara's son, Duff reportedly walked her mother, who wore an Adam Zohar Bridal gown, down the aisle. Editorial Director Jess Cagle posted a video of Lara walking down the aisle on 2 September 2018 in a beautiful outdoor wedding ceremony.
Jess's husband Matt posted a picture of the newlyweds on his Instagram on 2 September 2018 and said, Rick and Lara's gorgeous wedding at my old stomping grounds.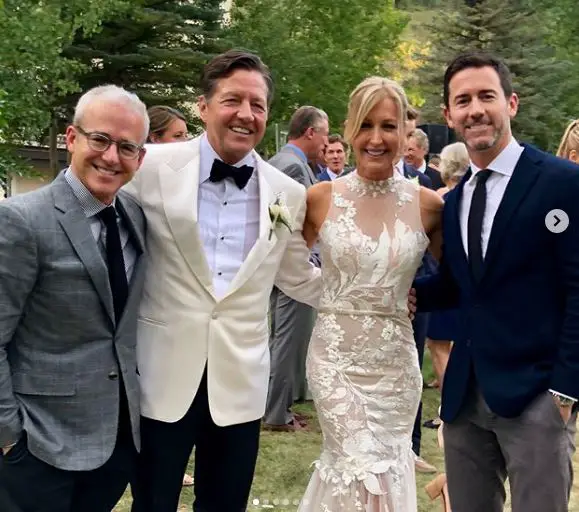 Rick says "I Do" with wife Lara on 1 September 2018 (Photo: Matt's Instagram)
Rick donned a classic black pant, a matching bowtie, and a cream blazer. The wedding dress of bride, on the other hand, was reportedly made in haste with Adam Zohar, only informed a week earlier about the wedding. However, he, fortunately, made a nude, open-backed, and high-neckline bridal attire for the television personality.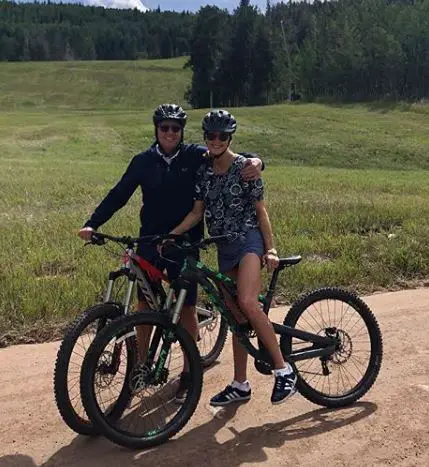 Lara posted a picture of her beau a day before the wedding on 31 August 2018 (Photo: Instagram)
Lara's marriage with Rick came as a big surprise as just on 31 August 2018; she posted a picture of her now-husband cycling with no hints of getting married.
His wife shared a picture of him on his birthday on 2 July 2018 and said that he is her partner, love, life, laughter, and fun. She also added that 29 never looked better.
See About Businessman: George Santo Pietro Wiki, Age, Net Worth | Vanna White's Ex Facts
How Much Is Rick's Net Worth?
The newlywed is an entrepreneur and summons the majority part of his net worth from his business venture in MarketAxess. Rick McVey is the founder and CEO of MarketAxess, which is an electronic trading company.
He is the recipient of the Ernst & Young National Entrepreneur of the Year for financial services in 2012 for his work in Market Axess, which he began in 2000 as company's IPO. Before MarketAxess, he was the Managing Director at J.P. Morgan. He has been listed in the Institutional Investor Tech 40 for an amazing 15 times.
Apart from his millions of dollar worth of fortunes, his better half has accumulated the net worth of $9 million as a television personality. She is entitled to a salary of $3 million on an annual basis. Lara is best known as the anchor of Good Morning America and ABC News.
Short Bio
Rick McVey was born on 2 July 1960 and currently ages 58. He stands tall than his wife, Lara, who stands at the height of 1.68 m (5 feet 6 inches). He was raised by his family in the suburbs of Cleveland.
Celebrity Husband: Philip Schneider Wiki, Age, Net Worth | Hilary Swank's Husband Facts
Nothing much is known about Rick's family, but it has come to light that he is the father of three daughters and was previously married. He has also gushed his father and revealed that he was a fuel-oil distributor and invested in stock market.
He completed his study in MBA from Indiana University Bloomington.