Ricky Van Veen is an American entrepreneur who is mostly known as the co-founder of the acclaimed comedy website, CollegeHumor. He also appeared in the comedy advice podcast, If I Were You, hosted by Jake Hurwitz and Amir Blumenfeld. He has been working at Facebook as the Head of Global Creative Strategy after his stint as CEO of Notional. 
How Much Is Ricky Van Veen's Net Worth?
Ricky Van Veen has gathered an estimated net worth of $25 million from his business career and his job at Facebook. He earned a significant revenue after he and his partner sold College Humor for $20 million.
He also increased his net worth by working as the CEO of the production company, 'Notional.' Since 2016, he has been earning a high salary plus incentives Working at Facebook as the Head Of Global Creative Strategy. The world-famous company of American billionaire Mark Zuckerberg, who has a net worth of $75 billion, which had total assets of $84.524 billion in 2017.
Given he is one of the head strategists in the company, he likely enjoys a top-level salary and incentives.  
Before Facebook, he worked for IAC for ten years, earning a remarkable income as an executive From August 2006 to July 2016. At IAC, he managed the creative side of its digital contents as well as operated Notional.
In 1999, he created a popular humor site called 'CollegeHumor.com' with his friend Josh Abramson. Within three months of their launch, the website was pulling over 600K visitors and generate $8,000 per month as advertising revenue. On the website, they collected various jokes, funny photographs, and articles. Over the year of its launch, the website started to earn between $10-15 million per year. In 2006, Ricky and Josh sold a 51 percent stake of their company Connected Ventures to American businessman Barry Diller's holding company, InterActiveCorp(IAC). The company, Connected Ventures, also owned several reputed projects, including the famous video site Vimeo.  
Van Veen started his career creating CollegeHumor at the age of 19 while he was studying at the Wake Forest University.
Actress Wife Wants Children
Ricky, 37, started dating American actress Allison Williams, 30, in 2011. The duo met each other through their mutual friends. After dating for three years, in February 2014, they announced their engagement.
Allison in March 2015 stated that she wanted to start a family and have children with Ricky. On 19 September 2015, the duo got married at Brush Creek Ranch in Saratoga, Wyoming. More than 150 guests attended Their wedding. Their close friends and family accompanied the ceremony along with some of the notable celebrities such as Lena Dunham, Zosia Mamet, Katy Perry, and John Mayer.
Later, Ricky's wife also shared their wedding photo on 20 September 2015 on her Instagram.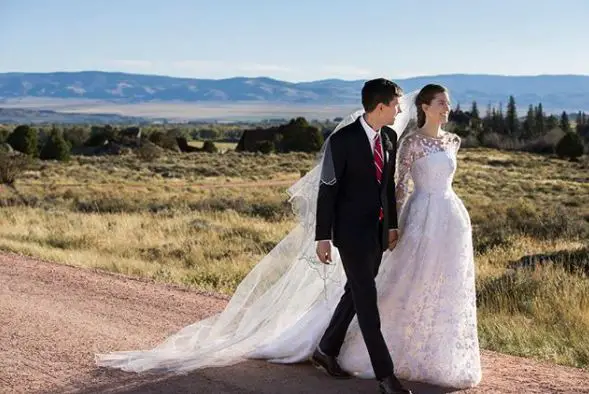 Ricky Van Veen walks with his newly-wed wife Allison Williams in 2014(Photo: Instagram)
The duo is maintaining a good bond with each other. On March 2018, Ricky and his wife Allison walked on the red carpet at the '2018 Vanity Fair Oscar Party' held at the Wallis Annenberg Center for the Performing Arts in Beverly Hills, California.
Split, Divorce
Every journey eventually ends. It's just a matter of when.
For Ricky Van Veen and Allison Williams, their four years of marital journey has now come to an end as the pair have separated. In the joint statement in June 2019, the couple spoked that they decided to separate from each other maintaining mutual love and respect.
Though they are no more a couple, they still maintain an amicable relationship.
After the split, a source close to the estranged-couple also added, "Allison really is Type A, a real go-getter. While Ricky is far more relaxed and laid-back. Things just haven't been going well recently."
And it was known that the pair reportedly were living separately despite sharing a $2million apartment in Chelsea, New York. For the last time, Ricky and his former wife, Allison were spotted together at the Vanity Fair Oscars party in March 2018.
The exact reason as to why the pair decided to go their separate ways has not yet been disclosed. But after sharing four years as husband and wife, it seems that they do not share the same love for one another as they once did.
Short Bio
Ricky Van Veen was born on 17 December 1980 in Lutherville, Maryland. He has a height of 1.8 m (5' 11"). Ricky has an American nationality and belongs to white ethnicity. He attended Wake Forest University in Winston-Salem, North Carolina. As per wiki, he has a parents name Helen Van Veen and Richard Van Veen.